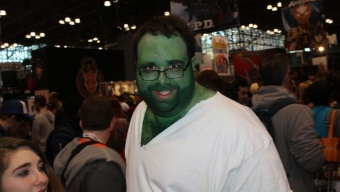 Looking for last minute, off-the-cuff weekend plans? LocalBozo.com has got you covered. It's not too late to figure it all out. For a glimpse of upcoming events that we'll be covering, check out the calendar in our side bar to your right. Otherwise, here are a few highlights to check out in and around Manhattan this weekend!
Arts & Culture
Saturday, October 12th – Sunday, October 13th – This weekend, you've got the opportunity to do something truly special. Make sure to take full advantage of Open House New York where you can check out some of New York's restricted buildings for one weekend only. From the TWA Flight Center out at JFK Airport where parts of 'Catch Me If You Can' were filmed to the brand new space at the Manufacturers and Builders Building, accessible even before its opened to the public, these are some unparalled experiences to check out. Take a look at the OHNY website and schedule some time for yourself. It'll be worth it.
Sports
Sunday, October 13th – Admit it. You had no idea. Could our beloved New York Jets be (gulp) good? Probably not. But lets enjoy it while it lasts. Geno Smith and the 3-2 Jets welcome the 0-4 Pittsburgh Steelers to Metlife Stadium this weekend. Can Gang Green prevent a desperate Steel Curtain from getting their first win with their backs to the wall? Get there in person to check it all out.
Music & Entertainment
Friday, October 11th – Quiet night in tonight? Check out the movies opening this weekend. We've been waiting for the return of Mel Gibson to the big screen. We haven't? Oh. Well, like him or not, he's here anyway. Starring alongside Danny Trejo, Charlie Sheen and Michelle Rodriquez, the "Machete Kills" (R) sequal has the potential for a lot of violence and that's probably about it. But it sure sounds fun. Meanwhile, the weekend's biggest opening is "Captain Phillips" (PG-13) starring Tom Hanks. Following the story of the 2009 US ship hijacking by Somali pirates, the two plus hour thriller is perhaps best viewed in IMAX.
Friday, October 11th – Saturday, October 12th – Get ready to rock all weekend long in New York City. On Friday, check out the CBGB Festival at Pianos as 'Rookie of the Year' and 'American Pie' star Thomas Ian Nicholas brings the TIN Band to the Lower East Side. Tickets are just $10. Or head over to Irving Plaza as Ones to Watch Presents: Atlas Genius with support from Dale Earnhardt JR JR. Saturday night, head over to Santos Party House for a ROCKING CBGB show featuring the mighty Killswitch Engage for just $25. Or join your pals at LocalBozo.com at the famed Best Buy Theater for Five Finger Death Punch in front of what should be a packed house.
Nightlife
Friday, October 11th – Saturday, October 12th – Head over to Avenue on Friday or Saturday night as International DJ Mel DeBarge makes the tables turn at the clubby hotspot.  Or head over to XL for their 'Hot Mess Drag Review' on Friday night with Lady Bunny, Ivy Winters, and DJ David Serrano working the mix from 9-11pm.  And if those don't strike your fancy, DJ Kasatone fires up the DJ booth at Rosewood on East 19th Street on Friday night until 4am, where ladies have an open bar until 1.
Other
Friday, October 11th – Sunday, October 13th – Geeks, dorks, nerds and niche fans of just about anything head to the Jacob Javits Center this weekend for the 2013 New York Comic Con, a parade for any style of fandom.  There are panels and interactive experiences everywhere inside the massive space and enough people in costume to set your Instagram accounts on fire.  Check the full schedule of events below.
Saturday, October 12th – The Village Voice returns this weekend with their annual craft beer heaven.  "Brooklyn Pour" hits Skylight One Hanson in Fort Greene with the likes of Alphabet City Brewing, Asahi, Sierra Nevada, Queens Brewery, Harlem Brewing Company, Brewery Ommegang, and so many more that we'd waste a full page just listing them.  There's DJ sets galore alongside several Beer Talks.  But mostly, it's all about the brews and the Voice knows events better than just about anyone else.
And as Always, Droid users- make sure to Download the official LocalBozo.com App for FREE from Google Play (formerly the Android Market)! Get all the information we can fit onto your smart phone, NOW!
Related Articles
Share
About Author
(0) Readers Comments