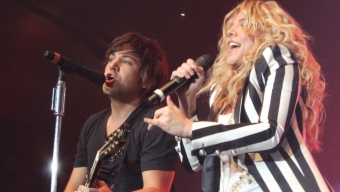 The Band Perry
A LocalBozo.com Concert Review
Roseland Ballroom, New York, NY
October 16, 2013
Concert Review: The Band Perry at Roseland
If I described to you a pop trio made up of family members that rose to stardom seemingly from nowhere, you might immediately think of mid-90′s sensation Hanson. It was instead another familial trio, backed by an additional four musicians that crammed hundreds of fans into a jam packed Roseland Ballroom on Wednesday night. The Band Perry exploded into the realm of music consciousness in 2010, selling more than a million and a half copies of their eponymous debut album at a time in music when no one sells a million records anymore. Since then, they've been a staple on the country charts and have found more than a modicum of mainstream success with both of their two releases to date charting in the Billboard top five.
On this night, the stage setup inside of the ballroom was reminiscent of something you might find at the CMAs – video boards, an array of spotlights, and a small stage- all of which was fit for an 18,000 seat arena rather than a more intimate New York City rock club. Despite being relative newcomers, The Band Perry owned the audience like seasoned veterans, using their formulaic approach which combined catchy pop-meets-country songs performed by a trio of good looking musicians. But that said, the band also has a penchant for the pomp and circumstance that goes along with performing live and manages to keep even the most cynical of crowd members completely entertained. The seven piece band took center stage promptly at 8:45pm to an uproar of applause and flanked by brothers Reid and Neil, lead vocalist Kimberly understandably became the audience's focal point.
Outfitted in a black leather skirt and boots, the wavy haired blonde vixen more than looked the part of a dynamic frontwoman- and with a tremendous voice to boot. Although the band's set was an abbreviated 70 minutes, they mixed in a bevy of different teases and cover tunes intertwined with their familiar catalog of original material. The defiant yet pleasantly poppy "Done" kicked off the fun show with a fury, highlighting their singer's outstanding vocals and adding in some violin playing for good measure to the upbeat single. Early in the set, the band whipped out Dolly Parton-Whitney Houston classic "I Will Always Love You" as a tease into the much faster paced "I'm A Keeper" and "Fat Bottomed Girls" led by brother Neil, made the show an outright party as the crowd sang along accordingly.
The fun hardly stopped there with further teases of "Amazing Grace" and Fall Out Boy's "My Songs Know What You Did in the Dark," which added even more surprises to an already festive evening. "Postcards From Paris" meanwhile led into a rowdy rendition of "If I Die Young," the closer to The Band Perry's main set. The band left the stage only momentarily before returning for their encore, closing with the rebellious "Better Dig Two"- in a vein that would make Carrie Underwood smile proudly. Effectively creating a nouveau style of country music that people of all ages genuinely seem to appreciate, the band performs with a supreme confidence in their stage presence and in their sound that far exceed their years. And with each passing show, The Band Perry proves they aren't just another bunch of pretty faces.
- Jane Van Arsdale
Related Articles
Share
About Author
(0) Readers Comments