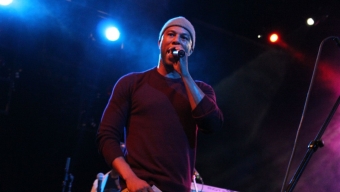 The Black Radio Tour
Common, Marsha Ambrosius, & Robert Glasper Experiment
A LocalBozo.com Concert Review
Best Buy Theater, New York, NY
October 29, 2013
In the vein of an old school rock and roll revue, Tuesday night's show at the Best Buy Theater replaced the rock and the roll with some funk and some soul. On the day of release for Robert Glasper Experiment's new album "Black Radio 2," the accomplished pianist-led group would welcome artists Marsha Ambrosius and Common to their New York City show in celebration of their brand new record. And with The Roots' drummer Questlove out first to open with a DJ set, the entire show would effectively mesh hop hop, soul, and some experimental jazz together for more than three full hours of live music.
Robert Glasper Experiment took center stage first and would remain there until the show's conclusion, welcoming out the revolving door of guests to join them on stage for their man sets. Glasper himself is a conductor of sorts on stage, alternating the band around him through an array of different genres. His eclectic musical style and his penchant for punchlines were both equally on display during the band's 30 minute opening set which sampled Daft Punk's "Get Lucky" sandwiched between cuts from his new album like "Baby Tonight," the show's opener, and "Let it Ride," despite the absence of Norah Jones. The band welcomed the soulful Eric Roberson on stage for a rendition of "Big Girl Body" and even threw in a cover of Bill Withers' "Lovely Day" for good measure. Surprisingly, the band left out material from their Grammy Award winning 2012 "Best R&B Album" "Black Radio," but with their abbreviated set time for original material, the audience didn't seem to mind.
Welcoming Marsha Ambrosius to the stage for a collaboration on the slow and sultry "Trust" was a fine segue way and the crowd on hand went wild as she joined the band at the mic stand. Ambrosius' nearly hour long set spanned her more than a decade career, with tracks from her days in Floetry ("Say Yes"), her solo work ("Hope She Cheats on You (With a Basketball Player)", "Without You") and stirring covers of Michael Jackson's "Butterflies" and Sade's "Love is Stronger Than Pride." The British songstress showed her versatility with equal elements of humor, rhyming, and a moving set of pipes allowing Ambrosius to hit all of the necessary notes on each song she attempted. With the help of a short DJ set, Ambrosius also played a bit of karaoke with the crowd, giving them the opportunity to sing the choruses on some classic songs from hip hop's past.
After a few hours of patience, the crowd finally became unglued as Lonnie Lynn (Common) jolted out to the stage. Donning a skull cap and a thin red sweater, Common exploded front and center with the stage presence and vigor that only the baritone rapper employs, his arms moving feverishly as if they'll help him enunciate his pronounced lyrics. His seven song set was utterly fantastic, opening methodically with "The Dreamer" and "Ghetto Dreams" blended together, before turning back the clock some with "Geto Heaven Part 2," "Theolonious," and 1994′s "I Used to Love H.E.R.," from back when his moniker was Common Sense. Before rejoining with Robert Glasper Experiment on their collaborative "I Stand Alone," Common brought out a trio of tracks from 2007s "Finding Forever," as each "U, Black Maybe," "Break My Heart," and "The People" played pivotal roles in pacing his energy-laced set. In recent years, a burgeoning acting career has led his path further away from the world of hip hop, but Common's innate ability to captivate a live audience and perhaps even more of a rarity- for a rapper to actually SOUND fantastic in that setting, ensure that despite the roads which draw him further away from the studio, he always makes sure to find his way home.
- Jane Van Arsdale
Related Articles
Share
About Author
(2) Readers Comments