It's time to wipe the remaining eye makeup off your face from your Halloween costumes and start to talk turkey. Thanksgiving turkey that is. 2013′s final two months have crept up faster than ever and the new year is right around the corner. But lets savor these lasting weeks as the month of November has a ton of great stuff for folks of all ages, giving us another few reasons to get up off the couch and explore NYC a little bit more. Just be sure to pack some gloves and a scarf as the temperatures dwindle because this is where you need to be this November. Brrrrrrrrrr.

November Events in New York City: Where You Need to Be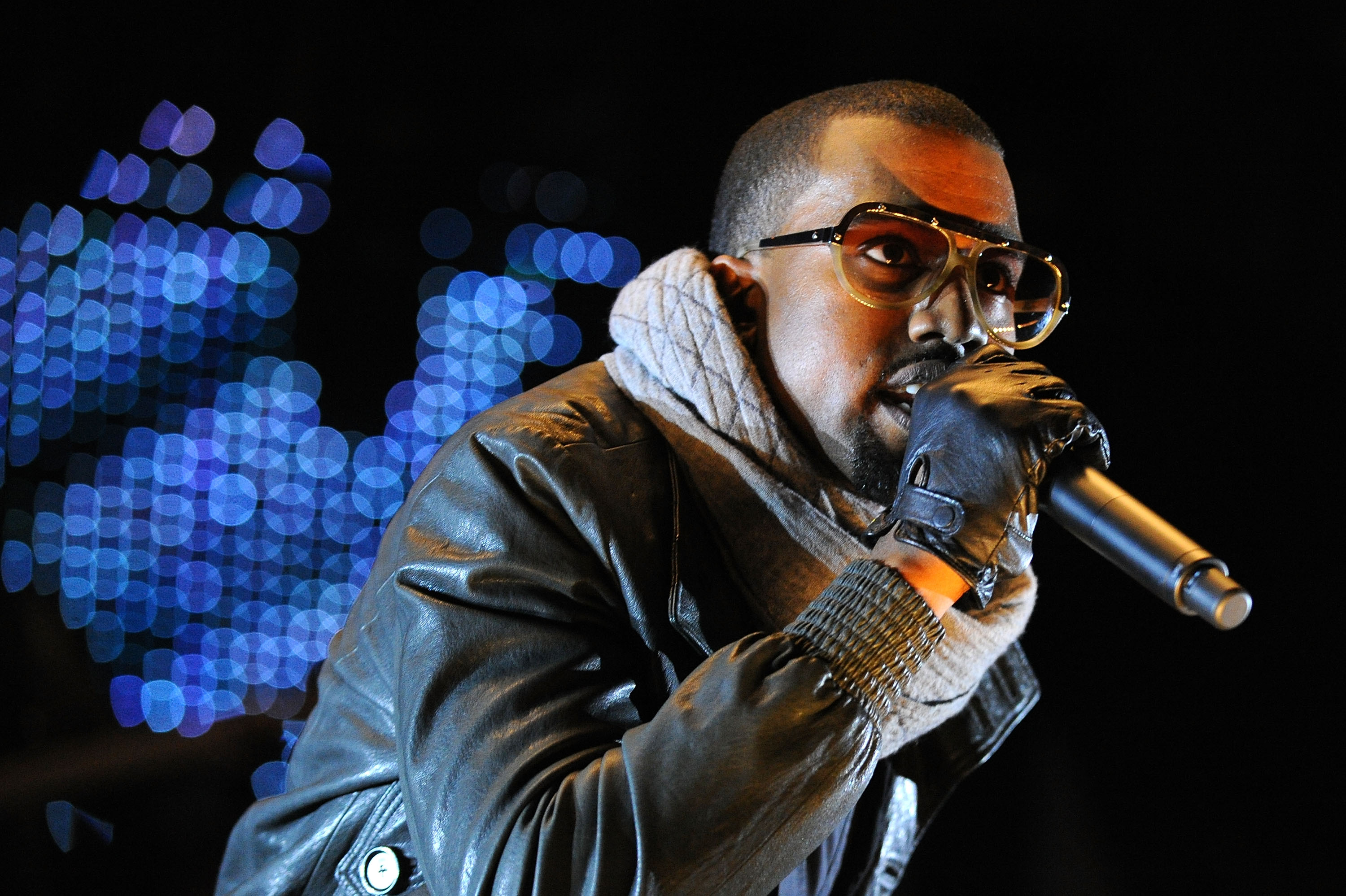 Date: Friday, November 1st, 2013 – Saturday, November 30th 2013

Event: Concerts Concerts Everywhere

Place: Varies

Cost: Varies
The Scoop: One thing is for sure, November is jam-packed with live shows suited to any musical fancy. It kicks off on the first of the month with M.I.A hitting Terminal 5 for two nights (and 11/4) of fast paced fun and crooner Ed Sheeran taking over a string of dates at Madison Square Garden (11/7). On Saturday 11/2, Powerhouse 2013 comes to the Barclays Center with Kendrick Lamar, Try Songz, and Fabolous, headlining the big Power 105.1 show. With support from Tweens, Black Lips hit the Bowery Ballroom on 11/5 while The Dead's Phil Lesh brings his 'Friends' to Best Buy Theater from the 5th through the 9th. The 6th has some really fantastic voices with James Blake in the first of two nights at Terminal 5 (and 11/7) and JT himself Justin Timberlake hitting the Barclays Center in Brooklyn. On 11/8, rock comes to Terminal 5 with Lucero and Titus Andronicus and The Eagles open up at Madison Square Garden (11/9 and 11/11), while Third Eye Blind has a sold out show at Irving Plaza, all in one night! Meanwhile, the 10th features rock of all kinds: a co-headlining bill with Alkaline Trio and New Found Glory by Rockstar Energy Drink, a ska night with Less Than Jake at the Highline Ballroom, and In This Moment rocking the Best Buy Theater. Reel Big Fish and Goldfinger hit the Best Buy Theater on 11/12 before the Macklemore and Ryan Lewis has three nights at The Theater at Madison Square Garden on 11/13, 14, and 15, Paramore hits Madison Square Garden, Charli XCX plays Irving Plaza, and the legendary John Fogerty takes on the Beacon Theatre. The 2nd half of the month opens in style with Rick Ross at the Beacon Theatre on the 15th along with Florida Georgia Line at the Best Buy Theater, Gary Clark Jr. playing the blues at Terminal 5 on the 16th, Chris Cornell on the 16th, and YEEZUS! Kanye West with two nights at Barclays Center (with A Tribe Called Quest) on 11/19 and 11/20 and two nights at the Garden on 11/23 and 11/24. And we close the month with some of our favorites- Halestorm at Terminal 5 to rock the house.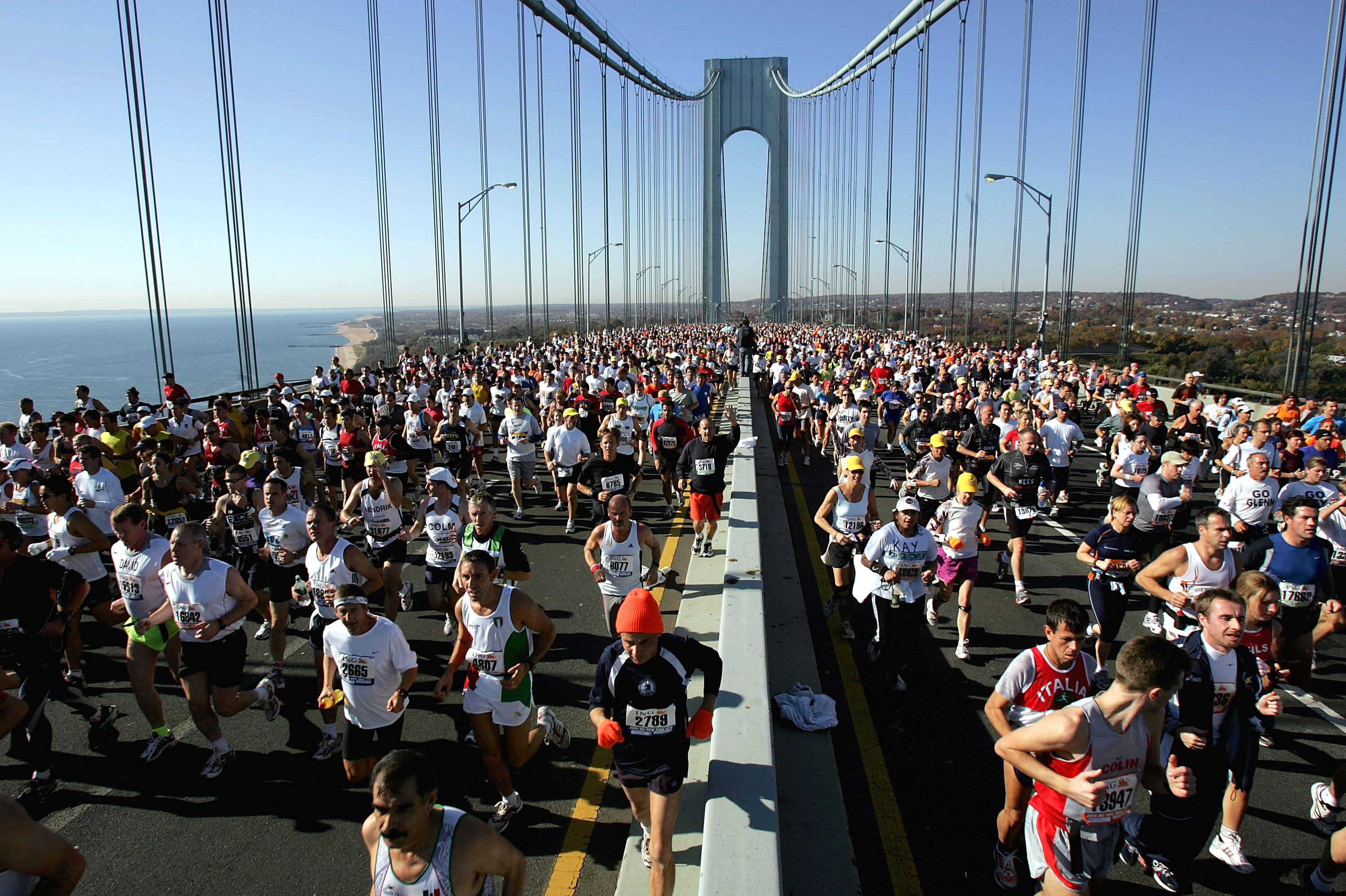 Date: Sunday, November 3rd, 2013

Event: 2013 ING New York City Marathon

Place: 26.2 Miles Worth of Real Estate

Cost: Free
The Scoop: A certain hurricane may have ruined a New York City institution in 2012, but there's no stopping us in 2013. From watching that is. More than 45,000 runners will suit up in track gear and sneakers from Brooklyn to Manhattan for 26.2 miles of endurance. Whether you're running the race or bringing a flask to the festivities filled with warming booze, the New York City Marathon brings local citizens together in a way that nothing else does. Grab a bagel and some buddies and hit the east side in the 70′s or 80′s along First Avenue to cheer everyone on.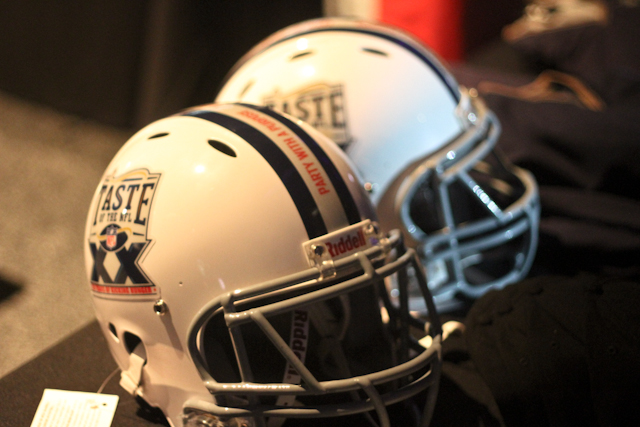 Date: Monday, November 4th, 2013

Event: Taste of the NFL: New York Jets

Place: 82 Mercer

Cost: VIP – $425; General Admission – $175
The Scoop: Hosted by New York Jets players Nick Mangold and Muhammad Wilkerson, 'Taste of the NFL' comes to the fantastic 82 Mercer space bringing together current members of Gang Green alongside a collection of NYC chefs for the ultimate tasting experience. VIP guests will enter an hour earlier and get to witness a fashion show with current Jet players featuring clothes from Saks Fifth Avenue, while the general admission tickets offer fine wines, the chance to hob nob with some gigantic football players, and of course eat some great food for the benefit of fighting hunger in New York City.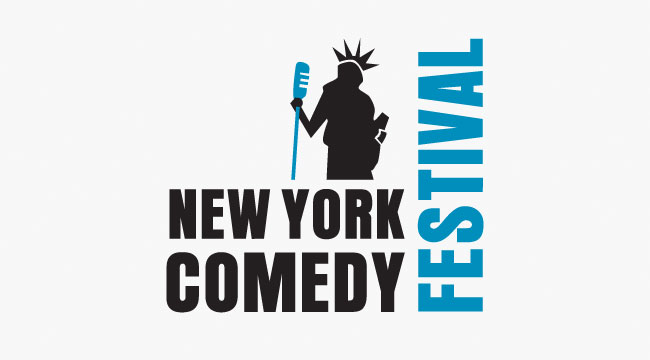 Date: Wednesday, November 6th – Sunday, November 10th, 2013

Event: 2013 New York Comedy Festival

Place: Varies

Cost: Varies

The Scoop: It's that time of year where the biggest names in stand up comedy all come to New York City. Yep, it's the 2013 New York Comedy Festival and this year, the participants are poised to make 2013 the most diverse Festival yet. The event kicks off with the annual "Stand Up For Heroes" event featuring Bruce Springsteen, Jerry Seinfeld, Jon Stewart and many more guests. You can also catch Stephen Colbert, SNL's Jay Pharoah, Wanda Sykes, Nick Swardson, Bill Burr, Kathy Griffin, Whitney Cummings, John Mulaney, Jim Jefferies, Bill Maher, Anthony Jeselnik, Larry David, Vanessa Bayer, Jim Breuer, Julian McCullough, Charlie Murphy, David Cross, and many many more all over town.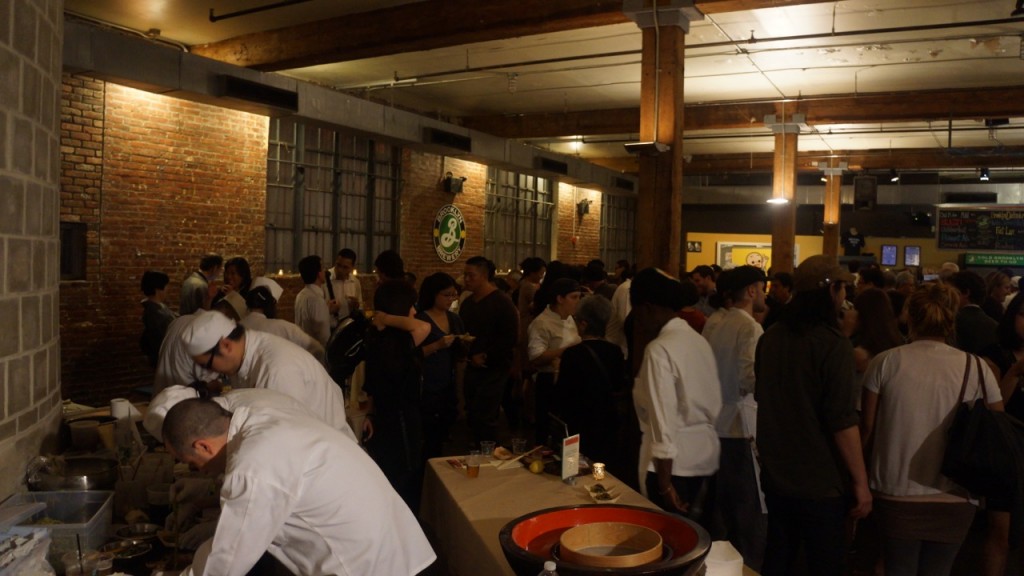 Date: Thursday, November 7th, 2013

Event: Aki Matsuri 2013

Place: Brooklyn Brewery

Cost: $125

The Scoop: The annual "Aki Matsuri" event brings together a collection of notable chefs serving up different styles of 'Izakaya' or Japanese style pub dishes. With the likes of Morimoto, Nobu, Red Rooster, Blue Ribbon, and Park Avenue Autumn in attendance, the food samples are bound to be incredible. Plus, there's going to be a silent auction, a live soba making demonstration, and an arrangement of zen flowers while you sample some truly delectable Japanese inspired food. The Gohan Society is a supporter of local Japanese culture, evidenced by the splendor that the annual Aki Matsuri always provides.
Date: Friday, November 8th, 2013

Event: Around the World in 80 Sips

Place: Espace

Cost: $75 – $195 (50% off with code "LOCALBOZO50″)

The Scoop: A weekend of tasty wine sampling kicks off on Friday the 8th with 'Around the World in 80 Sips.' The 5th Annual tasting event brings more than eighty different wines from around the globe to the posh west side venue Espace along with some light appetizers. The two hour general admission tickets are discounted for LocalBozo.com readers with the code 'LOCALBOZO50,' giving you even more of an incentive to pick up tickets and head on out. Wine. Food. A Friday night out in New York City that won't break the bank? Nothing starts the weekend off right like a wine tasting and whether this is your final destination or a pre-game for a nice evening on the town, 'Around the World in 80 Sips' is certain to be memorable.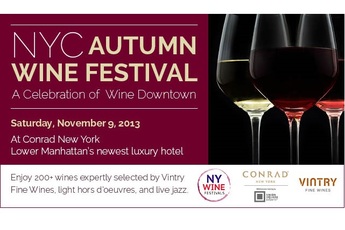 Date: Saturday, November 9th, 2013

Event: NYC Autumn Wine Festival 2013

Place: Conrad New York

Cost: $99

The Scoop: The weekend of wine tasting rolls on with the "NYC Autumn Wine Festival" offering more than 200 different wine samples, some light fare from Union Square Events, and some live jazz music as a backdrop for an afternoon or an evening (depending upon your preference) of imbibing. You'll also get a program guide and a wine glass to take home with you to boot. The Conrad is a newly opened luxury hotel which provides picturesque views of lower Manhattan while you sip and swirl wines curated by Vintry. Be prepared for an evening of refinement and great tastes at the annual Wine Festival.

Date: Monday, November 11th, 2013

Event: New York Taste 2013

Place: The Waterfront

Cost: VIP – $195, General Admission – $100

The Scoop: Bringing 40 chefs together under one roof might be problematic for some outlets but for New York Magazine, it's an annual rite of passage. With "New York Taste," the evening donates a portion of the proceeds to City Harvest which has served the city's homeless for three decades. This year, culinary minds from restaurants like Red Rooster, Brushstroke, Manzanilla, Delicatessen, Hill Country, The Elm, Pearl & Ash, The Meatball Shop, Morimoto, Distilled, Commerce, and many more will all be coming out for the event, featuring some of Manhattan's most notable chefs. You'll have the chance to chat with chefs and mixologists as you eat and drink your fill at the 2013 'Taste.'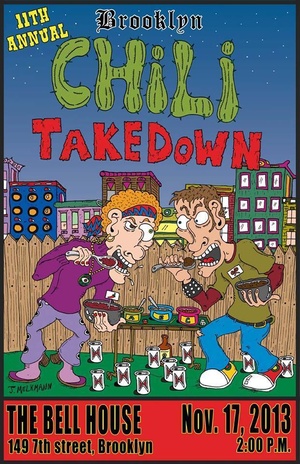 Date: Sunday, November 17th, 2013

Event: The Brooklyn Chili Takedown

Place: The Bell House

Cost: $15

The Scoop: With the event that put home cooking competitions on the map, Matt Timms' brings the 'Chili Takedown' back to Brooklyn haunt The Bell House for a day of absolute eating insanity. With more than 30 different cooks lined up, you'll taste chili of all kind, courtesy of some of the borough's most inventive and experimental minds. You'll also get to vote on the best in house or the "President of Awesome." It's cheap and filling and it's something that everyone should check out at least one time. Meat! Beans! Cheese! Chili!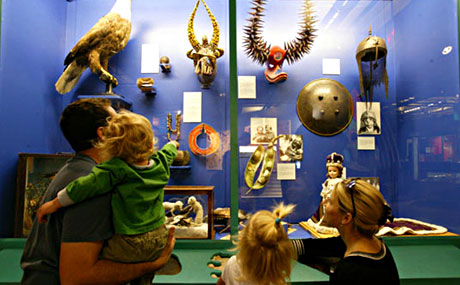 Date: Tuesday, November 19th

Event: Imaginations Brewing: A Fall Toast to the Brooklyn Children's Museum

Place: Brooklyn Brewery

Cost: $200

The Scoop: The Brooklyn's Children Museum was founded before the turn of the 1900′s. Think about that for a second. And it was the first museum geared specifically toward children. Since then, more than 300 similar institutions have opened around the world to engage and stimulate kids in learning. It's only fitting perhaps that the Museum host a fundraiser in the borough, with the support from local businesses in the borough. Brooklyn Brewery is playing host to the event, serving up delicious helpings of their tasty suds, along with eats from some restaurants in Brooklyn and a full on tour of the brewery itself all during the three plus hour evening. It's for a great cause and gives you yet another reason for a trip into Williamsburg.
Date: Friday, November 22nd, 2013

Event: North Shore Animal League America Celebrity Gala

Place: Waldorf Astoria

Cost: $1,000 – $1,500

The Scoop: Yes the tickets are expensive for the average Joe, but the cause is both imperative and unique at once. It's the 2013 Animal League America Celebrity Gala, hosted by honorary chairpersons Beth and Howard Stern benefiting 'Bianca's Furry Friends Feline Adoption & Wellness Center.' The evening features a cavalcade of big names. Hosted by Hot97 emcee Peter Rosenberg and with a performance by The Dixie Chick's Natalie Maines, the event with honor Rachel Ray for her efforts toward the world's largest no-kill animal rescue and adoption organization, who to date has rescued more than 1 million animals. Dinner, dancing, and the Sterns, all make for an unforgettable experience.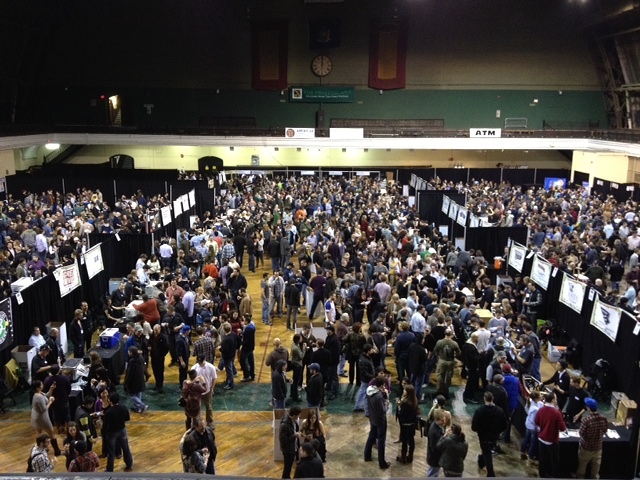 Date: Saturday, November 23rd to Sunday, November 24th, 2013

Event: NYC Craft Beer Festival Winter Harvest

Place: Lexington Avenue Armory

Cost: $55-$125

The Scoop: A couple of times a year, the folks at the NYC Craft Beer Festival host a fun, seasonal beer drinkers paradise for New Yorkers to enjoy. With the blustery winds of winter approaching, the darker cold month beers are returning to the Lexington Avenue Armory for three outstanding sessions- two on Saturday, one on Sunday. But each one with be packed with suds, tasty foods, and hundreds of likeminded drinkers. There'll be more than 150 different craft beers, interactive seminars, and- a staple to the Festival- a souvenir drinking glass for you to have for life. General Admission tickets are reasonably priced and offer two and a half hours of walk around fun. So what are you waiting for?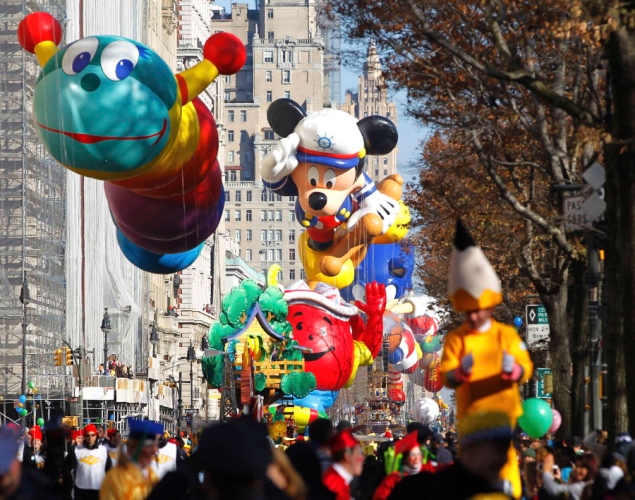 Date: Thursday, November 28th, 2013 , 2013

Event: The 2013 Macy's Thanksgiving Day Parade

Place: New York City

Cost: Free

The Scoop: You'll need to get up really early to get a good spot to stand in line. But if you take your time, you can still catch the tail end of the parade that makes New York City what it is in November. Thousands of people will flock to the streets for the 87th annual parade, with gigantic balloons, pop and Broadway show performances, and of course Jolly St. Nick to close out the event and the month as we officially kick off the approach to the holidays. This is the only parade that matters each year when it comes to New Yorkers, and it's the only one that has us longing for our days as kids, just wishing we could experience something this grandiose in person.
- Jane Van Arsdale
Related Articles
Share
About Author
(0) Readers Comments