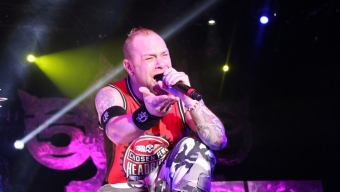 Five Finger Death Punch
A LocalBozo.com Concert Review
Best Buy Theater, New York, NY
October 12, 2013
Los Angeles metal band Five Finger Death Punch exploded into the realm of music consciousness in 2007 and haven't looked back much since. Saturday night, the band returned to New York City's Best Buy Theater with a pulverizing 80 minute set that truly showcased the special blend of heavy music meshed with melody that have become the lynchpin for a band that ascended much faster than anyone had anticipated. And with their fifth album to be released next month, their second in 2013, there's no telling where a band this big is headed next.
Fans were packed to the gills inside the Best Buy Theater, which was completely sold out by show time. Following support acts Escape the Fate and Miss May I, the crowd was understandably worked up into a frenzy in anticipation of the headliners, whose intricate stage setup and light show inside the building could rival a KISS concert. The lights dimmed close to 10pm when the band made their way out to center stage to a roaring ovation from the New York faithful. Frontman Ivan Moody was out last, but from the moment he grabbed the cordless microphone from his silver skull-laden stand, it was clear that he was the show's mesmerizing focal point. Outfitted in alternating tank tops and sleeveless t-shirts after different wardrobe changes, the singer paced the stage aggressively, often times singling out specific members of the crowd and screaming his lyrics directly at them.
The show opened with a furious version of the unrelenting "Over and Under It," which had even the photographers in the photo pit singing along to Moody's lyrics as he was spewing them. "Burn It Down" and "The Way of the Fist" quickly and similarly followed suit with particular fury and "Hard to See" showcased the band's cohesiveness as a polished live act. Lead guitarist Jason Hook ripped through shredding solo after solo flawlessly, while although a bit hidden by the sheer size of his elevated drum kit, Jeremy Spencer's pounding double bass drums and sticks smashing violently against each cymbal crash were incredibly eye-popping during his drum solo.
To the band's credit, their fifteen song set encompassed crowd pleasing covers like LL Cool J's "Mama Said Knock You Out" and their absolutely rocking version of Bad Company's "Bad Company" alongside singles like "Never Enough." The crowd in turn, began supportive chants of "USA" sporadically as the show progressed. Hook joined Moody on stage together for a stirring acoustic rendition of "Remember Everything" which capably showcased the band's softer side even during the song's passion filled chorus. The only beef that we had with Five Finger Death Punch's fantastic live show was their tease of "Far From Home," among the band's catchiest and most notable singles, and which only lasted for a few short seconds. But closing with "The Bleeding" was an intense rally from any disappointment, with the entire audience screaming the chorus back toward the stage at the very top of their lungs. Through and through the show was exactly what a rock show is supposed to be – an energetic release. And if you're a fan of rock of any genre, it's hard not to appreciate the talents and the creative musicianship of Five Finger Death Punch, arguably metal's most successful current rock act and inarguably, one heck of a live band.
- Jane Van Arsdale
Related Articles
Share
About Author
(0) Readers Comments