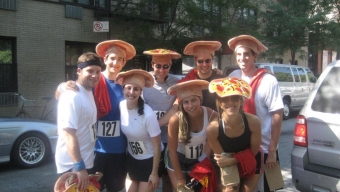 Looking for last minute, off-the-cuff weekend plans? LocalBozo.com has got you covered. It's not too late to figure it all out. For a glimpse of upcoming events that we'll be covering, check out the calendar in our side bar to your right. Otherwise, here are a few highlights to check out in and around Manhattan this weekend!
Arts & Culture
Friday, September 20th – Sunday, September 22nd – There's a ton of happenings this weekend for the New York Art Book Fair, commencing today and tomorrow in Long Island City, Queens.  Almost 300 different books, magazines and art publications are certain to be on hand all weekend long, capped by book signings, meet and greets and much more.  Best of all is that it's free, and it's a great conversation starter that doesn't involve sports, beer, Breaking Bad or Syria.  So yo've got that going for you.  (NY Art Book Fair)
Sports
Friday, September 20th – Sunday, September 22nd – Big weekend for sports in New York City this weekend.  First, yes baseball season is still going on and in an historic interleague series, the Giants of San Francisco return to the Bronx which is hardly am every year occurrence to take on the Yankees in a three game set.  The Yanks are still clinging to their playoff hopes while the Giants are….well….. they won last year.  As the career of Mariano Rivera winds to a close this year, this may be one of your last chances to see the King pitch in person.  (Yankees-Giants Tickets)
Sunday, September 22nd – The New York Jets are home this weekend with a 4:25pm start against the new look Buffalo Bills.  It's a matchup of rookie quarterbacks with Buffalo's E.J. Manuel set to take on Geno Smith in an AFC East divisional showdown.  With the Patriots looking feeble and the Dolphins looking strong, this could be the year the whole division shifts.  And whose to say one of these two franchises aren't primed to take it all over? (Jets-Bills Tickets)
Music & Entertainment
Friday, September 20th – Quiet night in tonight…  The highlight of this weekend's slate is definitely "Prisoners" (R) starring Jake Gyllenhaal and Hugh Jackman in a chilling thriller where Jackman's six year old daughter is kidnapped.  Detective Gyllenhaal doesn't move fast enough and Jackman is confronted with taking the circumstances into his own hands.  The trailer alone is suspenseful as one can get without revealing what is certain to be a climactic ending.  Also opening, "Enough Said" (R) in limited release, which we just reviewed earlier this week.  Starring Julia Louis-Dreyfus and one of the final acting appearances of James Gandolfini, the film is both funny and thought provoking at once and is a middle aged love story that isn't strictly for your parents to go and see.
Friday, September 20th – Saturday, September 21st – 'I Don't Care.  I Love it!'  Pop rocks tonight at Webster Hall as Icona Pop take the stage with support from K Flay and Sirah.  Doors are at 6pm so get there early for the show, a precursor to next week's at Music Hall of Williamsburg.  Also tonight, the boys from Vampire Weekend continue their world domination at Brooklyn's Barclays Center in front of 17,000 screaming lunatics.  Tomorrow night, the dulcet tones of Sarah Brightman head to Radio City Music Hall for a sold out show- keep tabs on tickets as some may open before showtime.
Nightlife
Friday, September 20th – Saturday, September 21st – The nightlife heats up in NYC this weekend.  First it's Rubix Kube at The Cutting Room on Friday night.  Join the City's most fun 1980′s cover band as they run down all the hits you remember when you either had big hair or weren't in the womb yet.  Either way, you're not gonna not have fun.  On Saturday, do something good with your evening and head to the Alahambra Ballroom until 11pm for the Fierce Fall Ball 2013.  Enjoy a red carpet walk, dinner, drinks, all to benefit battling the HIV and AIDS epidemic on a local level – here in New York.  And if you're looking for something a little more low key- hit up Glazz for Latin Saturdays until 4am where The Turntable Assassins take over the, you guessed it, turntables.  And everyone's free until midnight.
Other
Saturday, September 21st – Okay get ready for this one.  Tompkins Square Park hosts the NYC Pizza Run on Saturday morning.  For $50, you get the opportunity to join a bunch of other clowns in eating three slices of pizza IN THE MIDDLE of running a race!  There's three different checkpoints to stop, devour a full slice of pie, and then get back on the trail.  Following the race, there are nearby bars offering discounted drinks for those of us crazy enough to actually be running but the lunacy does have a cause- the Juvenile Diabetes Research Foundation- which is a good thing.
LocalBozo.com's "Local Eats 2013″
Tuesday, October 8th – Okay, it's a bit out of timeframe, but hey- it's our website! LocalBozo.com hosts our first ever event with "Local Eats 2013″ on October 8th at Santos Party House. We'll be featuring newly opened NYC restaurants like Swine, Alison Eighteen, Boulton & Watt, Wafels and Dinges, Route 66 Smokehouse, Sotto 13, The Jeffrey, Rogue and Canon and MORE. Plus, taste unlimited brews from Bronx Brewery, Blue Point Brewing and Lagunitas, wines from the Finger Lakes, and a concurrently running silent auction with restaurant gift cards and sports memorabilia all to benefit local nonprofit KEEN New York. And tickets are priced at just $45, so grab them right now- before they're all gone. (Local Eats Tickets)
And as Always, Droid users- make sure to Download the official LocalBozo.com App for FREE from Google Play (formerly the Android Market)! Get all the information we can fit onto your smart phone, NOW!
Related Articles
Share
About Author
(0) Readers Comments