The beach days are now behind us. Sun tan lotion and short shorts will soon be replaced with wing sauce and football jerseys. Another magical New York City summer is in the books and now it's time to look ahead to fall. Fortunately while you head back from the Hamptons or the (gulp) Jersey shore, there's plenty to keep you occupied all month long in September. From concerts to food fests, charities to wine tastings, the fall picks up in a hurry. And now, the Can't Miss September Events: Where You Need to Be.

September Events in New York City: Where You Need to Be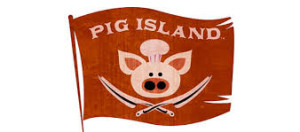 Date: Saturday, September 7th, 2013

Event: Pig Island 2013

Place: Ikea Waterfront, Red Hook Brooklyn

Cost: Regular Admission- $75; Day of Event- $85
The Scoop: Moving for the very first time from Governors Island to the Red Hook Brooklyn waterfront at Ikea, it's Pig Island, the third annual food tasting featuring more than 25 different chefs, carving up snout to tail hog in a variety of different ways. The 5 hour frenzy begins at 11:30am and includes the likes of Palo Santo, Fletcher's BBQ, Arrogant Swine, Hecho en Dumbo, Kuma Inn, and many more. Plus beer from Sixpoint, wines from the Finger Lakes, and ciders galore! Grab your tickets now before they jump again in price and read our full preview here!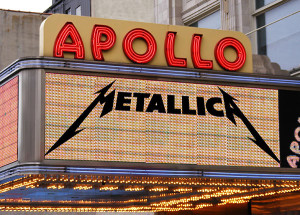 Date: Saturday, September 7th – Monday, September 30th

Event: Concerts, Concerts Everywhere!

Place: Varies

Cost: Varies
The Scoop: It's another especially strong month for live music here in New York City.  We've got the links and dates you'll need to remember right here.  It all kicks off this weekend at Brooklyn's Barclays Center as the home of the Nets plays host to Pete Wentz, Patrick Stump and the rest of Fall Out Boy on Saturday, September 7th.  They rocked the house at Terminal 5 a few months back in an apparent warm up for this local arena gig.  Meanwhile, their forefathers of sorts from Blink-182 are set to rock Music Hall of Williamsburg on Wednesday, September 11th, in a show that's long sold out.  For rock of a different kind, check out Violent Femmes on Thursday, September 12th at Central Park's Rumsey Playfield.  Get ready for "Blister in the Sun" and "Kiss Off" among the band's legendary hits.  On Sunday, September 15th meanwhile, the Playfield gets a more contemporary flavor as Alt-J takes center stage for another sold out show after a sellout at the Hammerstein Ballroom the night before.  More rock at Webster Hall as Arctic Monkeys perform on Monday, September 16th, Vampire Weekend takes on the Barclays Center on Friday, September 20th, and of course, the mighty Metallica hits the Apollo Theater on Saturday, September 21st in an exclusive SiriusXM show.  Ain't enough rock for you?  How about Hinder and Candlebox at Irving Plaza on Thursday, September 26th with support from Devour the Day, Korn and Asking Alexandria at Roseland Ballroom on Saturday, September 27th, Volbeat and All That Remains at Williamsburg Park on Sunday, September 28th and finally The Gaslight Anthem's Brian Fallon and The Bouncing Souls back at Music Hall of Williamsburg on Monday, September 30th.  And finally, if meet and greets are your thing, Sam Ash on 34th Street hosts Pantera bassist Rex Brown for an awesome demonstration, Q&A, and signing on Thursday, September 19th!  Whew.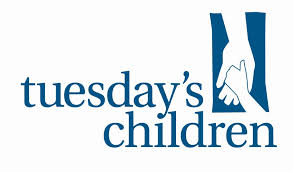 Date: Tuesday, September 10th 2013

Event: Tuesday's Children 'Evening of Light Gala'

Place: 4 World Financial Center

Cost: Varies

The Scoop: Every September comes with anticipation and also some awful memories as September 11th, 2001 seems so far away and yet still so recent. Tuesday's Children is an organization devoted to the families of the victims affected by that fateful day and their annual gala of inspiration returns to the very site of the incident to the newly reformed financial district and inside 4 World Financial Center. It's only fitting that in the rebuilt towers, trganization stands strong and this year's benefit features the likes of comedienne Susie Essman (Curb Your Enthusiasm) and The Eagles' Don Felder performing. While the entertainment is magical, it's the folks you meet inside that are truly moving.


Date: Saturday, September 14th – Sunday, September 15th, 2013

Event: Taste Talks

Place: Varies

Cost: Varies

The Scoop: The New York City Food Network Wine and Food Festival begins in October. But that doesn't mean that September doesn't have its share of strong events. Brooklyn hosts "Taste Talks" the weekend of the 14th and 15th, headlined by Sunday's 'All-Star Cookout.' Teams of chefs collaborate to concoct different dishes from the likes of Spotted Pig, Marlow and Sons, Dinosaur BBQ, Hill Country, Pies & Thighs, Meat Hook, Saltie, Allswell, and many more. Or head to Brooklyn Bowl on Saturday morning for the "Pancake Breakfast with Blue Ribbon and My Morning Jacket's Patrick Hallahan" among a sea of different symposiums and conferences held all weekend long. The full schedule is here, but don't wait to grab your tickets because they will not last.


Date: Tuesday, September 17th

Event: 2013 Harvest in the Square

Place: Union Square Park

Cost: $125

The Scoop: Get ready for the restaurant rundown happening at the 18th Annual "Harvest in the Square," celebrating the best restaurants and vendors in Union Square. Sample choice tastes from the likes of Craft, Rose Mexicano, Junoon, Duke's, Gramercy Terrace, OLIVES New York, The Fourth, Union Square Café, Alison Eighteen, BLT Prime, Blue Smoke, and so many more. And $75 of each ticket is actually tax deductible with proceeds going to the Union Square Partnership. The list of restaurants is both expansive and impressive along with Finger Lakes Rieslings, and other delicious wines from all over New York.

Date: Friday, September 20th – Saturday, September 21st

Event: Wine Riot 2013

Place: 69th Regiment Armory

Cost: $60

The Scoop: For just $60, you and your buddies have a full ride to taste more than 250 wines from around the globe. 250! Wine Riot gives you a glass and sends you on your way, allowing you to sample a variety of wines you likely never have before. Couple that with a DJ, a photo booth, and an app that tracks what you've had, what you like, and best of all, where you can get the bottles in your area. You'll learn about wines and taste a ton of them whether you hit up one of the Saturday sessions or the Friday 'Opening Night' Riot.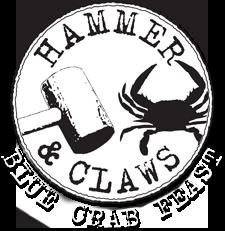 Date: Saturday, September 21st – Sunday, September 22nd

Event: The 3rd Annual Hammer and Claws Blue Crab Feast

Place: The Tunnel

Cost: $95

The Scoop: There's two three hour sessions on Saturday and just one on Sunday.  But that's more than enough time to soak your hands in fresh crab meat at the 2013 Hammer and Claws event.  Hundreds of pounds of delicious blue crabs come to New York City straight from the Chesapeake just days before the weekend sessions alongside pours of beer from Abita and hot dogs, courtesy of exclusive purveyor Pat La Frieda.  Tickets are running out fast so make sure to secure yours long before they're lost for good.  As the Feast only comes to Manhattan but once a year.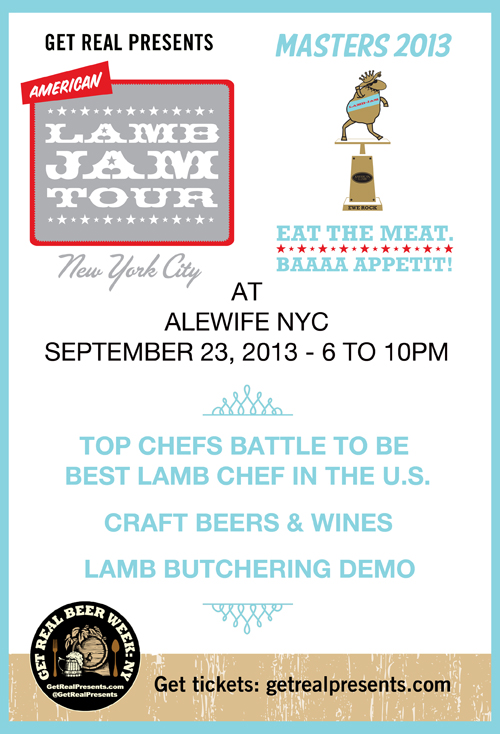 Date: Monday, September 23rd, 2013

Event: Lamb Jam Masters 2013

Place: Alewife

Cost: VIP- $60; General Admission – $50

The Scoop: Long Island City's finest craft beer bar is back at it again with a slew of events this month celebrating Get Real Beer Week. But the end of the month culminates in Lamb Jam Masters 2013 featuring all lamb dishes from 6 different chefs and unlimited beer and wine, all in one three hour period. Local chefs include Tommy Lasagna's chef Tommy Mosera and Alewife's Michael Haigh, but the event will also host chefs from San Francisco, Washington DC, Boston and Portland, all preparing delectable cuts of tender lamb. With beer from Harpoon and 21st Amendment, and a multitude of participating wineries, Lamb Jam Masters will certainly be paradise for all meat lovers.

Date: Tuesday, September 24th , 2013

Event: Spain's Great Match: Wine Food and Design 2013

Place: The Metropolitan Pavilion

Cost: $75 General Admission; $125 VIPs

The Scoop: Joining together to celebrate the best of Spain, the "Great Match" event brings together some wines, beers, food, music, and even design into one space. The Metropolitan Pavilion plays the ideal host to an event of this caliber, boasting more than 300 different Spanish wines from each region and food courtesy of Manzanilla, Socarrat Paella Bar, Tertulia and Txikito, and Boqueria to name a few. Plus enjoy the designs of Luis Eslava while you sip and spit wine and wash the food down with some delicious Spanish craft beers.  And just because you're reading this on our site, enter code SGM2013 for $15 off general admission tickets!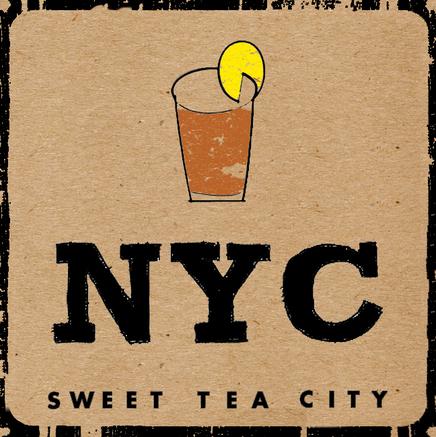 Date: Saturday, September 14th, 2013 & Saturday September 28th, 2013

Event: Sweet Tea City's BBQ Tailgate Series

Place: Boat Basin Cafe

Cost: $85 until day of; $90 at the door

The Scoop: The folks who brought the Crawfish for Cancer event that swarmed the Boat Basin a few months back have returned for two action packed events, each is jammed for 5 fun hours. It's the "BBQ Tailgate Series" presented by Sweet Tea City and on two September Saturdays, get ready for a great time. All under the Boat Basin's outdoor setting, the Series brings in hundreds of pounds of 'cue and bratwursts, unlimited beer, spirits and wine, signature cocktails form Firefly's Sweet Tea Vodka, and of course, live music. But what would a Tailgate be without games like cornhole and some ole' fashioned beer pong as well as TV's showing all of the day's college football games. Why stay inside when this sounds like the BEST DAY EVER?? And it happens twice this month.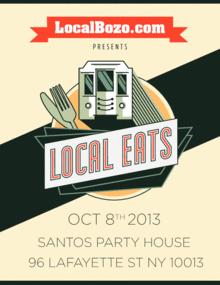 Although the month of September is jam packed with great events, make sure to check out LocalBozo.com's first ever event with "Local Eats."  Tuesday, October 8th from Santos  Party House in Tribeca/Chinatown, our event aims to be affordable on any budget.  We're hosting newly opened New York City restaurants like Alison Eighteen, Swine, Boulton & Watt, Rogue and Canon, Wafels and Dinges, Sotto 13 just to name a few.  We'll also have wines poured exclusively from the Finger Lakes, spirits, and of course beers courtesy of Lagunitas, Bronx Brewery, and Blue Point, as well as a bevy of silent auction items all benefitting KEEN New York, a local non-profit.  You're reading this, so support us and check this ticketing link NOW!
 - Jane Van Arsdale
Related Articles
Share
About Author
(0) Readers Comments