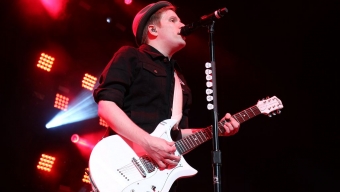 Fall Out Boy
Barclays Center, Brooklyn, NY
September 7, 2013
You would be hard pressed to assemble a bill of bands that share the qualities indicative of pulling off a fun rock show than the lineup that took over the Barclays Center on Saturday night. Throngs of screaming fans were jam packed to the rafters at the newly opened arena, assembled for a concert that brings together a collaboration of rock riffs and pop hooks perfectly intertwined in front of a capacity crowd of New Yorkers. With support from the perpetually energetic Panic! at the Disco, headliners Fall Out Boy truly stole the show with a no nonsense, fast paced performance that allowed fans a glimpse at a newly reformed and seemingly rejuvenated band, performing at the height of their collective capability.

Concert Review: Panic at the Disco! at Barclays Center
Following an inspired performance by the show openers 21 Pilots, Panic! at the Disco was out next to a deafening applause. Set in front of a 1970's style backdrop showing the band's moniker and an array of lights shining upon dual mannequins positioned on opposite sides of the stage, the Las Vegas based group meticulously worked the live audience throughout their ten song set. On stage, the band moves about at such a frenzied pace, it's nearly impossible to not enjoy yourself. Frontman Brandon Urie energetically gyrates his limbs around in excitement, as the crowd can't help but follow suit. Outfitted in pants and blazers, Panic! at the Disco resembles a band that would be comfortable performing in a flamboyant Las Vegas lounge. Fortunately, their awesome live show proves an arena setting is perhaps where they work best.
In anticipation of their upcoming fourth studio album "Too Weird to Live, Too Rare to Die," the band dropped in new singles like "This is Gospel" and "Miss Jackson" to their set, punctuated by infectiously long-named tunes like "The Only Difference Between Martyrdom and Suicide is Press Coverage" and "Nine in the Afternoon." Show closer "I Write Sins Not Tragedies" was a perfectly fulfilling conclusion to the band's set which was downright excellent and candidly, could have been longer.
Concert Review: Fall Out Boy at Barclays Center
Yet as fantastic as Panic! at the Disco's performance was, the arrival of Fall Out Boy to center stage all but solidified their place on this bill. Just months after a rousing warm up performance at a sold out
Terminal 5,
the band returned somehow as an even finer tuned machine than before, evidenced by a special performance which combined genuine excitement and a few surprises along the way to the delight of some 17,000 fans on hand inside of a now completely filled up arena. Initially, the band stood behind a thin white sheet as darkened silhouettes before the opening chords of electric opener "The Phoenix" would exhilarate a rabid audience desperate for a glimpse at the four piece band. The sheet's immediate drop to the floor triggered an ovation that would fail to be outdone at any other portion of the show, as the band would rip through their 27 song set.
Led by frontman Patrick Stump, the band was defiantly positioned when revealed, wearing thick black ski masks while bass player Pete Wentz waved a large 'FOB' flag overhead during the show's opening moments. Rousing tracks like ""A Little Less Sixteen Candles, A Little More 'Touch Me,'" This Ain't a Scene, It's an Arms Race," and "Alone Together" were especially entertaining leading into the band's smash hit "Sugar, We're Going Down," which allowed every single person to sing along whether waving their hands overhead on the general admission floor or seated up in the cheap seats.
As mentioned, this was hardly just another show for Fall Out Boy. In an ode to their roots and to New York's rock history, the band welcomed Marky Ramone out to play drums on The Ramones' covers "I Wanna Be Sedated" and "Blitzkrieg Bop" followed by Panic! at the Disco's Urie on "20 Dollar Nose Bleed." Fans seated upstairs were also thrilled as the band would leave the stage during a short Iggy Pop video only to reappear at a smaller stage area in the center of the floor to perform a brief three song acoustic set, highlighted by the appearance of Gym Class Heroes' Travie McCoy and a cover of "Billionaire" with Stump handling Bruno Mars' usual vocal arrangement.
With a fist pounding drum solo, the band returned to the stage to pound out remaining hits like "Dance, Dance," "I Don't Care," a literally fiery version of "My Songs Know What You Did in the Dark (Light 'Em Up)," and "Thnks Fr Th Mmrs," rounding out the group's captivating arena show. With blown up beach balls thrown into the audience and bouncing around the venue's lower level, the band closed with a fittingly exuberant rendition of "Saturday," concluding the concert and the day of the week at once. Somehow the band managed to surpass their previously outstanding performance in New York City back in May and with such a preponderance of live shows that fail to deliver beyond certain expectations, Fall Out Boy's exceptionally dazzling performance was both fun and refreshingly satisfying.
- Jane Van Arsdale
Related Articles
Share
About Author
(0) Readers Comments