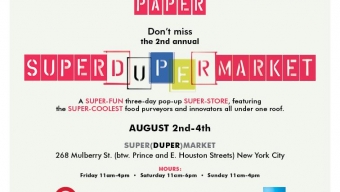 Looking for last minute, off-the-cuff weekend plans? LocalBozo.com has got you covered. It's not too late to figure it all out. For a glimpse of upcoming events that we'll be covering, check out the calendar in our side bar to your right. Otherwise, here are a few highlights to check out in and around Manhattan this weekend!
Arts & Culture
Saturday, August 3rd – On Saturday New Yorkers and anyone lucky enough to be visiting the city will have an extremely rare chance to walk through the Park Avenue Tunnel. For a few hours this highly used conveyer of transportation will be converted into an incandescent, echoing, interactive art show.  (Park Avenue Tunnel)
Sports
Friday, August 2nd – Sunday, August 4th – Shake off all that A-Rod drama with a trip to Queens to see your New York Mets take on the Kansas City Royals in a best of three series. Hey, they may not be the best team but atleast they are in town. (New York Mets)
Music & Entertainment
Friday, August 2nd – Movie release day. Quiet night tonight? Check out the films opening this weekend. Denzel Washington and Mark Wahlberg are teaming up and strapping in for the intense buddy action comedy, "2 Guns" (R). Any movie that stars Bill Paxton as the villain is fine by us! La,la,la,la,la you know the song! "The Smurfs 2″ (PG) are back at the theater this weekend to tickle your childlike funny bone! America's sweetheart Neil Patrick Harris returns, so don't worry.
Friday, August 2nd – Sunday, August 4th – If you were ever staying local for a weekend full of concerts, this would be the one to do it as the Barclays Center will be poppin' all weekend long. Tonight, scant tickets remain for your boy Justin Bieber as Atlantic Avenue becomes pop music paradise. Screaming girls and their daughters are surely going to be out in droves. Meanwhile Saturday and Sunday, it's the Mrs. Carter World Tour as Sasha Fierce and former Destiny's Child member Beyonce struts those fine ass legs in Brooklyn on Saturday and on Sunday. Like I said- why leave the area this weekend?
Nightlife
Saturday, August 3rd – Dance away the first Saturday in August at New York City's hottest club, Marquee! On this late summer evening prepare to fall into a trance when famed DJ's Mysto & Pizzi take over for one night only!  (Marquee)
Other
Friday, August 2nd  – Sunday, August 4th -  Whoever said nothing awesome happened in August obviously did not attend Paper Magazine's, "Super(Duper) Market last year! For the second year in a row this pop-up will take over Mulberry Street to entice patrons with over 35 vendors from across the country. But don't worry, tons of your favorite New York eats from the likes of Brooklyn Soda Works, Momofuku Milk Bar, La Esquina, and Sour Puss Pickles will be on hand to keep you well fed and hydrated all day long! (Super(Duper) Market)
Friday, August 2nd – "I am an FBI Agent!" It's a phrase you know and love from one of the most outlandishly fun movies of all time. It's "Point Break" and for one night only you can embody the classic character of Johnny Utah on stage. Point Break Live! lets one lucky audience be the star, as a cast of characters act out the entire movie right on stage. Prepare to be transported to the beach, the bank and the sky as each over the top moment is recreated right before you eyes. (The Bell House)
And as Always, Droid users- make sure to Download the official LocalBozo.com App for FREE from Google Play (formerly the Android Market)! Get all the information we can fit onto your smart phone, NOW!
Related Articles
Share
About Author
(0) Readers Comments