The Cult
Roseland Ballroom, New York, NY
August 22, 2013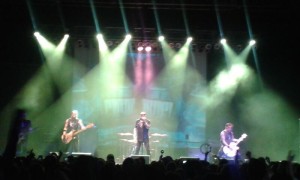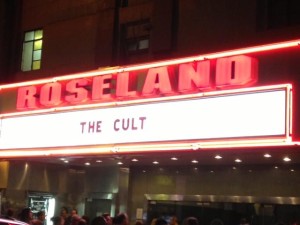 1987's "Electric" was the breakthrough album for British rock band The Cult, seismically shifting from their punk and gothic rock roots toward a decisively hard rock sound, steered by mastermind producer Rick Rubin. In honor of the band's re-release as a double album set under the title "Electric Peace" earlier this year, The Cult has taken to the road performing the the album in its entirety. Thursday night, the band made a stop locally at a jam packed Roseland Ballroom in front of an admittedly older skewing, mostly male audience, geared up to relive the days of their youth through the music of one of the last remaining true rock bands.
The band's 9:15pm start time came and passed as each of Roseland's two bars were surrounded by fans- thirsty for pick splitting guitar riffs and pours of Budweiser. Just after 10pm, the lights went dark and frontman Ian Astbury and guitarist Billy Duffy defiantly strode the band out to centerstage. Astbury, outfitted in a fur topped jacket and dark sunglasses immediately grabbed his tambourine, launching into show opener "Wild Flower." The band wasted little time cruising through the "Electric" album as their blend of heavy, catchy rock licks translated incredibly well in front of the live audience.
In what was no accident, the spotlights seemed to shine for minutes at a time solely on Astbury and Duffy while their bandmates played alongside them in virtual darkness. But the singer's commanding stage presence and the quick hand moving wizardry of the lead guitarist only reinforced the necessary focus being pointed toward the band's most recognized members. That said, the collective band The Cult performed cohesively and tight as they ripped through their notable catalog. Tracks like "Peace Dog" and "Aphrodisiac Jacket" simply rocked the house, prefaced by Astbury rebelliously swinging his microphone cord around the stage like a propeller and Duffy bringing the audience to its knees with a face melting solo.
Despite getting on in age, Astbury and company seemingly haven't lost any of their raw aggression, even though it was pointed mostly at the audience. The frontman directed fans to put their cell phones down to prevent further picture taking. After all-he declared- "This is a fucking rock and roll show," before spewing out curses after every other word. Although cover track "Born to Be Wild" appears on the "Electric Album," the band added "Zap City" from 1988 EP 'The Manor Sessions' in its place for good measure because it was a song that the band themselves wrote.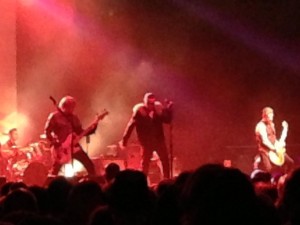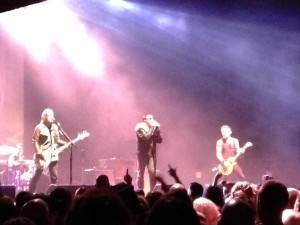 The Cult's second set culled a variety of songs from the band's history- opening with a particularly spirited version of "Rain" from 1985's "Love," also performing "The Phoenix" and set closer "She Sells Sanctuary" from the commercially successful album. But whether they were performing tracks like "Spiritwalker" from 1984 debut "Dreamtime" or show closer "Sun King" from 1989′s "Sonic Temple," this was at its core a quintessential rock show and exuded a special feeling of seeing a legendary rock band in an intimate space- Astbury deflected "I requested to play this room. You guys get bored of Terminal 5." And whether that was true or not, the fans seemed to eat the banter up during The Cult's performance on this night, which was undoubtedly a fury of head banging intensity from start to finish for a band that still seems to be so vastly underrated.
- Jane Van Arsdale
Related Articles
Share
About Author
(3) Readers Comments