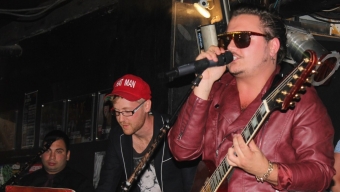 Metro Station
The Studio at Webster Hall, New York, NY
August 14, 2013
Concert Review: Metro Station at The Studio at Webster Hall
Normally, a group of musicians disbanding spells the end of the line for many of the songs it made famous as sometimes even lineup changes fail to salvage the band's existence. When California's Metro Station split up in 2010 following a run of successful pop singles as Trace Cyrus (brother of Miley) began a new musical project, the band remained in a state of flux. But rhythm guitarist and co-vocalist Mason Musso grabbed the band's reins, re-tooled the lineup, and is hitting the road under the band's moniker, just days away from the release of a new EP, August 20th's "Middle of the Night."
Admittedly Musso has grown up a great deal since the release of Metro Station's self-titled debut in 2007. On Wednesday evening, he brought his updated version of the band to the intimate confines of The Studio at Webster Hall. Gone is the long emo style haircut. In its stead is some metamorphic collaboration of George Michael amid a modernized 2013 setting. With his brown hair slicked back above his sunglasses, the frontman looked more like a throwback lothario of sorts, sporting trimmed facial hair, some eye makeup and a gold earring in the shape of a cross popping out from the top of his tight brown leather jacket.
Musso's look was both recycled and inventive at once and his blend of music completely followed suit with a confluence of sounds best described as industrial electro pop. To the singer's credit, his vocals and eye-catching stage presence kept the crowd both engaged and entertained throughout his hour long set. Backed by a sole drummer and DJ mixing on his Macbook, each and every song performed sounded like it could have been a massively successful pop hit, whether here or overseas. The show kicked off with a fury as tracks like "Barcelona" and "Kelsey" had the small but vocal crowd singing along to every lyric and verse. Meanwhile a cover of The Cure's "Just Like Heaven" had us, perhaps the audience's elder statesmen, moving around to Musso's acoustic guitar strums.
The crowd also went especially wild for Metro Station's "Control," prefaced by Musso instigating 'Let's get it New York!," before the crowd exploded by singing the chorus without the frontman's help. The band's most successful hit "Shake It" peaked at number 10 on the Billboard Hot 100 in 2008, and the ovation the band received upon playing the song's opening chords was deafening. The pop anthem brought almost every hand in the audience overhead as the entire room jumped around, dancing with carefree abandon and letting the fun music speak for itself. Sometimes that's all you should be looking for at a concert. And it's good to know that despite some different faces, it's something that Metro Station can still provide.
- Jane Van Arsdale
Related Articles
Share
About Author
(1) Reader Comment