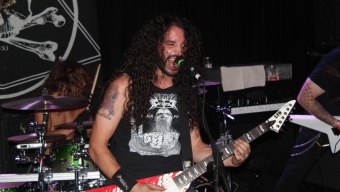 Havok
Saint Vitus Bar, Brooklyn, NY
August 7, 2013
Concert Review: Havok at Saint Vitus Bar
The Rocky Mountain State has delivered us some truly outstanding American standards. But in the past few years, pure unadulterated thrash metal has been this western state's latest claim to fame. Metal band Havok has been waving the genre's flag high, demolishing audiences around the world with their signature sound. On Wednesday night we headed to Saint Vitus Bar, Brooklyn's home for live metal to witness Havok do what they do best- destroy!
Shortly after 11pm the guys hit the stage for sound check to a completely packed house. As they tuned up, the audience was pleased to hear them tease some familiar songs outside of their comfort zone- a track from the likes of Boston may have even been sampled. But once they were ready, it was time to go balls out. Lead singer David Sanchez launched into "No Amnesty" and "Point of No Return," boldly opening up the night and the pit with a brash edge. The medium sized venue was jammed with the metal faithful who held their horns up high singing and headbanging along to each and every lyric. Seconds after finishing the first song, Sanchez welcomed everyone in the house with the singularly perfect statement- "Fuck yeah Brooklyn!" From there the band snowballed into a ballistic rendition of "Give Me Liberty…Or Give Me Death" from their latest album 'Unnatural Selection,' followed by new classic "Scumbag In Disguise" and "Under The Gun," also from their recent release.
The stage banter was kept to a minimum to have maximum time for rocking. Yet when David Sanchez said "You had other huge metal shows in NYC that you could have seen tonight, but you came here! That means that so many people give a fuck about the underground!"- the crowd went balls out crazy. His brutally honest speech was an excellent lead in to "I Am The State," which undeniably puts the band's full talents on display. Not only are they protectors of the thrash torch, but collectively they are extremely technical as well, busting out killer solos and jams. The anti-drunk driver anthem "D.O.A" blew up the pit with its sheer intensity. No matter how many times we hear this song live it never gets old, just better and better.
Havok is climbing the metal ladder at a rapid pace these days. And with a new album that kicks the word "slump" firmly in the ass, you can't help but climb on board and hand these guys the keys and hit the road to hell.
- Jay Rubin
Related Articles
Share
About Author
(0) Readers Comments