(Photos courtesy of rapdose.com)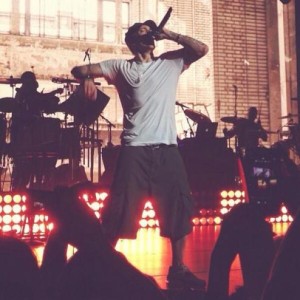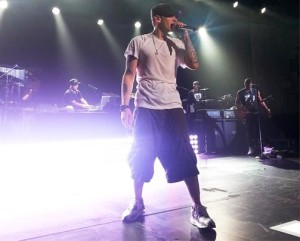 Attendees to G-Shock's 30th Anniversary celebration entitled "Shock the World 2013″ who waited patiently were overhwelmingly rewarded on Wednesday evening inside the confines of the Financial District's Basketball City, a massive and sprawling event space that doubles as a hardwood venue on South Street. The red carpet was rolled out for a collection of A-list celebrity guests, professional athletes, and fortunate fans of the watch brand, culiminating in an hour long performance by iconic hip hop star Eminem, who would introduce his very own model of G-Shock watch. For the few hundred guests welcomed into the venue, the evening would be a reminder of the brand's cultural relevance, its transformation decade over decade, and the indisuptable fact that no one throws a party like the folks at Casio.
"Shock the World 2013″ was run relatively out of order, which is understandable considering the event would attempt to mesh press conference with celebrity arrivals and a captivating concert. Members of the media were welcomed inside the venue for an extensive G-Shock rundown, introducing the brand's fall line of new watches available on several different on sale dates approaching the holiday season. Each line of watches was described meticulously and introduced by separate videos as well as a handful of celebrity guests. Brooklyn Nets' center Brook Lopez, actor James Marsden, and Snowboarder Louis Vito each extolled the virtues of the G-Shock brand, its history, and their allegiance to wearing the watches. And truth be told, the entire press conference was an especially effective sales pitch for the rest of us.
Following the conclusion of the presentation, media guests were corralled into the main space and invited to explore the many watches on display, reflective of G-Shock's many improvements as years have passed. Meanwhile we headed out to the star studded red carpet to catch a glimpse of some of the arriving VIP guests, set for an evening of music provided by hip hop royalty. Athletes like Brooklyn Nets' Paul Pierce and Brook Lopez joined BMX pro Nigel Sylvester, NFL Defensive End Raheem Brock, and Snowboarder Louis Vito on the carpet amid a sea of snapping flashbulbs. The big and small screens were both represented by actresses Taryn Manning (Hustle & Flow), Vanessa Bayer (Saturday Night Live) and Dasha Polanco (Orange is the New Black) and actors Christopher Meloni (Law and Order: SVU) and the aforementioned Marsden, who was smiling ear to ear as he strolled the carpet. Hip hop artists Obie Trice and Estelle joined MTV DJ Sway and the show's opener, defiant rapper Yelawolf and model Jessica Stam, all sporting their G-Shock watches, and rounding out the brunt of notable arrivals.
As the red carpet wound down, we made our way back inside the now even larger venue with the chairs cleared away to make ample room for the evening's performances. Opener Yelawolf made an impassioned plea for the crowd's attention in front of a singular backdrop reading 'Slumerican,' his own record label. The tattooed enigma confidently owned center stage at this 'corporate' affair, clutching his mic stand and pacing around the stage aggressively. His mile-a-minute flow was on display from the very commencement of his roughly 45 minute set, which was surprisingly bereft of his single "Let's Roll," but was utterly entertaining nonetheless. Between sets, guests traveled to each of the multiple isolated bars for drinks of Clique vodka among beer and wine alternatives, boozing up appropriately before the headliner would take center stage.
With such an absence between live performances, it's easy to forget the cross cultural phenomenon that is Eminem. His mere presence, be it on stage or in person is incredibly capitvating and this night proved to be his triumphant return to New York City in an hour long set that featured a collection of his classic tracks. 'Slim Shady' turned the clock back to the turn of the century album "The Marshall Mathers LP" as he sampled the likes of "Kill You," "The Way I Am," and a particularly rousing version of "Criminal." Mathers also sampled several successful tracks from other artist's songs on which he's appeared like B.O.B.'s "Airplanes, Part II," Drake's "Forever," and even his own with Bad Meets Evil's "Lighters," featuring Bruno Mars' inspired hook. Other highlights included "I Need a Doctor," "Cleanin' Out My Closet," "Toy Soldiers," and "Sing For the Moment," while perennial showstoppers like "Stan," and "Love the Way You Lie," unglued the rowdy crowd as the clock approached midnight, before "Not Afraid" nearly took the roof off the place. And with show closer "Lose Yourself" as an absolute killer, Eminem showed us once more, that despre how much time he's spent away from the limelight, there's perhaps nobody better of reminding us how much we appreciated his immense talents in the first place.
- Jane Van Arsdale
Related Articles
Share
About Author
(0) Readers Comments