The Maine
Irving Plaza, New York, NY
July 2, 2013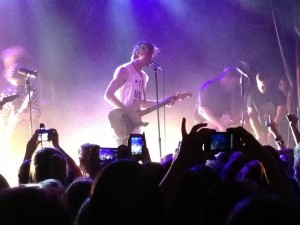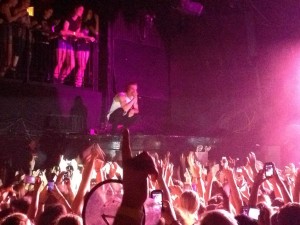 Fresh off the heels of release of their fourth full length album "Forever Halloween" (June 2013), Tempe Arizona rock band The Maine made their way to Manhattan's Irving Plaza on Tuesday night with support from new labelmates Brighten and A Rocket To The Moon. The band's ninety minute set was an upbeat, positive romp through a catalogue that dates back just five years since the band's major label debut. But The Maine's brief history did little to diminish a crafted stage show and musical performance rife with catchy choruses amid the screaming applause from their adoring young fans.
Actually, the word applause is an understatement and doesn't aptly describe the sheer volume of sound emanating from a jam packed standing room floor at Irving Plaza on this night. The dimming of house lights did nothing but amplify the intense excitement for fans of The Maine as the band casually strode out to center stage unannounced. With the band's signature "M" in the backdrop behind them, one that would seemingly illuminate with each punctuated drum beat, the band opened with a flurry of up-beat pop rock tracks to the utter delight of their now screaming faithful. "Love and Drugs" proved to be a perfectly cheery opener leading to the escalating and infectious "Misery," allowing the band to pause briefly mid-song to collectively rock out to Patrick Kirch's pounding drum beats.
Frontman John O'Callaghan's every movement meanwhile, seemed to make the crowd swoon. Outfitted in a white "I Met God, She's Black" tanktop, O'Callaghan looked out at his swarm of fans, exclaiming "Looks like we're cooking with some gasoline here in fucking New York City," before the opening chords of "Inside of You." Other tracks like "We All Roll Along" and "Some Days" proved especially fun live, and eerily reminiscent to bands of the same ilk like a young Goo Goo Dolls before they got all 'movie soundtrackish' on us. For much of the show, the crowd did the singing on their own with their hands raised high overhead, clapping and dancing in place to their favorite songs. "Into Your Arms" especially made the young crowd explode, performing the vocals simultaneously with O'Callaghan.
The band managed to slow things down during "These Four Words," performed solely by O'Callaghan and his keyboard and on "Whoever She Is." But the crowd to their credit stayed with The Maine despite the brief lull and seemed re-energized during the fast paced "Identify" and a cover of Cyndi Lauper's "Girls Just Want to Have Fun," on which the band put their own signature spin. To their credit, the band welcomed back their opening acts on stage to join forces for set closer "We'll All Be…" but the evening was perhaps best summed up by their singer himself as he declared- his tongue firmly in cheek, "We're going to have fun whether you fucking like it or not tonight. It's not a question. I'm not asking you." He didn't need to ask us. We had a blast anyway.
- Jane Van Arsdale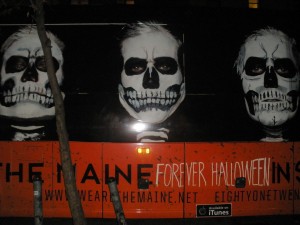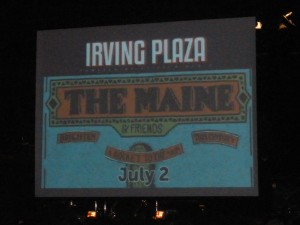 Related Articles
Share
About Author
(1) Reader Comment