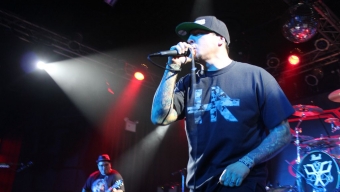 P.O.D.
Highline Ballroom, New York, NY
July 24, 2013
To some, 1999 might feel like just yesterday. But in reality, nearly a decade and a half has passed since a band known as Payable On Death released "The Fundamental Elements of Southtown," an album that both epitomized both the good and the bad depending upon where you stood on the nu-metal movement and brought the much catchier name of P.O.D. to the very forefront of modern rock music. If life existed in a vacuum, it would be the turn of the century, I would be wearing gigantic JNCO jeans, and we would be talking about how Limp Bizkit was set to take over the world. But as time passes, occasionally we are reminded of our younger days, reminiscing fondly through those nostalgic strolls down memory lane. As such, those who believe that the Christian rock giants faded away after 2002 would have been sadly mistaken on Wednesday night as P.O.D. joined forces with Flyleaf on a co-headlining tour at the Highline Ballroom, to a room jam-packed with rabid rock fans.
The modernized music hall was likely a bit of a different setting than the veteran bands were used to playing. Gone was the full-on standing room only floor, save for the space in front of the comfortable tables and couches surrounding the exterior of the space. Also gone were the lengthy signature dreadlocks, flopping from the head of frontman Sonny Sandoval- in their sted, a short haircut covered by a black baseball cap. Fortunately for us however, the band has maintained every bit of the intensity that has perpetually exuded from their highly underrated stage show- one that for years has brought them to festivals and tours around the entire globe, but one on this night that could barely be harnessed by the confines of Manhattan's most diverse rock club.
Opening the show at a pulverizing pace, the band ripped into "Boom" from 2001′s "Satellite," perhaps the band's best known and highest charting studio record. The track, which for years has played in the background of sports highlights, encompassed P.O.D.'s finest qualities as performers- raw, unadulterated emotion coupled with an uncanny ability to connect with their fans from center stage. "Murdered Love" would follow and Sandoval, unable to contain himself began snapping the lengthy microphone cord into the ground repeatedly in a fit of musical passion, as his bandmates surrounded him with playing the song's blended rhythmic catchiness.
To their credit, P.O.D.'s setlist admirably meshed both the band's old and new with tracks like "Set It Off" and the reggae-laden "Roots in Stereo," performed alongside a spirited version of "Youth of the Nation," during which Sandoval's microphone was floated out to some lucky fans in the crowd to take turns posing as lead vocalist. For the band's anthem though, the crowd didn't need a mic to be heard during it's unmistakable 'We are, we are…' chorus. While Sandoval bounced around the stage in a frenzy, it was Wuv Bernardo's elevated drumkit in front of an illuminated video board that was perhaps most eye catching as the show progressed. Said Sandoval, "I'm impressed New York City. It's been a long long time. Thanks for coming out" before the five piece band would briefly break down into a slowed version of "Beautiful." The rock ballad as the band recovered to amplify a now moshing crowd with hit single "Southtown."
As P.O.D.'s hour long set ran down, we found ourselves ensconced in a three song chorus comprising some of the band's most notable hits as "Alive," "Strength of My Life," and "Satellite" brought the show to a close. Although the band began their show well after 10:30pm, nobody in the remaining crowd looked exhausted- the least of which was the band on stage, who left everything they had in New York City. And gave everyone in the house a mix of music that makes them jump around and reminisce at once, all during an act that refreshingly still plays to this day.
- Jane Van Arsdale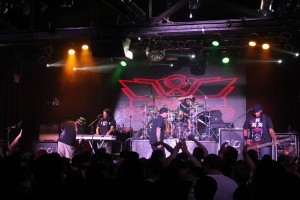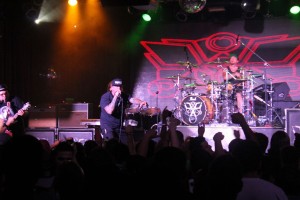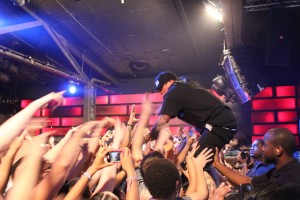 Related Articles
Share
About Author
(0) Readers Comments