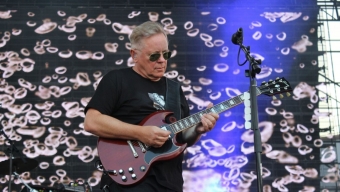 New Order
Williamsburg Park, Brooklyn, NY
July 24, 2013
Concert Review: New Order at Williamsburg Park
It's hard to go anywhere these days without running head first into some type of 1980s music nostalgia. Our collective love for this decade of decadence is no secret. Luckily one band that embodied everything that was brilliantly experimental about the era that was has reunited and fortunately, sounds better than ever. They're New Order and after a successful reunion show on the Coachella stage in California they are now touring, showing off that despite the time that has passed, the band is still as cohesive as ever. On Wednesday night, New Order took over the Williamsburg Park stage in Brooklyn to keep us moving with pure synth power.
Shortly after 8pm with the sun setting on the city, lead singer Bernard Summer and the band took the stage to gleeful applause and welcoming cheers. Before a single song would be busted out, Summer took to the microphone to say hello to the capacity Brooklyn crowd, revealing that he had hurt his leg prior to the show and that he would no longer be able to jump around on stage. But as soon as New Order ripped into "Elegia," everyone knew that the boys from Britain would not be phoning it in on this night. Fan favorites like "Crystal," "Regret," and "Ceremony" followed quickly, allowing the crowd to take a happy trip back to the times of day glow, acid washed jeans and un-ironic haircuts.
Little banter was heard between further songs into their deep set list- the band was all business wanting to use their time to really explore the fantastic outdoor space with their undeniably original sound. Five songs into the set and New Order's life long connection to fellow 80s post-punk and synth pop brethren Joy Division was made abundantly clear. To everyone's delight they played a flawless cover of "Isolation," causing instantaneous booty shaking and flat out full body dancing. The hours rolled on as the band delivered a terrific combination of songs that brought us back to our favorite movies, truly seeing the band's influence on the decade's cinema as well as more modern films (i.e American Psycho) that sport an 80s style theme. The mega-hit "True Faith" was a perfect example of a live version far exceeding a studio recording as the band used every instrument in their onstage arsenal to fire up the audience and those within earshot on Bedford Avenue. The same could be said for New Order's trademark single "Blue Monday" which has also been held on a pedestal with bands of all walks of life taking turns covering it.
With all the raw energy shooting through the venue, the night time sky was an excellent respite to cool us down from a perfect night of vocal, guitar, drum power. For their encore, New Order took us back to Joy Division territory with three insane face-melters, ultimately concluding with the highly satisfying, "Love Will Tear Us Apart." A fitting end to a climactic evening, brought about by a mixture of nostalgia and satisfaction that this band has still got it.
- Jay Rubin
Related Articles
Share
About Author
(1) Reader Comment