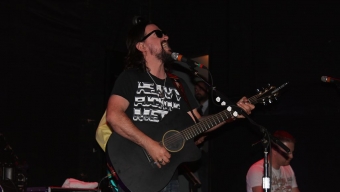 Shooter Jennings
Bowery Ballroom, New York, NY
May 21, 2013
Concert Review: Shooter Jennings at Bowery Ballroom
The Bowery's illustrious music history dates back to the emergence of punk rock's initial movement, in the grittier grimier New York City of yesteryear whose iconic visuals coupled with the influential sounds emanating from the neighborhood- from inside of CBGB's hallowed halls- so vividly inspired a preponderance of modern musical acts that would follow. But Tuesday evening, the area would play host to a different style of music entirely, but one that shares the same unrepentant attitude of the music scene in 1970's New York. It's been said that as time lapses and as we fondly look back on the emergence of musicians, hip hop music has become the new blues of our time. If that's the case, while country music may not have always enjoyed a permanent home here in Manhattan, Shooter Jennings proved that his form of 'black country' may just have corralled the raw and in-your-face sound that once inspired what rock music originally used to represent.
With support from openers East River Bandits and crooner Daniel Romano, Jennings and his bandmates confidently strode out to centerstage sharply at 10:30pm. The 100 minute set that would follow focused a good deal on March's latest release "The Good Life," but encompassed the no frills approach to playing music that is Jennings' signature- he lets his talent talk for itself. Outfitted in a fitting black t-shirt that read "Heavy Fucking Metal," the bearded Jennings removed his black sunglasses only momentarily during the show to wipe the sweat from the eyes underneath his scraggily long dark hair. The frontman is hardly aligned to a signature sound, evidenced by 2009's foray into an experimental psychedelic rock album "Black Ribbons," but the brunt of Tuesday night's show was a lesson in the singer's musicianship ranging from throwback country ballads (the excellent "Sweet Savannah"), foot stomping odes to lost love ("Manifesto No. 1), and a dose of some heavy ("Mama, It's Just My Medicine").
But Shooter Jennings is purely at his finest when his grizzled voice manhandles the traditional country style songs that would have made his father Waylon so infinitely proud, of which tracks like "Wild and Lonesome" and "Gone to Carolina" were particularly indicative. Meanwhile, hits like the aggressive "Outlaw You" and the catchy, rocking version of "4th of July" awoke a relatively stoic crowd awaiting to cherry-pick the vocals on some of his tracks, before the softer but wonderfully melodic rendition of "The Deed and The Dollar" led toward the conclusion of the band's main set.
Kicking off the encore with the synthesizer-laden "Wake Up" was a bit of an odd departure from the crux of the band's main set because of its dark avant-garde type feel, but if Jennings has taught his fans anything, it's a certain element of unexpectedness. It was thus only fitting that he end the show with new track "The Gunslinger," which features a slow building, almost baritone Jennings progressing toward a defiant chorus of 'You wanna run your mouth all day long / You better keep your mouth on my mother fucking trigger finger.' Perhaps what makes Shooter Jennings so captivating is the perception of uncertain danger he seems to elicit. He may not be the stereotypical clean cut, smiling country music star that somehow uses some generic slang and his southern twang to sellout a full-fledged stadium tour. Instead he keeps true to himself and true to his familial roots and with each passing performance, Shooter Jennings' uncompromising approach proves that he's made the right decision.
- Jane Van Arsdale

Related Articles
Share
About Author
(0) Readers Comments