Justin Timberlake
Roseland Ballroom, New York, NY
May 6, 2013
(Photos courtesy of Bryan Pace, New York Daily News)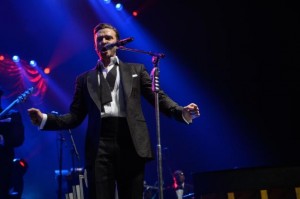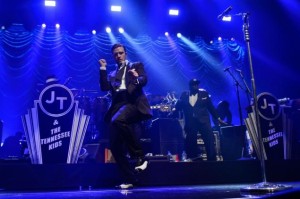 Impeccably dressed and with his guitar in hand, media mogul Justin Timberlake and his eleven piece backing band The Tennessee Kids stormed the stage at a sold out Roseland Ballroom on Sunday night for a unique and intimate concert sponsored by MasterCard. The crooner's 100 minute performance showed off Timberlake's wide ranging talents and his penchant for performing, as he ran through a set rife with familiar singles, chart-topping hits, and new cuts, all of which seamlessly fell into place in front of a primed New York City crowd. And if Sunday night's performance was simply a pre-cursor for things to come this summer at the singer's two co-headlining shows with hip-hop star Jay-Z at Yankee Stadium, fans will be in for an unforgettable experience led by a truly gifted artist.
Despite a dozen musicians taking center stage, the collective attention of the three thousand plus fans stuffed into the Ballroom never wavered from Timberlake's spotlight. Donning his now trademark tuxedo, with his black bowtie untied around his neck in a way that simply exudes his essence of old school cool, the singer set the show's tone immediately opening with a trio of crowd pleasing staples. The acoustic strums of his solo debut "Like I Love You" brought the standing room only audience into an all out dance party, with the punch of every drumbeat behind him thrusting right in our chests. "My Love" and "Cry Me a River" followed suit as the audience sang along to his every word. And while the songs are familiar and somehow are already almost nostalgic, the live setting vigorously rejuvenates them with an uncompromised energy reminiscent of the very first time you'd heard them.
While interaction with the audience was kept to a minimum in the essence of fitting each part of the show into the confines of time allotments, Timberlake certainly seemed to be enjoying himself on stage, purposefully altering his lyrics to drop curse words here and there to show fans that this is no longer the former boy band star of 'N Sync. But as a solo performer, Timberlake has certainly come into his own- despite having released just three studio albums over the last decade. But each release does have the intended feel of something special, and as announced via Twitter on the day of this show, September 30th will mark the official release of "The 20/20 Experience: Part II," a follow up to Part I's release from this past March.
Although Timberlake failed to perform any of these unreleased tracks on this night, he absolutely crushed it on new songs like "Pusher Love Girl," "Suit and Tie," despite the absence of Jay-Z, and the incomparable "Mirrors," which may just be Timberlake's finest work yet. Covers of "Shining Star" from Earth, Wind, and Fire and The Jacksons' "Shake Your Body" also made surprise appearances in the set around Timberlake staples "Rock Your Body," "Senorita," "FutureSex/LoveSound," and a pared down version of "What Goes Around…Comes Around," among the eighteen songs performed. Saving the evening's finest moment for last, the appearance of rapper/producer Timbaland during "SexyBack" brought an already elated crowd to their zenith as Timberlake confidently strode back and forth across the stage, prodding on his loyal fanbase for more of their passion.
With a flourishing film career now firmly in place, Sunday night's performance showed that despite having not released an album in almost seven years, Justin Timberlake the artist, remains at the top of his game. As a showman. As a performer. And as a singer, whose unmistakable falsetto and sense of the moment never fails to make an evening spent watching him feel like a special occasion. And in front of 3,000 of his closest friends, he managed to connect with every single one of them in a way that only he seems genuinely able.
- Jane Van Arsdale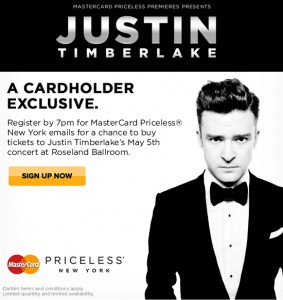 Related Articles
Share
About Author
(1) Reader Comment