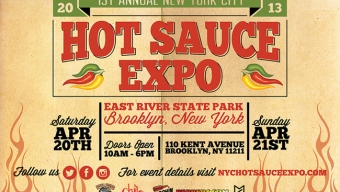 Looking for last minute, off-the-cuff weekend plans? LocalBozo.com has got you covered. It's not too late to figure it all out. For a glimpse of upcoming events that we'll be covering, check out the calendar in our side bar to your right. Otherwise, here are a few highlights to check out in and around Manhattan this weekend!
Arts & Culture 
Saturday, April 20th -Â Are you a seasoned photographer, or a newbie trying to make it in the game? Well then grab a ticket to, "Photography, Expanded: Interactive & Multiplatform Strategies for Photographers", a one-day conference exploring new opportunities and strategies for engagement, innovation and impact. (Photography, Expanded)
Sports
Saturday, April 20th – Playoff action is heating up in Kings County! March yourself to the Barclays Center to witness your Brooklyn Nets take on the legendary Chicago Bulls. It's going to be a true barn burner!  (Brooklyn Nets)
Music & Entertainment
Friday, April 19th – Movie release day. Quiet night tonight? Check out the films opening this weekend. Tom Cruise is back to take on the end of the world! It's, "Oblivion" (PG-13) the Sci-fi flick planting Cruise firmly back in the drivers seat as a leading man on the action front. Tom is joined by vertern actor and deep voiced sidekick Morgan Freeman. Rob Zombie has returned to the directors chair in, "The Lords Of Salem" (R). Early reviews are a true mixed bag as Mr. Zombie's films have been known to turn off plenty of critics and horror fanboys. But, if you love the guy you have to check it out. We sure are!
Friday, April 19th - Do you roll on Friday's? Well, you better because it's the, "2013 Lebowski Fest" right here in NYC! Head to Gramercy Theatre to witness, "Los Duderinos: The Ultimate Metal Big Lebowski Tribute Band & Chipocrite." The band will be playing the movies soundtrack with a Game Boy! This wacky performance will be followed by a screening of "The Big Lebowski." (Gramercy Theatre)
Nightlife
Saturday, April 20th -Â  Are you ready to get, STRANGE? Toshi's Penthouse will host the inaugural dance party and unveil one of New York's best kept secrets. The contorted high design and dynamic dance music will set the tone for future progressive experiments at New York's newest and eloquently devilish rooftop paradise. (STRANGE)Â 
Other
Saturday, April  20th – Sunday, April 21st – The always innovative people at Food Karma Projects have brought you insanely satisfying events like, "Pig Island" and the "5 Boro Picnic." But for one weekend in April all of that will be elevated in a major when when they roll out the first annual, "New York City Hot Sauce Expo" From April 20 through the 21st Chile heads of all walks of life will converge on Kent Avenue in Williamsburg to test their palate against fiery creations, with some of them made right here in our hot city! (New York City Hot Sauce Expo)
And as Always, Droid users- make sure to Download the official LocalBozo.com App for FREE from Google Play (formerly the Android Market)! Get all the information we can fit onto your smart phone, NOW!
Related Articles
Share
About Author
(0) Readers Comments