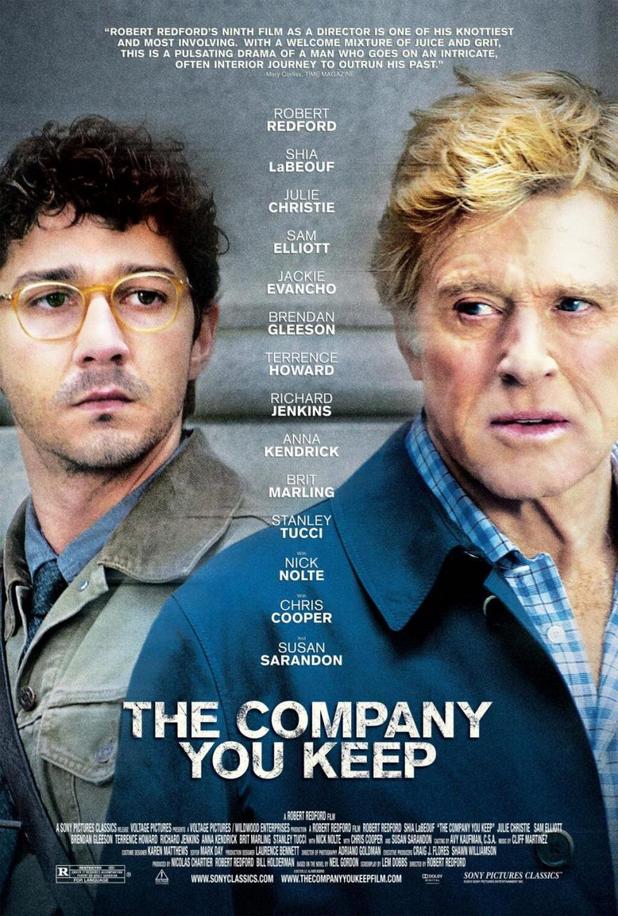 The 1960′s were a tumultuous time period and that phrasing is even an understatement unto itself. Post baby boomers like myself only have film, television and dare I say books, to teach us about a time when war was raging in Vietnam and many took to the streets in the United States dissenting it feverishly. There were several facets to the protest movement, namely students at colleges staging sit ins and marching on Washington. But with every movement there exists a darker side. Hollywood legend Robert Redford (The Sting, Butch Cassidy and the Sundance Kid) finds himself on both sides of the camera as he directs and stars in "The Company You Keep" (R). The film is a fictionalized tale of the non-flower child side of the anti-war movement known as the "Weather Underground" (also known as the "Weathermen") and its impact on the current world. The film is a 70′s style political thriller that places Redford firmly back in the drivers seat. And with an ensemble cast that looks the part of 60s radicals you truly have a believable work on your hands.
The story opens with the "Weather Underground" taking the protest movement to the next level by carrying out targeted bombings of government buildings they felt were directly associated with the launching of the Vietnam War. Moments later, the film's narrative kicks into gear with an apprehensive Susan Sarandon (Dead Man Walking, Bull Durham), whose arrest reveals that she is actually high profile terrorist member Sharon Solarz.  Although Sarandon's participation is limited in the film, as she is used as a catalyst for the narrative. Nonetheless she turns in a targeted performance that lives up to the rest of her storied career.
Shia LaBeouf (Transformers, Wall Street: Money Never Sleeps) goes into full drama mode as Ben Shepard, a young reporter at a small time Albany, NY newspaper trying to make a name for himself. News of this arrest makes national headlines and he wants to make a name for himself since the players involved happened locally. From there he begins to unwind the facts and in doing so unleashes a firestorm between Weathermen members in hiding and the FBI. LaBeouf truly ups his acting chops throughout the film as he wastes nary a moment relying on his celebrity from previous works. In this film he is direct in his approach as he trades barbs with the likes of Redford, who may be getting up there in age, but after 127 minutes of this film I can easily tell you that he has a lot left in him. Speaking about his character in too much detail will spoil the plot however. In a film that takes place across America and involves several scenes of action and high drama Redford had a ton on his plate as both the film's director and its lead actor. Few scenes lack Redford's presence onscreen, thus making this a seriously demanding job to undertake. And in the end he pulled off both production feats seamlessly.
"The Company You Keep" is an adult piece in the way it utilizes its subject matter and casting. As I stated earlier, the lion's share of the cast is over sixty years old. Many of these older actors play these aging radicals on the run or those who have helped them out over the past forty years. Seeing performances from the likes of Julie Christie, Nick Nolte, Sam Elliot and Richard Jenkins just to name a few, truly places the viewer in the reality of the situation. Age is seen on their faces and the fact that they were actually around during this time period is heartwrenching. This coupled with their already outstanding acting ability boldly lights up the screen, making each line of dialogue that much more juicy. LaBeof's journey is marred by questioning his journalistic ethics and the reality of the story's facts. We live in a world where news stories can be spread virally around the world in a manner of seconds. Therefore his brain is wired to collect data and sprew it out to the masses. As the film plays out we begin to see Shia's Ben begin to challenge his own methods and get in tuned with the truth.
There have been countless recantings of the Vietnam era. "The Company You Keep" drives the past and the present together in a very shrewd way to have the viewer see the fallout of these two eras collide, leaving us to question what we believe about this war torn time, and in a highly creative turn how we feel about the ever pervasive eye of media and government in our lives.
"The Company You Keep" starring Robert Redford, Shia LaBeouf, and Terrance Howard is rated R, has a runtime of 127 minutes and is released on Friday, April 5th.
- Jay Rubin
Related Articles
Share
About Author
(0) Readers Comments