Sevendust
Best Buy Theater, New York, NY
April 17, 2013
"This ain't no concert. This is a family reunion." The resounding sentiment expressed by Sevendust frontman Lajon Witherspoon was roundly espoused by the passionate and wild crowd on the standing room floor of the Best Buy Theater on Wednesday night. Certainly fans had come out for the solid top to bottom bill featuring the always excellent Lacuna Coil and the recently reunited Coal Chamber sharing co-headlining duties, but on this night, it was clearly Sevendust's room in their triumphant return back to the Big Apple.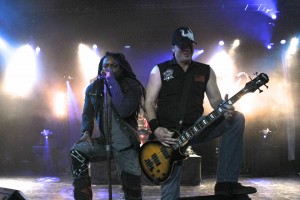 Despite seeing Sevendust perform live dozens of times, every time the band returns to town it feels like you're seeing them for the very first. Their unparalleled collective energy level and unabashed affinity for their fans only complement a frenzied live show that deserves to be experienced by fans of any genre at least once. And for 65 electrifying minutes, the charismatic band flexed their heavy metal musicianship to the raucous delight of crowdsurfers, moshpitters, and standby attendees with their devil horns raised overhead.
In March, Sevendust welcomed the release of their ninth studio album "Black Out the Sun," and with an abbreviated set, there was certainly a noticeable absence of tracks from the band's extensive catalog. But New York City's Sevendust faithful hardly seemed to be bothered as the lights dimmed to black and each bandmember strode out to their respective spots on stage. With a fury, the band launched into opener "Decay," the new album's first single, only surpassed by the likes of crowd favorite head pounders "Praise" and "Denial." What's so completely refreshing about Sevendust is the fact that the band almost goes out of their way to please their old school fans as choice cuts like "Waffle," "Rumble Fish," "Bitch," and main set closer "Black" all from the band's first two albums were prominent pieces of their performance.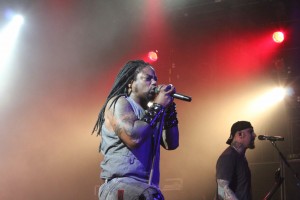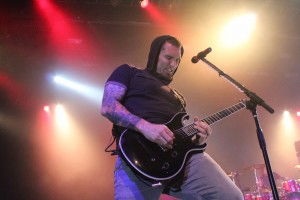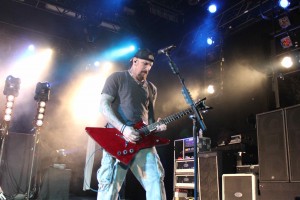 Following a brief absence from the band awaiting the arrival of his newborn baby, lead guitarist Clint Lowery's return to the stage was a more than pleasant surprise for this writer as he bounced around on stage in a hooded sweatshirt, pummeling the strings of his guitar in between his outstandingly heavy harmonizing with frontman Lajon Witherspoon. Cooperatively, as the band approaches nearly two decades of performing music together, Sevendust has perhaps never been more solid or unified on stage. Chants of the band's moniker bounced off of the spacious theater's walls as the crowd urged for their return for a two song encore. The mesmerizing, lightning fast riff of "Splinter," the sight of Witherspoon prodding the crowd to repeat "Sevendust has arrived!" with utter amusement, and the calculated screams of drummer Morgan Rose during the band's signature closing track "Face to Face" further rallied an already typically riled up group of vociferous and rabid fans. The show itself played out like a whirlwind- fast and heavy and seemingly, over just as soon as it had begun. And after the show had reached its conclusion, we were all left with the same collective feeling- "Man, was it great to see those guys again."
– Jane Van Arsdale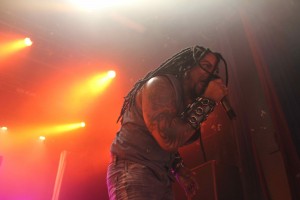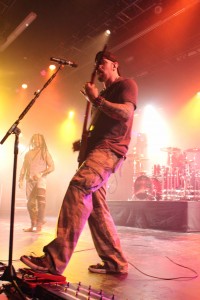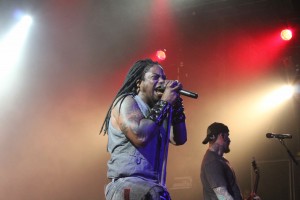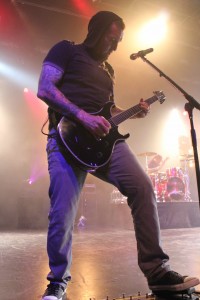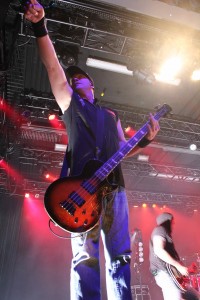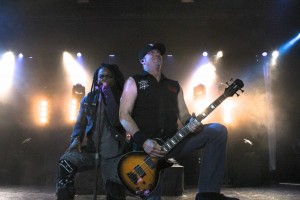 Related Articles
Share
About Author
(1) Reader Comment