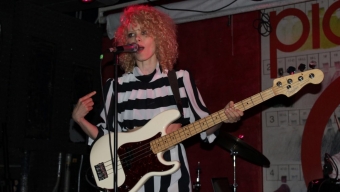 Maya Vik
Pianos, New York, NY
April 28, 2013
Concert Review: Maya Vik at Pianos
The idea of the European music experience has always been a bit of a mystery to yours truly. But on Sunday night this exploration of the best of Europe took at step in the right direction when Norway's Maya Vik took the stage at Pianos, one of the Lower East Side's finest and most intimate venues.
Shortly after 9pm, the tall, curly blonde haired Vik jumped onstage with her bass and her band, which featured drums and a tricked out synthesizer. This near bare bones setup easily fooled the eyes but not the ears once they kicked into high gear. "Get Low" launched the scaled down set into orbit blatantly showing Maya's love for power funk. From the word go the show was reminiscent of a female version of Prince tearing up the stage. A highly danceable vibe filled the room, creating an instant party. "Bummer Gun" and "G Spot" were quick to follow, keeping our eyes glued to the stage and demanding that our asses sway constantly.
As a huge fan of '80s pop, the band's use of a synthesizer was seriously appreciated. Each key stroke was like a time machine taking me back to day glow t-shirts, acid washed jeans and Aqua Net. Even when the tempo was brought down somewhat the combination of synth and Vik's bass licks kept us locked in. This idea was felt in a bold way during tracks like the haunting "Oslo Knows" and "Daydreaming." And during the song, "Nuns At The Wedding" the band's drummer smashed the cymbal so hard, it literally fell over and broke apart. If that's not rock n' roll, I don't know what is.
Even though the show was stripped down in set time, the band's performance displayed their true raw talents. To close out the set they ripped through a killer version of "On It (Kapow!)," a perfectly crafted pop single that should catapult her into state side success. Maya Vik currently lives in Williamsburg, Brooklyn which is a step in the right direction for her budding career if you ask us.
- Jay Rubin

Maya Vik – Pianos, Lower East Side, Manhattan
April 28th, 2013
Setlist
1. Get Low
2. Bummer Gun
3. G Spot
4. Oslo Knows
5. Day Dreaming
6. Nuts At The Wedding
7. On It (Kapow!)

Related Articles
Share
About Author
(0) Readers Comments