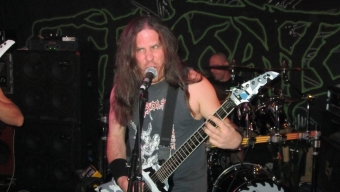 Exhumed
Saint Vitus Bar, Brooklyn, NY
April 5, 2013
Concert Review: Exhumed at Saint Vitus Bar
On Friday night the stage was set for a pure metal meltdown, hosted inside Brooklyn's own Saint Vitus Bar. The watering hole for all things heavy would host a major league lineup that would include the likes of Jungle Rot and headliners Suffocation. Both of these bands played killer sets and can easily play whole shows on their own. But on this night we were here for San Jose, California Gore-Death Metal legends Exhumed. And after a weekend of recovery, we are still shaking the chill off from the outstanding show.
Shortly after 11pm the men of Exhumed took the stage to a gigantic applause from the completely sold out room. Exhumed is still hot off their latest album "All Guts, No Glory," and the lion's share of the set reflected this in an extremely satisfying way. And with little dialogue with the crowd they launched into an early set that included pure death face melters like "The Beginning After The End," "Dis-Assembly Line," and "Through Cadaver Eyes." The expert speed-death instrumentation paired brilliantly with the flawless sound proofing and design from the venue which drove the capacity crowd into a frenzy, yielding one of the best mosh pits this writer has seen in years.
With each song clocking in at right around three minutes, Exhumed was easily able to overload their set time with nearly twenty songs, providing the faithful with a palpable cornucopia of career spanning nuggets.  "Limb From Limb," "Under The Knife," and "Funereality" clearly showed how well these guys can satisfy the hunger of true blue death metal fans while at the same time throwing the thrash metal community tons of love. As a fan of both genres I was blown away hanging on every sweet lick from Bud Burke and Matt Harvey and double kick drum beat perfectly produced by Michael Hamilton.
As a horror fan like myself, you can really connect to many of the over the top gross imagery the band overstuffs into each track. The cover of 2011′s "All Guts, No Glory" has the boys donning zombie like make-up as they pretend (we hope) to rip flesh from bone. This gore themed frenzy carried well into their set as they chucked huge chunks of figurative meat into the crowd with pulse pounders like "Slaughtercult," "Casketkrusher," and of course the title track to "All Guts, No Glory." The horror-slasher vibes continued as they had a Leatherface dressed guy wield a chainsaw on stage. It doesn't get better than that folks! Needless to say we were glad a bar was mere steps away to provide us with plenty of cheap cans of brew to mellow us slightly after an insane and intense set. It seriously looks like metal is back and taking no fucking prisoners.
- Jay Rubin
Related Articles
Share
About Author
(0) Readers Comments