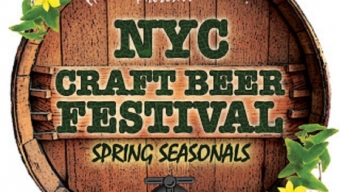 Looking for last minute, off-the-cuff weekend plans? LocalBozo.com has got you covered. It's not too late to figure it all out. For a glimpse of upcoming events that we'll be covering, check out the calendar in our side bar to your right. Otherwise, here are a few highlights to check out in and around Manhattan this weekend!
Arts & Culture 
Saturday March 30th - Niki Dawson has worked in animal welfare for almost 25 years as Executive Director of New Jersey's Liberty Humane Society, Camden County Animal Shelter and most recently served as the National Director of Disaster Services for the Humane Society of the United States. Join her and many other notable animal and disaster relief experts as they discuss the process of saving animals in disasters. (Animals In Disasters)
Sports
Sunday, March 31st – Want some Boston vs. New York action before baseball season gets underway? No problem! Head to Madison Square Garden on Sunday night to cheer on your New York Knicks as they take on the powerhouse Boston Celtics. It's going to be a bloodbath! (New York Knicks)
Music & Entertainment
Friday, March 29th – Movie release day. Quiet night tonight? Check out the films opening this weekend. This weekend prepare for the cinema to be loaded with tweens and PG-13 movie lovers. First up, "G.I. Joe: Retaliation" (PG-13) starring Channing Tatum and actions newest best friend, Dwayne "The Rock" Johnson. Bruce Willis also appears but we have a feeling he won't be playing Sgt. Slaughter! Twlight fans rejoice! "The Host" (PG-13) brings all the Stephenie Meyer's tween queen and king love to the silver screen. This time it's all about the Sci-Fi (We guess).
Friday, March 29th – You love watching Jon on Adult Swin's hit show, "Delocated." Now's your chance to see your favorite witness protection superstar live at the Music Hall of Williamsburg! That's right Jon Glaser himself with the mask and voice box changer will put on a huge variety show with fellow cast members like Todd Barry and Eugene Mirman! Catch the magic. (Delocated Live)
Nightlife
Sunday, March 31st – Over 1,000 People, 1,000 Glow Sticks, Exotic Dancers in Glow In The Dark Body Paint, The Sexiest Venue In NYC Decked Out with Over 1,000 Black Lights. And guess what it's all going down on Easter! Feels wrong, but oh so right. (Tickets)
Other
Saturday, March 30th - The spacious Lexington Armory will play host to dozens upon dozens of fantastic beers for the NYC Craft Beer Festival: Spring Seasonals!  Allagash, 21st Amendment, Blue Moon, Blue Point, Captain Lawrence, Ithaca Beer Co., Innis & Gunn, Lagunitas, Narragansett, Samuel Adams, Shmalts, Southampton, Sly Fox, and tons more that you've never even heard of will fill your livers the right way! Two sessions. Always a fun drunken time. Grab your buds, make some pretzel necklaces, and get the word out. (NYC Craft Beer Festival)
Friday, March 29th – Saturday, March 30th -Â  2013′s, "Night Market" will be hosted at Openhouse's newest location: The Old Bowery Station. Featuring nine local vendors, the two-day festival offers guests an exciting night of food and drink. Showcasing the most delicious and innovative recipes from chefs in the city. (Night Market)
And as Always, Droid users- make sure to Download the official LocalBozo.com App for FREE from Google Play (formerly the Android Market)! Get all the information we can fit onto your smart phone, NOW!
Related Articles
Share
About Author
(0) Readers Comments