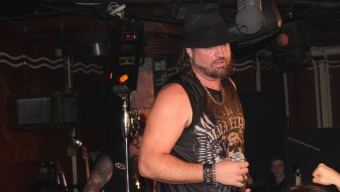 Adrenaline Mob
The Marlin Room at Webster Hall, New York City
March 13, 2013
Concert Review: Adrenaline Mob at Webster Hall
The supergroup to challenge all supergroups, Adrenaline Mob is no stranger to us here at LocalBozo.com. A little over a year ago, we were fortunate to cover the band's release party concert for their debut album "Omerta" at the now defunct Hiro Ballroom and even interviewed Mike Portnoy and John Moyer. Let's just say our hard rock roots seamlessly relate to their no B.S. style. Needless to say as soon as their next New York City date was announced, we immediately earmarked it on our calendar. Wednesday night, the band would return to the Big Apple in support of their latest album full of cover songs, appropriately titled "Covertá." This time the venue would be The Marlin Room within the historic walls of Webster Hall.
Shortly after 10pm the lights were killed and "Woke Up This Morning," the infamous theme to HBO's "The Sopranos" blared out of the speakers. The intimate, yet completely packed confines of Webster Hall echoed with the screams and shouts of die hard fans of this supergroup's previous band efforts (i.e. Dream Theater, Disturbed, Symphony X). All at once the towering lead singer, Russell Allen, drum master Mike Portnoy, bassist John Moyer and shredding guitarist Mike Orlando stormed the stage. And with little warning or introduction the band launched into "Psychosane," a serious handbanger and fist pounder, perfect to kick off their set. And given their history, the second song would keep the energy way up, adding a ton of fuel to the fire with "Feelin Me." After grabbing a much deserved gasp of air, both Allen and Portnoy took turns welcoming the sold out crowd, graciously thanking them for attending.
"Omertà" got tons of love early in the set with a barrage of insanely pleasing tracks like "Down On The Floor," "Believe Me," and their single, "Indifferent." Yet for this writer, nothing seems to beat a live rendition of Allen's highly emotional "Angel Sky." During our first outing with the band, the singer almost had to stop several times as a result of his emotional connection to it, but fortunately he managed to keep it together this time around. Since Adrenaline Mob is known for their insanely spot on and satisfying covers, it was no surprise to experience some of "Coverta's" gems during this NYC set, paying deep respect to a lesser known hard rock band named Badlands when ripping through a terrific version of their song "Highwire." The rock tributes continued with a brilliant drum solo by Portnoy for the recently deceased Clive Burr who drummed for Iron Maiden in the 70s and early 80s, including a face melting tease of the Maiden classic, "Run To The Hills." 
The witching hour closely approached and it appeared "The Mob" would never retire. As the smoke machine spouted out a spooky mist, Allen to belt personal favorites like the arena rock styled anthem "Undaunted." As the final pints of sweat poured out, and the picks and drums sticks hit the crowd, it was time to call it a night. Adrenaline Mob gave us everything during Wednesday night's performance and only asked for our horns held proudly up in return. If you ask me, that's a damn good deal.
- Jay Rubin 
Related Articles
Share
About Author
(0) Readers Comments