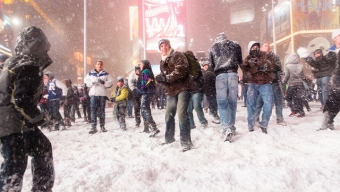 Looking for last minute, off-the-cuff weekend plans? LocalBozo.com has got you covered. It's not too late to figure it all out. For a glimpse of upcoming events that we'll be covering, check out the calendar in our side bar to your right. Otherwise, here are a few highlights to check out in and around Manhattan this weekend!
Arts & Culture
Friday, February 8th – Sunday, February 10th – You may have already seen our opening night coverage today, but if you haven't you must know about the "Athena Film Festival." Now in it's third year, this celebration of women and leadership is an engaging weekend of feature films, documentaries and shorts that highlight women's leadership in real life and the fictional world. The festival includes conversations with directors and Hollywood stars and workshops for filmmakers, has quickly established itself as one of the most prestigious festivals of its kind.  (Athena Film Festival) 
Sports
Sunday, February 10th – This Blizzard is perfect for heading to MSG to cheer on your New York Rangers as they do battle on the ice against the Tampa Bay Devil Rays! Seriously, with all this hockey action going on now we have totally forgetten about the lockout. (New York Rangers)
Music & Entertainment
Friday, February 8th – Movie release day. Quiet night tonight? Check out the films opening this weekend.  Bateman is back, Well Jason Bateman that is. The, "Arrested Development" star continues his streak of raunchy comedies this weekend in, "Identity Theft" (R). The story tells the tale of the mild mannered Bateman tracking down the over the top women played by the ever popular Melissa McCarthy who stole is credit identity and is putting him in the poor house. On a more serious note, director Steven Soderbergh returns for what well may be his last film in, "Side Effects" (R). This pulse pounding medical drama features Soderbergh regular Catherine Zeta-Jones and Jude Law. Either way, we will see you at the movies!
Friday, February 8th -Â If you're a true metal master you will brave the blistering snow and head to Irving Plaza tonight to witness the ever popular men of Gojira destory all in attendence. Tickets are still on sale and with this blizzard we have a feeling many unworthly fans will drop out at the last moment. Be there, or regret it! (Irving Plaza)
Nightlife
Saturday, February 9th – Alan Palomo of Neon Indian, George Lewis Jr of Twin Shadow, Chelsea Leyland and others will take turns DJ'ing the night away at the fabulous Tribeca Grand Hotel. See all your favorite frontmen behind the wheels of steel one night only! (Tribeca Grand Hotel)
Other
Saturday, February 9th – With a huge blizzard heading into town tonight there is nothing that sounds better than warming up with some fine wines! Join hundreds of your fellow wine loving Manhattan friends as you sample 200 hundred vinos from across the globe.  But as you sip you have to eat. "Winter Wine" will feature delicious hors d'oeuvres, cheese, bread, and crudités to round out the drinking experience. And hey, what's wine without fine music, right? The festival will also feature world-renowned contemporary jazz guitarist Jeff Golub to keep the crowd moving in style! (New York City Winter Wine Festival)
Sunday, February 10th - Five top notch chefs who live by the ever popular slow food movement will spend more than five days preparing and cooking amazing heritage pigs. And on Sunday they will be campaigning for your vote. This is an event you simply cannot miss. Pier Sixty at Chelsea Piers will come alive with the flavor of savory pork and the mission to find out which pig is truly best. Other events may give you tiny samples of the featured foods, but at Cochon 555 no guest will leave with empty stomachs! The LocalBozo food crew will be there in full effect so Tweet us out! (Cochon 555)
And as Always, Droid users- make sure to Download the official LocalBozo.com App for FREE from Google Play (formerly the Android Market)! Get all the information we can fit onto your smart phone, NOW!
Related Articles
Share
About Author
(0) Readers Comments