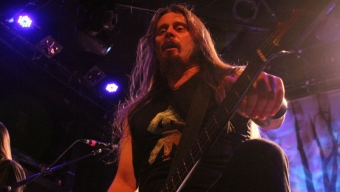 Enslaved with Ancient VVisdom
Bowery Ballroom, New York, NY
February 22, 2013
The lords of metal descended upon the Big Apple Friday night to the pleasure of its fans, while also breathing some much needed life into the genre. On a chilly February evening, Norway's Enslaved headlined the hard rock friendly Bowery Ballroom. The European progressive black metal outfit was supported by a loaded roster of bands who did so much more than just support the main act. The LocalBozo crew made our way into the Lower East Side venue to join a nearly sold out crowd to bang our heads alongside.
Concert Review: Ancient VVisdom
At 8pm on the dot, Texas' natives Ancient VVisdom took the stage in a shadow of black with sparse red light providing a sinister outline of the band. We first saw these guys when they opened up for Ghost in 2012 inside this very same venue and were instantly connected to their interesting take on doom metal and coupled with a completely unique sound. At that show lead singer Nathan Opposition was pulling double duty both singing and playing drums while standing up. Once the first lick was played at this 2013 outing we were happily surprised to see the band now had a full time drummer (still standing up) allowing Mr. Opposition to focus on belting out the often grim yet extremely pleasing lyrics. As their opening slot set continued, we marveled at bassist Trans Am's tuned down, haunting noodling, holding each groove for as long as possible. Although their set time may have been short, we got a prime taste as to where these Lone Star state boys are heading.
The additional openers Royal Thunder and sludge masters Pallbearer would keep the energy at a furious pace as they led us to some serious Enslaved craziness. Right around 11pm, the Norwegian metal masters took the stage with zero pageantry. They would save the style and flare for the ten plus song setlist. Right out of the gate the guys busted into "Riitiir," a progressive metal opus meets jam session event. It was hard not to savor each breakdown and slick vocal delivery. "Ruun" would carry us further down the rabbit hole, as we could see both the band and crowd become possessed and connected as we began to headbang in unison. I don't care how old I get, nothing beats thrashing one's head and raising horns toward the sky.
If you have never heard of "Enslaved," their sound is perhaps best described as being aboard a Viking ship as it is about to conquer new land. Unrelenting and Powerful. "Thoughts like Hammers" and "Roots of the Mountain" drove this point home in bold fashion. Ten songs and three encores may not seem like a huge set, but when a band brillantly stretches out each song past the five minute mark you're left breathless and craving more of their collective technical proficiency. As the witching hour approached the band dug deeper with their riff speed, pulse-pounding drums and even keyboard wizardry, melting faces "Raiders of the Lost Ark" style.
Even though my heart belongs to thrash and death metal, I have a huge soft spot for the progressive sound. Enslaved like so many of their European brethren are taking America by storm, proving that metal can be smart, mysterious and down right mind blowing. If you didn't make it out to the Bowery Ballroom on Friday, don't fret. Enslaved are road dogs and will return to the NYC area in some form soon. But if you miss their next show in our area the next time then prepare for metal wrath, my friend.
- Jay Rubin
;
Enslaved, Bowery Ballroom
February 22nd, 2013
Setlist
1. Riitiir
2. Ruun
3. The Watcher
4. Thoughts Like Hammers
5. Ethica Odini
6. Roots of the Mountain
7. Materal
8. Convoys to Nothingness
9. Allfaðr Oðinn
10. Immigrant Song (Led Zeppelin Cover)


Encore:
Drum Solo
Fenris
Isa
Related Articles
Share
About Author
(0) Readers Comments