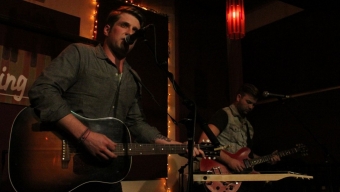 At LocalBozo.com, we travel New York City from borough to borough bringing our readers the best in live music coverage, from shows at the Barclays Center and Forest Hills Stadium to Irving Plaza and Terminal 5.  But we also like to expose you to some artists that you probably haven't heard from- perhaps some up and comers on the Indie scene.  And here now, is our latest entry into LocalBozo.com's "Indie Music Spotlight."
Satellite
The Living Room, New York, NY
January 15, 2013
Concert Review: Satellite at The Living Room
If you make your way down to the Lower East Side looking for solid independent music played in a live setting, you'll easily find it somewhere, seven days a week. And that's seriously a great thing. On Tuesday night, we headed to The Living Room to check out Los Angeles meets Nashville indie rockers, Satellite for the first time. Previous to our virgin outing we had heard nary a song from them, but during and after their hour long eleven song performance to a nearly sold out crowd, it became clear that their brand of music is one that lends itself to repeat listenings.
The brief yet powerful set kicked off just after 9pm. The intimate Living Room space was jam packed with audience members eagerly applauding the three piece as they took the stage. The band seemed equally as thrilled at their ovation even before playing one note as it would be their first time playing in New York City and Satellite could be seen drinking it in, savoring each moment. Without wasting a single moment, lead singer and guitarist Steven McMorran approached the microphone welcoming the crowd and immediately launching into "Saving Us" followed by "God Save." These two lead tracks blatantly revealed to us how much this outfit appreciates and therefore "gets" roots rock n' roll. Satellite's sound is perhaps best described as a combination of traditional singer-songwriter rock paired with a beautifully haunting folksy edge.
Three songs in and the boys who collectively represent two of the major capitals of music, had this hip NYC crowd focused with laser precision toward the stage. Maybe it's because I live in the borough but the song "Brooklyn" really connected to this writer for it's sheer energy and slick harmonies. It is definitely one to check out online if you want to see what these guys are really made of. McMorran did everything but draw a picture to reveal the band's influences to the crowd. Late in the set, the frontman boasted that the track to follow wasn't one of theirs, but from a gentleman who is the master of the craft. The master in question was Bruce Springsteen and his classic song "I'm On Fire" from the "Born in the USA" record. Covering anything by The Boss is a daring move but this outfit was up to the challenge. Their version rearranged the chorus, stretching it out with delightful ghostly aesthetics.
Satellite's instrumentation is highly unique and that is a serious understatement in and of itself. Guitarist Josh Dunahoo could be seen playing both slide guitar as well as piano while bassist Erik Kertes seamlessly plays the kick drum (to replace not having a drummer) and plays the piano as well. This jack of all trades style continued when singer McMorran called an audible towards the end of the set as he took over piano duties to play the unreleased song "Vagabond." Before kicking into the new track Steven joked with the crowd to go easy on him since piano isn't his main gig. A chuckle filled the room, but as soon as the song concluded everyone could see how well he nailed it. The slightly longer than an hour set concluded with "Til I Return," a song McMorran stated will be their closer for years to come. Its killer chorus and lyrics speak of a homecoming that is in the distant future. Hopefully our Satellite homecoming occurs in much less time.
- Jay Rubin
Satellite – The Living Room, New York, NY
January 15th, 2013
Setlist
1. Saving Us
2. God Save
3. Brooklyn 
4. Turning 
5. Silhoette
6. Come and Get Some 
7. Ring The Bells
8. I'm On Fire (Bruce Springsteen Cover)/Vagabond(Called out as audible) 
9. Say The Words
10. Til I Return

Related Articles
Share
About Author
(0) Readers Comments