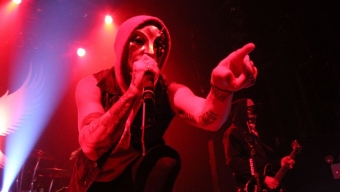 Hollywood Undead
The Gramercy Theatre, New York, NY
January 18, 2013
Concert Review: Hollywood Undead at the Gramercy Theatre
As blue spotlights transfixed on an image of a bird carrying a grenade, a sold out Gramercy Theatre audience repeatedly shouted in unison the phrase "Undead." No, the Zombies have not emerged from beyond the grave to eat our brains, but another group of dark figures returned to town Friday night just in time for the witching hour. California's Hollywood Undead arose from their crypts ready to take over a highly amped up New York City crowd of their faithful. And in a rare move, no opening act slot was given making their 9pm start time the main focus of the evening.
The house lights went dark as some late 70s era rock brought the bandmates up on stage, each of whom was donning their respective masks and stage personas. After gearing up and as the crowd anticipation was at its pinnacle, the band launched into "Undead," perhaps their most successful single to date. But after two more rap metal friendly songs- "Tendencies" and "Been to Hell"- the band removed their masks, dropping the gimmick for the remainder of the show. With all of the masks now removed except for a few members now in sunglasses, the band carried on a frenzied and energetic show, similar to many of the other bands of the genre.
Hollywood Undead has a passionate and rabid fan base. Throughout the overstuffed performance, the capacity sea of humanity missed nary a lyric from the band's catalog. And even though we were deep in the heart of New York City, Hollywood Undead's California roots were on full display on this night, as they ripped into a track of the same name paying a laid back tribute to their home turf. The hometown love was felt all the way to the bombastic "My Town," which could easily apply to wherever they are on any given night. Their Big Apple fans wasted not a moment transforming the tune into a locally driven anthemic rallying cry.
The sheer energy exuded by the band needs to be mentioned if not completely praised. They are a gigantic band who all but fill the stage. Two cranked up drummers passionately crush the drums like they are possessed by beat demons. At any given time the stage could and did feature each bandmate sharing vocal duties in perfect harmony. Live versions of "Sell Your Soul" and "Paradise Lost" were especially indicative of the band's live talents but in the end, a Hollywood Undead show is all about the love of the game. Love from the fans who are hungry to be there, singing along with fists in the air. And the band themselves who is fueled like a race car by this love to put on a show that you won't soon forget days after the encore has ended.
- Jay Rubin
Hollywood Undead- The Gramercy Theatre, New York, NY
January 18th, 2013
Setlist
1. Undead
2. Tendencies 
3. Been To Hell
4. Dead Bite
5. Bottle and a Gun
6. California  
7. City 
8. Comin' in Hot 
9. My Town
10. Bullet  
11. Sell Your Soul 
12. Paradise Lost 
13. Another Way Out 
14. Mother Murder
15. Young
16. Here Me Now
Encore: 
Everywhere I Go
We Are 
Related Articles
Share
About Author
(0) Readers Comments