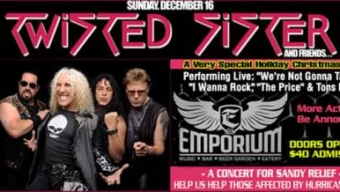 Looking for last minute, off-the-cuff weekend plans? LocalBozo.com has got you covered. It's not too late to figure it all out. For a glimpse of upcoming events that we'll be covering, check out the calendar in our side bar to your right. Otherwise, here are a few highlights to check out in and around Manhattan this weekend!
Arts & Culture
Friday, December 14th – Univision personalities Fernando Fiore, Maite Perroni and Jackie Guerrido will be hosting,"TELETÓNUSA" live from Military Island in Times Square tonight from 10pm to Midnight! This broadcast is only a small taste of the amazing 28 hour telethon event that will be raising money for children with disabilities as well as those with cancer and autism. (Univision)
Sports
Saturday, December 15th – Jason Kidd and the New York Knicks host the Cleveland Cavaliers at MSG on Saturday night. What a better way to spend the Holiday's then by giving charity to a team that truly needs it. Seriously, this ill-fated team is showing promise this season so why not take in a game and show your support for the home team. Don't worry they sell beer. (New York Knicks)
Music & Entertainment
Friday, December 14th – Movie release day. Quiet night tonight? Check out this huge flick which is most definitely an unexpected journey! Director, Peter Jackson returns to holy ground with his Lord of the Rings prequel, "The Hobbit" (PG-13). The early buzz is extremely positive as the pre-opening Midnight showings have brought in enough cash to cover the entire island of New Zealand! Many of the familiar faces from the original trilogy will be returning to satisfy any fans hunger!
Friday, December 14th – Saturday, December 15th – It appears the post-grunge movement still has plenty of blood running through it's veins. Road dogs and Indie studio darlings, Nada Surf have been steadily releasing new material long past their one major MTV hit, "Popular." If you have only heard this long faded single then you have a ton of choice tracks to catch up on. Luckily the band is playing all weekend here in NYC. Unfortunately, it's sold out so be sure to hold up one finger and hope for a miracle ticket. (Bowery Ballroom)
Nightlife
Friday, December 15th – You've waited all year and it's finally here. Throw on your trendiest reds and greens and get on line for Pacha's Holiday Party! This major year ending event will pull out all the stops, as DJ Paige mans the wheels of steel commanding all the dances for a full night of decadence. If you arrive before midnight it's free entry, but you need to be on the list! (Pacha NYC)
Other
Sunday, December 16h -  For one magical day the entire Lexington Armory will be transformed into a chocolate wonderland! No, this isn't a dream it's the,"Chocolate World Expo! An entire day (10am-7pm) will be dedicated to one of the great sweet treats on the planet. Ticket holders will be able to enjoy tastings and purchase chocolates, baked goods, specialty foods, gelato, wines, craft beers and much more from approximately 60 vendors. Don't wait a minute longer and get your tickets now! (Chocolate World Expo)
Sunday, December 16th – Head to The Emporium on Long Island and officially tell Hurricane Sandy that, "We're Not Gonna Take It!" That's right rockers, Twisted Sister has returned and for one night only they will be performing their infamous, "Twisted Christmas" as a Sandy Relief concert! The hometown boys will be owning the stage for hours as they bust out Twisted classics and Christmas, metal style! If that's not enough, former New York Yankee Bernie Williams, rockers Adrenaline Mob and wild man Andrew W.K. will all be in the house. (Twisted Christmas)
And as Always, Droid users- make sure to Download the official LocalBozo.com App for FREE from Google Play (formerly the Android Market)! Get all the information we can fit onto your smart phone, NOW!
Related Articles
Share
About Author
(0) Readers Comments