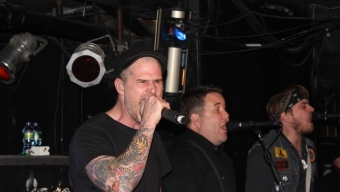 Dropkick Murphys
The Studio at Webster Hall, New York, NY
December 13, 2012
Concert Review: Dropkick Murphys at Webster Hall
Listen we're not going out on any limb with the following statement: the Dropkick Murphys are really good.  Since 1996, the innovative collective has been steadily churning out their unique and downright excellent brand of punk rock meets Irish folk music, growing into one of the most influential and successful band's of the genre that they helped to cultivate.  In anticipation of the band's eighth major label studio album, "Signed and Sealed in Blood" due out January 8th, Dropkick Murphys descended upon the intimate confines of The Studio at Webster Hall on Thursday night, with 200 or so lucky fans for an exclusive performance streamed live on Sirius/XM's Faction channel.  And for ninety minutes, the Murphys delivered an extraordinary performance in front of some of their most avid supporters, running down much of the soon to be released album as well as some of the band's signature numbers from their extensive catalogue.
The diminutive stage at Webster Hall's smallest room proved to be no issue despite the seven piece band standing front and center, wielding guitars, banjos, keys, and even an accordion depending upon the instrumental demands of each song.  But the band's comprehensive 23 song set was a revelation for a group of musicians who seem to get better (and more successful mind you) with each passing album.  2011's "Going Out in Style" was the Murphys' highest charting album to date, opening in the sixth spot on the Billboard album charts, and if the new tracks busted out on Thursday night were any indication, "Signed and Sealed in Blood" should bring this band to even greater heights of success.  Perhaps no song captured the moment better than show opener "The Boys Are Back," which served as a rallying cry for fans who had been pining for Dropkick Murphys' return to the Big Apple, despite having two dates lined up for Terminal 5 this coming March.  Other new cuts like "Prisoner's Song," "My Hero," and the Christmas inspired "The Season's Upon Us" were standouts in a setlist rife with them.
Other highlights included bass player/backing vocalist Ken Casey teasing the appearance of Bruce Springsteen (he never showed) before an awesome rendition of "Peg O' My Heart," a few songs prior to an inspired cover version of The Boss' "No Surrender."  "Sunshine Highway," "Working," and "The Wild Rover," which played like the most incredible Irish drinking song you've ever heard were also each particularly spirited.  What the Dropkick Murphys do so infinitely well is relating to their fans as several times throughout the performance, energetic audience-mates were invited on stage to sing backing vocals alongside Casey and frontman Al Barr.  The dueling vocalists provide tremendous contrast amid a sea of unique but identifiable instrumentation, all played to precision by musicians with hearts that so clearly beat for rock music.
Casey briefly mourned vaunted Red Sox third baseman Kevin Youiliks' recent signing with the rival New York Yankees before launching into "Jimmy Collins' Wake," but that aside managed to stay on the Manhattan crowd's good side for the remainder of the show.  The band saved perhaps their finest new song for their encore as "End of the Night" is certain to replace Semisonic's "Closing Time" at most weddings, Bat Mitzvahs, and at the very least, most bar closings across the country.  And just as the crowd had been worked to a frenzy, the Murphys whipped out "I'm Shipping Up to Boston," made famous from Martin Scorcese's "The Departed" to end the historic, exclusive show as the sea of fans who would have been ready for another hour's worth of material sang alongside the band word for word.  While Dropkick Murphys were certainly capable of playing a bigger room, the lucky 200 or so of us fortunate to have been inside The Studio at Webster Hall Thursday night were handsomely rewarded with a non-stop rock show that was uncommonly remarkable from start to finish, by a band that continues to improve with each passing show.
- Jane Van Arsdale
Related Articles
Share
About Author
(0) Readers Comments