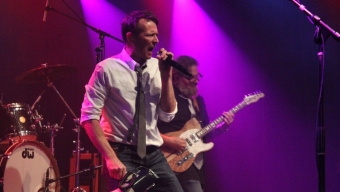 Scott Weiland – "Greatest Hits"
Highline Ballroom, New York, NY
November 26, 2012
Concert Review: Scott Weiland at the Highline Ballroom
Lead singers are a rare breed indeed. They are the defacto face of a band, a fact which holds a ton of weight be it good or bad. Stone Temple Pilots frontman Scott Weiland is no stranger to both ends of this blinding spotlight, thus causing him to set out on his own apart from his STP brethren several times over the past two decades. On Monday night, a mob of late arriving fans filled up the intimate Highline Ballroom as Weiland presented his "Greatest Hits" tour to the New York City faithful. And although the title for the tour may seem a bit misleading to those expecting to hear the catalog of Stone Temple Pilots' classics, in the end the ticketholder need only to appreciate the entire package to have enjoyed themselves thoroughly.
Shortly after 9:30pm, the previously unannounced opening act had concluded and the remaining sound checks were complete setting the stage for the lights to dim and the touring band to hit the stage, launching into a bluesy jam. Weiland's backing band of musicians known as the "Wildabouts" set the tone immediately as a truly talented outfit, versatile enough to capably show off any period of the singer's career. Moments later, Weiland appeared from a small door just offstage dressed in what appeared to be a clean cut corporate look in a blazer, white shirt, black tie, and jeans. This highly out of character dressing would only last for a few minutes, as each layer was stripped off with precision. Weiland and company quickly launched into STP favorite "Crackerman," stalking the front of the stage with his lizard like swagger, belting lyrics into the trademark megaphone sounding more or less like himself in the band's heyday. This familiar track would act as a tease to some wanting more familiarity and an appetizer for others wanting to hear deeper tunes from the artist's catalog. From this point Weiland and his band took the audience into unpredictable territory. The litany of solo material kicked off with the extremely haunting "Paralysis," displaying Weiland's deep command of his old school style vocals. More clothes were then stripped while attitude built as the Wildabouts kicked into "Killing Me Sweetly," taking all in the house on a trippy ride.
Even though this rare performance started with a bang, it wasn't without some minor glitches. Throughout the first quarter of the set, Weiland had problems with his microphone and had to keep switching between his corded and his cordless piece. But while other singers would have ignored the prevalent issue and perhaps went through the motions to get through the show, Scott Weiland is a different animal- one who demands a great deal from his own performance. And for a guy who has lived the rock n' roll lifestyle as much as he has, Weiland has no business looking or sounding as good as he continues to some eighteen years since breaking in with STP, going solo, and then forming with super-group Velvet Revolver. But watching the enigmatic singer pull a cigarette from the pocket of his jeans and light up on stage was an iconic image of a rock and roll bad ass, who scoffs at the very laws and dangers that the rest of us as fans adhere to and fear.
Weiland made sure to continue the party with a lounge singer-like crooning of Velvet Revolver's "Do It For The Kids" before giving us a quick channeling of the vocals and body movements of Perry Farrell on the Jane's Addiction classic "Mountain Song." These choice nuggets were constantly being teamed up with selections from Weiland's past works which have only been performed scarcely over the years. A prime example of this came in the form of "Mockingbird Girl," a cut from the soundtrack of the cult Lori Petty Sci-fi flick, "Tank Girl." Weiland produced this tune with one of his 1990′s side projects known as "The Magnificent Bastards." The song is unlike any of his STP or other solo work in the way it perfectly marries both his rock and crooning blues side.
If you came to this show only wanting to hear Stone Temple Pilots tracks, then I believe I heard you screaming at Weiland pissed off most of the evening. Listen, we all love these popular rock tunes. They are the reason we were drawn to this artist in the first place. But if you really want to appreciate him you need to at least respect the setlist he curated for the evening. Said Weiland, "It's always a pleasure to play here in New York City. It's always been a pleasure.  You know when STP first started out, we made our record, and we went on our first tour. We played here at the New Music Seminar on Ludlow and Houston.  These days things are a lot better (in New York City).  Things are a lot better for me.  It's what you do when you're down to pick yourself up and what you do with it when you pick yourself up."
The singer managed to save many of the highlights for last as he whipped out a passionate version of Stone Temple Pilots number "Art School Girl" from 1996′s, "Tiny Music… Songs from the Vatican Gift Shop." The nearly two hour set took the audience on a rocking, sometimes complicated journey through much of Scott Weiland's storied and often infamous career. As the witching hour approached Weiland wound down the set with the spacey "Barbarella," perhaps his best known solo track before bringing the Wildabouts back onstage for two exciting versions of hits "Vaseline" and "Unglued." Earlier in the evening Weiland's veiled commentary encapsulated an otherwise exciting evening watching one of rock's legendary frontmen: "That's the beauty of rock n' roll.  Its not about perfection its about energy." It may not have been perfect, but it damn sure was fun.
- Jay Rubin
Related Articles
Share
About Author
(2) Readers Comments