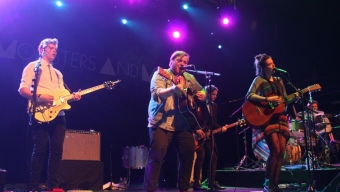 Of Monsters and Men
Terminal 5, New York, NY
November 20, 2012
Concert Review: Of Monsters and Men
In its most traditional sense, many of us have been bred on the four piece setup for the basic idea of a band. While there is absolutely nothing wrong with that, bigger is always better when it comes to rock n' roll. Icelandic indie group Of Monsters and Men personify this bold presence and it comes through beautifully in both their live and studio sound. On the first of two sold out nights at New York City's Terminal 5, the group loaded the stage with seven players all of whom played key roles in rounding out a confluence of different sounds, beautifully merging together. The LocalBozo.com crew made our way over to the west side to witness the wall of sound that Of Monsters and Men have been displaying across the globe.
At 9:30pm on the nose, lead vocalist and guitarist Nanna Bryndís Hilmarsdóttir, Ragnar "Raggi" þórhallsson and the rest of the huge Of Monsters and Men family hit the stage to a blistering applause filled with immense anticipation from the New York City faithful. With little in the way of banter or pageantry, the band modestly took their positions on stage, filling the air with a cool wave of instrumental distortion with "Dirty Paws" from the band's debut album, "My Head Is an Animal." We couldn't think of a more rousing song to get this capacity crowd partying and singing along to every word. The band took then took a short beat to take in the massively filled venue in front of them before heading right into "From Finner." While not as upbeat as the opener, the tune blatantly showed off the band's technical side, elevating the way that folk music is classified. Through their unique use of acoustic guitars and rhythmic singing the band also adds in killer drums, keys, strings and even horns into their versatile mix that firmly entrenches them alongside their folksy forefathers.
In a surprising yet satisfying turn, the band played its monster (pun) hit "Mountain Sound" in the fourth spot in their relatively short eighty minute set. The skyrocketing popularity of the group could have easily allowed them to play this track as the encore. But not on this night. Hearing the song live elevates everything you love about the version you have heard from the studio release. Its four minute duration flies by because you're so busy smiling, singing along, and of course dancing around with pockets of likeminded friends.
Other highlights from the set included a spirited cover of The Yeah Yeah Yeah's "Skeletons," which has become a veritable staple at most Of Monsters and Men shows on this tour. Nanna's hauntingly, siren-like voice kept us glued to the stage not wanting to miss a second, while Raggi's inspired, left handed guitar strumming and his melodic voice paced each subsequent song accordingly. The rousing tracks "King And Lionheart," "Lakehouse," and the energetic "Little Talks" took the crowd by storm, amplifying a party atmosphere with each passing number. Sitting at stage left, drummer Arnar Rósenkranz Hilmarsson owned much of the evening with a vigorous performance. Dressed in his Sunday best, Hilmarsson could barely keep his seat as he tore through his drum kit, maximizing the lengths he could take each kick drum beat with every cymbal crash. The audience who had all but applied for Icelandic citizenship, shared in the groove cast upon us with laser precision. And by the end of the main set, the party which started in the beginning had turned into an all out bash with literally no one standing still. Seeing Of Monsters and Men perform live is essentially watching an all out love letter to the heart of foot stompin', hand clapping folk music. Despite a more mellowed out rock show than we're used to, the show starting show built toward a frenzied pace, which by the end was fun and captivating at once. Our only beef is that we didn't manage to procure tickets for the second sold out show at Terminal 5 tonight.
- Jay Rubin
Of Monsters and Men – Terminal 5, New York, NY
November 12th, 2012
Setlist
1. Dirty Paws
2. From Finner
3. Slow and Steady
4. Mountain Sound
5. Your Bones
6. Skeletons (Yeah Yeah Yeahs cover)
7. Love Love Love
8. King and Lionheart
9. Lakehouse
10. Little Talks
11. Six Weeks
12. Sloom
13. Beneath My Bed
14. Yellow Light
Related Articles
Share
About Author
(0) Readers Comments