Well despite her efforts, not even Hurricane Sandy would derail an exciting upcoming month of November events. Show off your spirit and don those handlebar mustaches for Movember or just take note of the following events to make the transition toward Thanksgiving as much fun as possible. Just believe us when we tell you that for this month, this is a list of places "Where You Need to Be" in November. Don't worry about thumbing around for things to do as we approach Turkey Day, because we've got the lowdown on every important November happening to keep the pilgrims and Indians at bay.
November Events in New York City: Where You Need to Be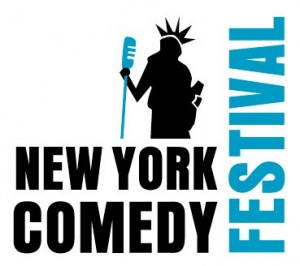 Date: Friday, November 9th2012
Event: The New York Comedy Festival

Place: Varies

Cost: Varies

The Scoop: The New York Comedy Festival has become an annual rite of passage each autumn and the 2012 iteration is no different. This year's slate features some of comedy's biggest names with Aziz Ansari, The Wayans Brothers, Brian Regan, Kevin Hart, Bill Maher, Ricky Gervais, Patton Oswalt, Robin Williams and Artie Lange all participating. Perhaps the crown jewel however is 2012's "Stand Up For Heroes" benefit for The Bob Woodruff Foundation. On Thursday, November 8th, Bruce Springsteen, John Mayer, and Roger Waters join Jon Stewart, Robin Williams, and more for an unforgettable evening of laughs, songs, and inspiration.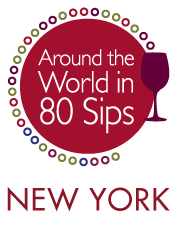 Date: Friday, November 9th2012
Event: Around the World in 80 Sips

Place: Espace

Cost: $75 General Admission; $125 VIP Access

The Scoop: Hear the sound of popping corks? Swish and sip with wine lovers alike as more than eighty different varietals from around the world gather at Around the World in 80 Sips. The traveling wine road show stops locally, bringing an unforgettable evening of international sampling. Taste some excellent wines while you try different chocolates and cheeses in the two plus hour event. VIP access gets you in nice and early before the rush of the crowd.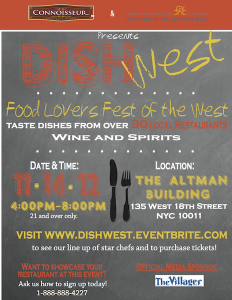 Date: Wednesday, November 14th 2012
Event: Dish West
Place: The Altman Building
Cost: $50 per person
The Scoop:Join the likes of notable New York City restaurants Churrascaria Tribeca, Macelleria, Junoon, City Winery, and more for Dish West, a celebration of wines and spirits, and food dishes hosted at the incredible Altman Building. Pace yourself around the room as you sample fare and sip drinks from over thirty different purveyors, and with tickets affordably priced at just $50, you'll be hard pressed to find a better bargain for a four hour tasting feast.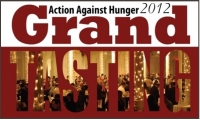 Date: Friday, November 16th, 2012
Event: 2012 Grand Wine Tasting
Place: The Altman Building
Cost: General Admission- $99.99 per person; VIP- $159.99
The Scoop: More wine tastings you ask? Look no further than the 2012 Grand Wine Tasting to benefit nonprofit organization Action Against Hunger, who provide assistance to millions of people in more than 40 countries. Your admission grants you access to more than one hundred different wines from Napa to Bordeaux including several different rarities being opened up to the public for the first time. Enjoy some light food, live music, and more at this extravagant tasting for a great cause.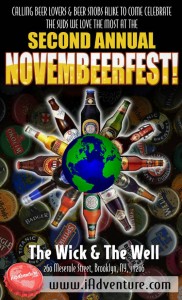 Date: Saturday, November 17th, 2012
Event: Novembeerfest
Place: The Well, Brooklyn
Cost: Varies $35-$100
The Scoop: iAdventure.com brings their latest event to The Wick and The Well on this day. The second annual Novembeerfest will be slinging everything from ales to lagers for a wintry festival like none other. Just minutes from the L train in Union Square enjoy brews, food samples from a ton of different food trucks and purveyors, and the company of likeminded drunks, just trying to get to the holiday season, one sudsy pour at a time.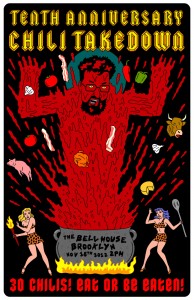 Date: Sunday, November 18th 2012
Event: The 10th Anniversary Chili Takedown
Place: The Bell House
Cost: $15
The Scoop: A decade is a long time for anything. But for the forward thinking Matt Timms, it's been a celebration of home chefs and fiery competition. For the tenth time, Timms is bringing his storied Chili Takedown into the majestic Bell House for an afternoon competition of good fun and good eats. For just $15, sample several dozen different delicious and delectable interpretations of chili. While you may need a can opener to delve into the meat, spoons are always optional.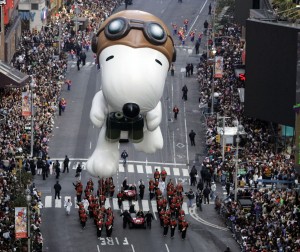 Date: Thursday, November 22nd 2012
Event: The Macy's Thanksgiving Day Parade
Place: Macy's Herald Square
Cost: Free
The Scoop: For 86 years, the Macy's Thanksgiving Day Parade has brought pageantry and prestige down from the west side into Herald Square. The annual event will certainly have crowds gathered from the wee hours of the morning, but it's all worth it once that inflated Snoopy balloon floats its way through Manhattan. Beginning at 9am, the parade will pace itself down Central Park West featuring performances from celebrities to Broadway shows to jolly Old St. Nick himself. And seeing some of it in person is one of the most iconic visions that any New Yorker can and should enjoy.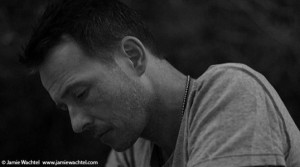 Date: Monday, November 26th 2012
Event: Scott Weiland – Greatest Hits

Place: Highline Ballroom

Cost: $47.50 – $125 in advance, $53 day of show

The Scoop: There are few musicians these days who can truly call themselves, "Rock stars" without coming off as a bit pompous. Since 1992, singer Scott Weiland can comfortably wear this label as a badge of honor. The iconic front man has been stretching the capacity of his pipes to bring audiences around the globe some of the most memorable rock music of the past twenty years. Be it with the legendary line-up of Stone Temple Pilots, super group – Velvet Revolver, or stripping it all down and going solo his talent can not be matched or emulated. Mere days after Thanksgiving longtime fans and rockers alike will have something else to be grateful for, when Mr. Weiland takes the Highline Ballroom stage in intimate performance exploring chapters of his entire catalog.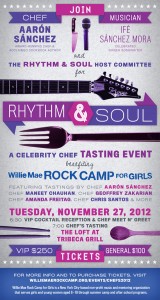 Date: Tuesday, November 27th 2012
Event: Rhythm & Soul: A Celebrity Chef Tasting Event

Place: The Loft at Tribeca Grill

Cost: $100 General Admission, $250 VIP

The Scoop: What happens when you mix a worthy cause with the ability to hob nob with celebrity chefs? Rhythm & Soul. That's what. In a benefit for the Willie Mae Rock Camp for Girls, join notable Chefs Chris Santos, Geoffrey Zakarian, Amanda Freitag and more for an evening of live raffles, meet and greets, cocktails, and some outstanding food tastes along with DJ's and more. The non-profit Camp seeks to empower young girls and women through inspired music education, but also motivates them through activities, skills, creative thinking, and working together. Bridging different backgrounds and ethnicities, there is no discriminating here. Now let's do our part to make sure they are sufficiently funded accordingly.
Date: Wednesday, November 28th 2012
Event: The Rockefeller Center Christmas Tree Lighting

Place: Rockefeller Center

Cost: Free

The Scoop: Best of luck in securing a spot for yourself at the massively packed Rock Center. But even if you decide to watch the incredible tree lighting on television, you're still doing your part to enjoy the approach to the holidays. The official kickoff of the Christmas season begins at the end of this month- but don't despair- there's still four solid weeks left until that joyous day. And after that, we can all go back to fighting.
- Jane Van Arsdale & Jay Rubin
Related Articles
Share
About Author
(0) Readers Comments