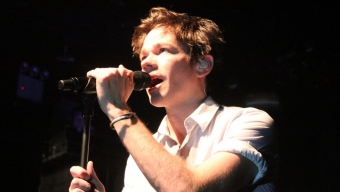 An Evening with Fun.
Irving Plaza, New York, NY
November 7, 2012
Concert Review: An Evening with fun.
First, Hurricane Sandy swept through New York City, initially postponing the Google Wallet sponsored "An Evening with Fun." show within the intimate confines of Irving Plaza. Then, the potential of a Nor'easter threatened to blanket Manhattan with wind gusts and snowfall just as many of us were regaining power in our apartments. But a blustery mix of winter elements would do nothing to deter the band from performing as scheduled on Wednesday night. Despite the show being long sold out, there were pockets of space around the standing room only floor which would indicate that many ticketholders were less determined to brave the conditions for the exclusive concert. Nevertheless, with a small, subdued crowd of New Yorkers in front of them, Fun. admirably delivered an outstanding 75 minute set, compiling fun covers and the many catchy hits from both of their two albums.
In a precursor for the band's upcoming show at Radio City Music Hall in February, Fun. made sure that Wednesday night was all about that- having fun. The band casually made their way to center stage to a raucous applause, almost sheepishly and modestly looking out into the sea of New York City faithful, incredulous to how far they've come as a band. Judging simply by the way frontman Nate Ruess and company carry themselves on stage, they've matured a great deal since even their last shows locally at Terminal 5 back in June. That's not to say they've lost sight of what makes them so unique- an unmistakable blend of catchy choruses, talented musicians playing different instruments interchangeably, and Ruess' outstanding vocal range and stage presence that make you want to jump up on stage alongside him and scream at the top of your lungs. And therein lies the band's charm- just a group of regular young guys, having the time of their lives, delivering hit single after hit single, and having the world by the proverbial balls. That's Fun.
Since the show was sponsored by Google Wallet, ticketing to fans of the band was clearly limited, but Fun. still showed up as ready as ever to deliver. Opening with "Carry On," the band's latest single, the 'keep pushing yourself forward' theme became a rallying cry of sorts for an audience mostly decimated by weather caused power and water outages among other inconveniences for much of the previous week. Faster paced tracks like "One Foot" and "All the Pretty Girls," only kept momentum high as Fun. barreled through their set before surprising the audience with a rendition of the "Friends" theme song "I'll Be There For You," by The Rembrandts, which the crowd simply ate up. (And yes, they did the clap along).
The band kept banter with the crowd mostly under wraps, although Ruess managed to take a few moments to applaud the re-election of President Obama and express his distaste for fans throwing previously handed out glow sticks toward the stage. But the band was clearly more relaxed this night than most, and just seemed to be enjoying the moment. The bluesy "Barlights" seemed to take on a more rock-first approach than on the studio recording, while "The Gambler" was performed low key and acoustically, with just the trio onstage humbly crooning to a mostly attentive audience. (It was a sponsored show, after all.) As the opening notes to "We Are Young" began, Ruess didn't have to sing a word- but did, despite an audience more than willing to do much of the work for him. As sprinkles of white confetti rained down upon us- much like the blizzard conditions outside of the venue- fans cheered in unison, dancing in the fake snowfall. A cover of The Rolling Stones "You Can't Always Get What You Want," pointed at Mitt Romney, was also an incredible cover, and a nice touch for the rock purists in the house. But it was "Some Nights" which aggressively took the crowd by storm, with almost the entire room of people jumping together uniformly.
Since we last saw Fun., the band has been on a nonstop rise to the pinnacle of pop culture. With singles "We Are One" and now "Some Nights" selling at a rapid pace, a critically acclaimed summertime performance at Lollapalooza, and now fresh off of their first performance on Saturday Night Live this past weekend, the band appears destined to break through to even greater heights. Ruess' vocal capabilities in a live setting encapsulates everything that is great about meshing pop and rock music together. And with his energetic band behind him, harnessing that same vigor that he manages to deliver with each passing song, it's no wonder that show after show is completely sold out. Their authentic brand of showmanship combines their penchant for a Broadway show style panache with that of a rock band on the rise. The scariest part of it all? They're just getting started.
Fun.- Live at Irving Plaza, New York, NY
November 7th, 2012
Setlist
1. Carry On
2. One Foot
3. All the Pretty Girls
4. Why Am I the One
5. I'll Be There For You (The Rembrandts Cover)
6. At Least I'm Not As Sad (As I Used to Be)
7. All Alone
8. It Gets Better
9. Barlights
10. The Gambler
11. We Are Young
12. You Can't Always Get What You Want (Rolling Stones Cover)
13. Some Nights
14. Stars
- Jane Van Arsdale
Related Articles
Share
About Author
(0) Readers Comments