Blog: NYFF: The Paperboy Press Conference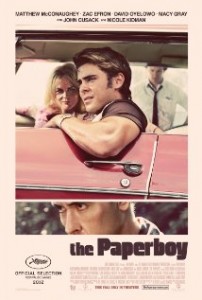 The much romanticized, world defining era of the tumultuous 1960′s in southern America has spawned a wealth of cinematic creations with mostly varied results. Director Lee Daniels (Precious, Shadowboxer) pulls no punches though in bringing us back to this time period in his latest vision of race in the United States titled "The Paperboy" (R). The film is a gritty and sometimes hard to watch Southern-noir, that can only be described as a grotesquely beautiful complete masterpiece, that begins its theatrical run in screenings at the 2012 New York Film Festival.
"The Paperboy" stars Academy Award winner Nicole Kidman (The Others, Birth) as Charlotte Bless, a forty-something woman who spends her time as a "death row groupie," sending and receiving letters from men in prison falling in love with them as they await their impending demise. One pen pal in particular, Hillary Van Wetter  (John Cusack) claims he was framed for the murder of a corrupt local sheriff, sending Charlotte to Miami Times reporters Ward Jansen (Matthew McConaughey) and Yardley Acheman (David Oyelowo) who are concurrently working to clear Van Wetter of the crime. And even though that setup sounds like it will yield typical Hollywood results, you can rest assure it most certainly does not. Daniels interpretation of the bestselling novel by Pete Dexter is so daring, and covers so much ground this review will simply provide an appetizer to the steak dinner you have waiting for you at the cinema.
Taking on racial issues is a prime focus throughout the film for Daniels, and the talented cast brings a very real historical perspective to light. In fact, as the movie begins, Jack Jansen, son of a major southern newspaper publisher played brilliantly by the underrated Zac Efron (Me and Orson Welles, The Lucky Ones) is lounging in his bedroom when maid Anita (Macy Gray) comes into his room to pick up laundry strewn throughout the space. From there we see some extremely realistic interplay between characters from different races and worlds. Sometime they are humorous, but are often deadly serious. Gray's Anita is remarkable and plays a refreshing change from the housekeeper characters we have seen African-American women play for so long. Smart to the world and ready to challenge the young, naive Jack with her way to turn a phrase, Gray and director Lee Daniels worked tirelessly to make Anita a no nonsense character which comes off as both believable and somehow, relatable. In attending the exclusive New York Film Festival screening of the film, Daniels himself spoke passionately about the need to make Gray's character authentic to the actual housekeepers of the time, and not some subservient lie. These women had personalities and spoke their minds, in spite of a time period that was oppressing them.
As stated, "The Paperboy" works to take on this decade of doubt in a very confrontational way and Daniels demanded actors that were completely on board for the period piece. From the moment Nicole Kidman's Charlotte hits the screen you know something special is taking place. The beloved actress completely transformed herself (the small budget required many of the actors to do their own hair and makeup) into a bleach blonde, heavily eye makeup-ed southern vixen. Her accent and unapologetic mannerisms and language show Kidman's method acting chops. During the press conference, Kidman candidly described the fact that she never broke out of the accent or mindset while shooting in fear she would judge the character, thus taking her out of the moment. Her quick tongued, smart,  mysterious, and sexually charged Charlotte character made us forget that we were watching Kidman at all, instead transporting us right back to the 1960′s. Kidman easily holds her own with a nearly all male cast of strong, talented leads- McConaughey, David Oyelowo, Zac Efron, and especially John Cusack's odious Hillary.
The look, tone, pacing and graphic nature of the film ultimately respects the audience but challenges them constantly to take off the rose colored glasses and view the real ugliness that our regrettable history suggests. The grainy film, color palette, soundtrack, and score are just a few examples of how precise this team was in re-creating the shots and the overall look of the decade. The film looks as if it has existed on a reel for years just waiting to be devoured by audiences. All that said, this is not a safe film at all so it's important not to go into it thinking you will have a light jaunt at the movies. Your eyes will constantly be forced to witness the unpleasantness of human nature at work during a trying time period. Cusack's Hillary Van Wetter for instance is a particularly haunting and seemingly dead behind the eyes character, that you never seem to trust. In addition to Cusack's performance, the film was unpredictable as each new scene played out like a metaphoric blind taste test. Would it be delicious, or rotten to the core? You simply don't know. 
To date, whatever has been leaked about, "The Paperboy" is only a sliver of what you'll truly experience. Lee Daniels must be commended for taking actual risks with this project as there are plenty of shocking moments in the film. Yet these guttural and sexually charged moments are imperative to a narrative that literally has reinvigorated my trust in the film system. Daniels demands his production team and actors take huge risks. And thankfully, everyone here delivers. No more will I think of Zac Efron as the "Disney boy" (referring to a comment made by Mr. Daniels about his apprehension to hire the former Disney star), or Macy Gray a pop star, and most importantly Nicole Kidman as just a well-known celebrity; instead, "The Paperboy" is the movie to see this year to remind us of the difficulty in evoking actual human emotions from the viewing audience. Love it like I did, or despise it. Either way, you're feeling something.
"The Paperboy" starring Nicole Kidman, Zac Efron, Matthew McConaughey, and David Oyelowo is rated R, has a runtime of 107 minutes and will find a limited release on Friday, October 5th .
Related Articles
Share
About Author
(0) Readers Comments