Blog: Butter Press Conference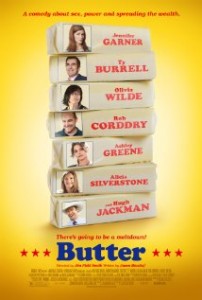 Can an everyday kitchen condiment be used in a movie to convey conflicting emotions through triumph and tragedy? I know that sounds like a stretch right off the bat yet "Butter" (R) is that film. "Butter" is an ensemble character piece that follows a small-town Iowa butter carving competition, placing the old guard champions against a spirited newbie. Laura and Bob Pickler, played by Jennifer Garner (Juno, Alias) and Ty Burrell (Dawn of the Dead, Modern Family) respectively, have owned this odd yet highly coveted title for decades. Simply put, they run the butter carving game in Iowa. After a few shake ups from the committee, the Picklers continued reign may be in doubt. Enter the aptly named Destiny, a young orphan with a keen artistic ability to mold the much loved salty spread which not only introduces a highly enjoyable and satirical plot, but terrific performances from nearly everyone on screen.
Director Jim Field Smith (She's Out of My League, Episodes) takes newly minted writer Jason A. Micallef's words and lays them seamlessly on the screen without losing a drop of the satire and drama. The audience knows the fundamental of carving butter for prize ribbons retains a high level of silliness. Even though competitions such as this are fun on a state fair level, they most certainly aren't akin to a political campaigns (which the film feels like on several occasions). In this work they both appear to be exactly that while evidencing the almost ridiculous stature of local celebrities. Laura and Bob Pickler begin the film on top of a figurative mountain, no matter how small it actually is in reality but when their crown is being challenged by the new entrant Destiny played by the highly compelling Yara Shahidi, we instantly see the veneer in their perfect life start to crack. Shahidi deserves a great deal of credit for the appeal and overall likable character she portrays in this film, but more on her later.
Ty Burrell, who is known for playing the lovable yet dopey Phil Dunphy on "Modern Family," but his character here is drastically different.  Burrell's "Bob" is a  flawed and often unlikable man in this film. When his "big fish in a small pond" life comes crashing down, the viewer will take note of the empty shell of a person that lies within him.  While his performance was enjoyable, it would have been nice to see his character become slightly more rounded out as we seem to lose a great deal of his story as the film progresses. The complete opposite can be said for Jennifer Garner's "Laura," a determined yet highly conflicted woman who sees the loss of the "Pickles" title as a loss of her identity in the community. It is a true challenge to her self worth. The exclusive and star studded "Butter" press conference was held in New York City on Friday.  Garner effusively praised the writer and director of the film for putting her in position to escape the mold as the "pretty girl next door" type which she has portrayed numerous times.  From desperate housewife to vengeful villain, her character goes through several different archs, each of which are relatable despite seeing the actress cast in a bit of a different light. 
Yara Shahidi's "Destiny" bounces around to various foster homes until she ultimately ends up with the likable Julie and Ethan Emmett played by Alicia Silverstone (Clueless, The Crush) and Rob Corddry (Children's Hospital, The Daily Show). Shahidi's performance broke the mold (no pun intended) of the typical whiny, technology attached youth of today. Destiny is portrayed as a positive, realistic young female, owed to Jason A. Micallef's fine writing that make Destiny our protagonist. She chooses to take on the old guard of the carving competition as a way to flex her creative muscles and never for selfish reasons.
As I said earlier, "Butter" is an ensemble piece providing several characters an opportunity to shine throughout.  Corddry may play a supporting role, yet it helps him to break the mold of his often jerk-like, sarcastic style of typecasting. Although Corddry plays a foster parent who never delves into negativity, we are given plenty of his trademark charm and snark which are peppered in nicely throughout making his performance both funny and touching. Speaking of humor, character actor Kristen Schaal provides a wealth of laughs which she brilliantly squeezes into a small cameo role. Her character, Carol-Ann Stevenson is a spot on recreation of a small-town thirty-something clinging to local celebrity and trends. These performances alongside a particularly strong cast provide a ton of funny moments throughout. The dramatic moments bookend these humorous scenes with great ease, allowing the viewer to experience true emotions just like they would in real life. So grab your ticket for the Iowa State Fair and vote for your favorite carving competitor. Either way, choose "Butter" for your film going dollar to see some of your favorite stars break their character molds in a film that is sure to put a smile on your face. Just limit the actual butter intake at home, I hear it's not so good for you.
"Butter" starring Jennifer Garner, Ty Burrell, Yara Shahidi, and Olivia Wilde is rated R, has a runtime of 90 minutes and will find a limited release on Friday, October 5th .
- Jay Rubin

Related Articles
Share
About Author
(0) Readers Comments