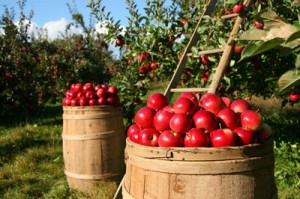 A Guest Blog by Registered Dietitian Leslie Goldstein of HealthyStepNutrition.com
Looking for a fun, outdoor activity outside the city? Try apple picking, one of autumn's greatest activities. Apple picking gets you out in the fresh air and also gives you the chance to pretend you are a farmer and not a city dweller. It can also be good exercise, walking through the orchards and reaching for the apples.
Fresh, local apples are less expensive than in a supermarket and taste better as they have not been shipped across the country or half way across the world to reach your market. Some farms can be organic, which means that although there are no additional nutritional benefits, they contain fewer pesticides. According to the Environmental Working Group, apples are one of 12 on the 2012 Dirty Dozen list explaining which fruits and vegetables are the most important to buy organically resulting from their high pesticide residue.
In addition to a fun day outside of the city, apples can benefit you nutritionally. A medium sized apple provides 20% of the daily recommended fiber and also provides vitamin C. New studies show that an apple a day may actually keep the doctor away, by lowering LDL levels in cholesterol to decrease hardening of the arteries.
Don't love a plain, crunchy apple? Try enjoying the following to enjoy the fruit:
Dip apples in peanut butter
Bake into muffins
Baked apples (core an apple and add to center 1 teaspoon cinnamon, 1 tablespoon each of raisins, chopped walnuts and brown sugar. Add ¾ cup boiling water to the bottom of dish. Bake at 375 F for 40 minutes).
Add chopped apples to stuffing or rice
Try apple picking locally in Congers, NY at Dr. Davies Farm or in Freehold, NJ at Battleview Orchards.  Or, try limiting your desserts to weekends only to minimize extra calories and fat.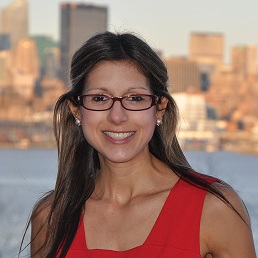 Leslie Goldstein is a Registered Dietitian (RD) practicing in North Bergen and Hoboken, New Jersey. Leslie is an avid exerciser who combines her nutrition knowledge and passion with motivational support in counseling to help her clients make lifestyle changes. Leslie specializes in weight management, general wellness, Diabetes, bariatric surgery, hypertension and cardiovascular disease. Leslie accepts most major insurances. Telephone and/or online consults available.
www.healthystepnutrition.com
8100 Kennedy Blvd. North Bergen, NJ 07047
Ph: 201-378-3287
Email: LeslieGoldsteinRD@gmail.com
Related Articles
Share
About Author
(0) Readers Comments