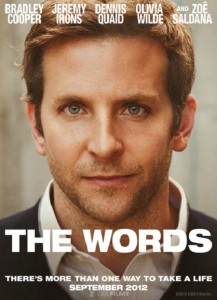 In what could easily have been a droll dramatic film, "The Words" (PG-13) instead becomes an intense experience, requiring both the characters and the audience to contemplate the choices we all make in life, how far we are willing to go to succeed, and who we are willing to betray in that process.
Starring Bradley Cooper ("The Hangover,"  "Limitless"), Zoe Saldana ("Avatar"), Jeremy Irons ("Margin Call"), Dennis Quaid ("The Day After Tomorrow," "Frequency") and Olivia Wilde ("Tron"), the film is a Russian nesting doll of stories.  In a time where the usual action and comedy genres pervade the theater, "The Words" offers a very unique type of movie that would not hold its own without the help of its highly talented cast.  Quaid opens the film as an acclaimed novelist giving a reading of his latest work.  Cooper, Saldana, and Irons portray the characters in his book while Ben Barnes ("Chronicles of Narnia") and Nora Arnezeder ("Safe House") perform as the characters in Cooper's novel.  It's a story within a story, within yet another story. Cooper delivers as Rory Jansen, a struggling writer who, doubting his own potential for success, happens upon a manuscript and passes it off as his own.  Cooper is convincing as a man who heads in a downward spiral internally as he attempts to grapple with the massive lie he's created, while simultaneously receiving accolades for his impressive piece of work.  His inner turmoil is brought to light when he's confronted by an old man— the seemingly always outstanding Irons.
The film moves slowly, yet the suspense of whether or not Jansen will be exposed is always lurking in the background.  As the story unfolds you find yourself wondering whether he'll get caught, and struggling with whether you even want him to.  Additionally, the connection between all of the characters continues to evolve not only until the final moments of the film, but also with a rather ambiguous ending that leaves you wondering which story to believe, and whether there is another story to tell.  A film that is both romantic and thought-provoking, "The Words" is a breath of fresh air for moviegoers seeking a different movie experience altogether and is one certainly worth checking out.
- Terry Ballou
 "The Words" starring Bradley Cooper, Zoe Saldana, Jeremy Irons, and Dennis Quaid is rated PG-13, has a runtime of  96 minutes and is released in theaters everywhere on Friday, September 7th.
Related Articles
Share
About Author
(0) Readers Comments