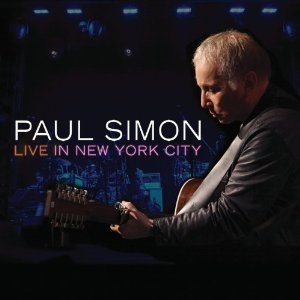 Now it's not normally protocol for LocalBozo.com to extend into the realm of reviews for newly released music on CD, DVD, or Blu-Ray. But with a special release like this one and considering the fact that the show was filmed and recorded locally, we simply couldn't help ourselves. On June 6th, 2011, Paul Simon and his extensive eight-man band took the stage at the intimate setting of New York City's Webster Hall. This rare concert was the finale of a two-month club tour across the United States. In celebration of this momentous hometown concert, Paul Simon & Company recently released this triple disc set- 'PAUL SIMON: LIVE IN NEW YORK CITY,' consisting of the full show on DVD as well as two companion audio CD's.
Paul Simon is revered as one of America's most iconic singer/songwriters of the past 40 years. When you couple that with a relatively private setting in the singer's hometown, you're certain to see one of those magical performances you'll never forget. It's the equivalent of seeing Bruce Springsteen in New Jersey or Billy Joel on Long Island. The 20 song set spans Simon's entire recording career including several of his memorable hits recorded with Art Garfunkel. The widespread set kicks off with "The Obvious Child" from the 1990 album "The Rhythm of the Saints." At this point, it's pretty clear that while the 70 year old Simon has aged a bit in recent years, his vocals are as on point as ever. In fact, if you close your eyes for just a second, you'd almost feel like it's 1981 and you're standing on the Great Lawn in Central Park at arguably Simon & Garfunkel's most historic concert.
With such a vast catalog to his credit, Simon does a great job of peppering in the old with the new through the duration of this concert. While he hits the nail on the head with just about every song in this set, there are certainly a handful (noted below) which especially standout and mesmerize the sold out New York City crowd.
"Slip Slidin' Away"
"The Only Living Boy in New York"
"The Sound of Silence"
"Kodachrome"
"Still Crazy After All These Years"
That being said, it is also worth crediting Paul Simon with the daunting task of remaining relevant some four decades into his career. While many of his counterparts have morphed into nostalgic oldies acts, Simon continues to churn out relevant music and give stellar live performances; this Webster Hall show is a clear testament to that. The only variable missing from an otherwise perfect night of rock music was seeing Art Garfunkel by Simon's side. If you weren't one of the very lucky 1,400 people to get a ticket to this show, this is definitely a performance worth checking out on DVD.
Where: Webster Hall, NYC
When: June 6, 2011
Setlist:
1. The Obvious Child 
2. Dazzling Blue 
3. 50 Ways To Leave Your Lover 
4. So Beautiful or So What 
5. Mother & Child Reunion 
6. That Was Your Mother 
7. Hearts and Bones 
8. Crazy Love, Vol. II 
9. Slip Slidin' Away 
10. Rewrite 
11. The Boy In The Bubble 
12. The Only Living Boy In New York 
13. The Afterlife 
14. Diamonds On the Soles of Her Shoes 
15. Gumboots 
16. The Sound of Silence 
17. Kodachrome 
18. Gone At Last 
19. Late In the Evening 
20. Still Crazy 
- Eugene Jerome
Related Articles
Share
About Author
(0) Readers Comments