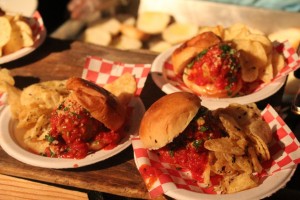 Despite the change in weather as summer turns to fall, there is hope for us New Yorkers in the form of fun and exciting events parading in and around our city. In the first edition of our monthly "Where You Need to Be" series, October is as jam-packed a month as any in recent memory for food and beer tastings, charitable events, and informative and interactive festivals virtually every night of the week. Don't worry about thumbing around for things to do as we approach Halloween, because we've got the lowdown on every important October happening to keep the ghouls and ghosts at bay. Until at least the last day of the month, that is.
October Events in New York City: Where You Need to Be
Date: Friday, September 28th 2012 – Sunday, October 14th 2012
Event: The 50th New York Film Festival

Place: Alice Tully Hall, Walter Reade Theater, Elinor Bunin Munroe Film Center, and Bruno Walter Auditorium

Cost: Alice Tully Hall $20 Members/$24 Non-members. Other Venues $16 Members/$20 Non-members

The Scoop: Lincoln Center is arguably the cultural epicenter of New York City. Throughout the year guests can witness the grand majesty that is "Madame Butterfly" or the bonafide hit that is "War Horse." But guess what? There's a ton more art to go around. As we close out the month of September, The 50th New York Film Festival officially gets underway. The momentous anniversary of this year's festival is marked by some of its most daring and sought after film programming. Not only can ticket holders witness the much tweeted about reunion featuring the cast of the legendary cult-comedy "The Princess Bride" but they can also catch an early screening of Director Robert Zemeckis' "Flight," the director's first live-action film in twelve years. Other highlights include: Ang Li's "Life of Pi," "The Rolling Stones- Charlie is My Darling- Ireland '65," our recently reviewed "Frances Ha," Brian De Palma's "Passion," and David Chase's "Not Fade Away," amongst a sea of other fantastic films. Check out the full slate to do the Festival the justice that we simply don't have room for.
Date: Monday, October 1st 2012
Event: 2012 El Coto de Rioja Paella Parade
Place: The Beekman Beer Garden Beach Club
Cost: $50 per person; $90 for two
The Scoop: October kicks off in grand style with the 4th Annual El Coto de Rioja Paella Parade.  Benefitting New York City Tech and Action Against Hunger, the 3 hour event kicks off at 6pm at the majestic waterfront of the Beekman Beer Garden Beach Club at the South Street Seaport.  Enjoy one of the remaining decent outdoor evenings overlooking the Brooklyn waterfront, and more importantly, chowing down on tastes of different paellas and regional wines.  Participants include the likes of Socarrat Paella Bar, Sala 19, Solera, and much more.
Date: Wednesday, October 3rd, 2012
Event: Just Food's Let Us Eat Local 2012
Place: The Altman Building
Cost: General Admission- $175 per person; VIP- $300
The Scoop: The 5th Annual Let Us Eat Local event will gather some of New York City's most decorated chefs for an evening of food tastings prepared from all seasonally and locally grown ingredients.  Here, you'll have the opportunity to sample different dishes from hotspots like Gramercy Tavern, Back Forty, The Darby, Mas (Farmhouse), The Harrison, Telepan, Untitled at The Whitney, and many many more.  Not to mention brews courtesy of Sixpoint, Ommegang, and Brooklyn Brewery and wines from Bedell, Hermann J. Wiemer, and Fox Run Vineyards among others.  The spacious Altman Building will play host to this massive event, sure to be talked about for the remainder of the season.  A live band, auction items, and a pie contest puts this festive and charity-focused event over the top.
Date: Friday, October 5th 2012 – Sunday, October 7th 2012
Event: The 2012 New Yorker Festival
Place: Varies
Cost: Varies; most events are just $35
The Scoop: The celebrated highbrow literary magazine hosts its annual New Yorker Festival all over the City, with perhaps the greatest lineup of guests as any of their recent happenings. Each session pairs a notable with a host in an interactive experience and some fun banter. Highlighting each of the three days, Friday programs include conversations with literary stalwarts Gary Shteyngart, Joyce Carol Oates, and Junot Diaz in separate sessions, as well as musician Norah Jones. Saturday meanwhile features the likes of Patti Smith, Christian Louboutin, Malcolm Gladwell, and evening programs with Ben Stiller, Lisa Kudrow, Sarah Silverman, and Vampire Weekend. Sunday's Festival closing day brings you Lena Dunham, Salman Rushdie, and an afternoon special- Portlandia Live! featuring a conversation and sketch show with guests Fred Armisen and Carrie Brownstein. Whew. That was A LOT of name dropping.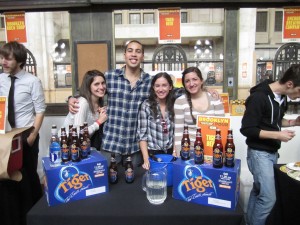 Date: Saturday, October 6th 2012
Event: The Village Voice's Brooklyn Pour 2012

Place: Skylight One Hanson, Ft. Greene, Brooklyn

Cost: $65 VIP and $45 General Admission

The Scoop: One day, two sessions, and over 100 craft beers! No, we aren't talking about a really amazing dream we had last night. It's actually, "The Village Voice's Brooklyn Pour 2012." On Saturday, October 6th, over 3,000 of your fellow brew loving brothers and sisters will enter through the historic doors of Skylight One Hanson (formerly Williamsburg Savings Bank) in Brooklyn to sample the very best in craft and micro beer. Lovers of eating and drinking local will be grinning ear to ear as they sip and support ales from tri-state area breweries. If that isn't cool enough, the "Pour" will also include: plenty of food, beer talks, demos, and a DJ to shake your buzzed booty to.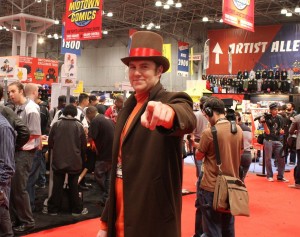 Date: Thursday, October 11th 2012 – Sunday, October 14th 2012
Event: New York Comic Con

Place: Javits Center

Cost: $35 Pre-Show and $45 Onsite

The Scoop: If you think "Han shot first" or know what the TARDIS is, you most likely don't need to read this. But for everyone else take notice because the "New York Comic Con" is back! Sure you may have heard of the huge yearly event on the west coast but this is NYC and it's a whole different ball game (sorry nerds, I mean Dungeons and Dragons) out east. For one super-sized weekend, the Javits Center will be transformed into a fortress of solitude featuring the very best in comics, signings, and soon to be released movies and television panels featuring the stars themselves. Andrew Lincoln and the cast of "The Walking Dead" will be on hand for what is sure to be a massively fun and revealing panel as they discuss the upcoming season. And speaking of autograph signings, nowhere else will you find Adam West and Carrie Fisher all in the same room giving loyal fans exactly what they crave. Aside from all your favorite comic and cartoonish happenings, special events are everywhere. The schedule of events is a daunting one and despite being exhausted, you'll come out of your shell to meet Metallica's Kirk Hammett signing his new horror book, a video and Q&A with the cast of 666 Park Avenue, a Q&A with actor Sean Astin,  a Robot Chicken panel, and autograph sessions and appearances by the likes of Kevin Bacon, Christopher Lloyd, Lou Ferrigno, Chef Geoffrey Zakarian, Burt Ward, Rob Corddry, Barry Levinson, Julianne Moore, Bill Paxton, Dee Snyder, Adrianne Curry, David Wain, and so many more, it's making our head hurt.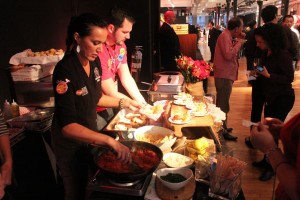 Date: Thursday, October 11th 2012 – Sunday, October 14th 2012
Event: The 2012 New York City Wine and Food Festival
Place: Varies
Cost: Varies
The Scoop: Listen, the most anticipated collaboration of celebrity chefs, incredible eats, and booze pairings would be a far too ambitious piece for us to summarize in one short paragraph. We'd advise you to check out the New York City Wine and Food Festival for the intricate details and to pick up tickets yourself. We will however outline some of our favorites from this year's schedule, despite the cost for some being well out of our price range. Thursday night is headlined by S. Pelligrino's Meatball Madness, with host Giada De Laurentiis. Last year's experience was perhaps the most gorged we've ever felt and at 82 Mercer Street, this year's should be no different. Opening night events include "On The Chopping Block: A Roast of Anthony Bourdain" and "Shake and Bake with Whoopi Goldberg, Art Smith, and guest DJ Questlove. Friday's highlights include "Cocktails Ever After with Bethenny Frankel," "Blue Moon Burger Bash hosted by Rachel Ray," and "Rock and Roll with Morimoto and Friends." The Saturday slate offers up "The Oyster Bash hosted by Ben Sargent" at The Biergarten at The Standard, the Adam Richman hosted "Brooklyn's Backyard," and "Tacos & Tequila hosted by Bobby Flay." Sunday concludes it all for this year with the "Paula Deen Brunch," "The Art of the Sandwich hosted by Sara Jenkins," the "Red Farm Dim Sum/Dumpling Seminar" and finally, the "Torrisi Family Dinner Seminar hosted by Ray Isle." Virtually every major national and local chef will be participating to some degree, so take some time and sift through the incredible list of events as the New York City Wine and Food Festival celebrates its fifth outstanding year.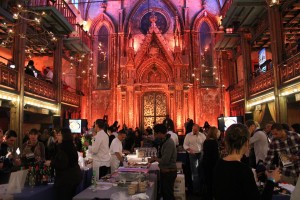 Date: Wednesday, October 17th 2012
Event: Edible Manhattan's Edible Escape 2012

Place: Angel Oransenz Event Space

Cost: $60 per person

The Scoop: You can call us biased, and we will say you're right. 2011′s inaugural, "Edible Manhattan's Edible Escape"  was nothing short of perfect. From the highly inventive use of the reclaimed Angel Oransenz space to the efficient manner in which food and spirits were doled out, we literally had not a negative word to say. Needless to say, we are thrilled for "Escape" to return for its sophomore year. During the heart of the fall season, ticket holders can head to the Lower East Side venue and take a virtual culinary trip around the world without leaving the city. This year guests can expect local flavors from favorite joints such as: Edi and the Wolf, Veselka, and Stinky Brooklyn just to name a few.  But once you taste and sip the best of NYC, it's time to embark on your culinary journey as you eat your way through several "Edible" communities. Some of the well documented foodie locations you will encounter but are certainly not limited to; Austin, Portland, and across the sea to Spain. But, please pace yourself. When you enter the extremely cool venue and spot all the food and spirits you may get a little ahead of yourself. Don't worry the food isn't going anywhere. Take it one bite at a time. 
Date: Wednesday, October 17th 2012 – Sunday, October 21st 2012
Event: The 2012 New York Television Festival
Place: Varies
Cost: Varies; most events are just $35
The Scoop: Word has been relatively mum thus far for the 2012 New York Television Festival, but if the 2011 version is any indication, we can expect another year of fun interactive events featuring happy hours, pilot screenings, and interactive conversations that get you closer to celebrities from the small screen than ever before. Tribeca plays host to the now annual event at three different venues, each of which have maximized their space to accommodate sizable crowds. Last year, the highlights included a discussion of Late Night, moderated by Saturday Night Live's Jason Sudeikis along with a panel of writers from every major late night show based out of Manhattan as well as comedian/Curb Your Enthusiasm's JB Smoove hosting a short film festival for up and coming directors- each of which was professionally shot and fun to watch. This year's festival will only get better, so keep monitoring the New York Television Festival's website for scheduling announcements.
Date: Wednesday, October 17th 2012 – Sunday, October 21st 2012
Event: The 2012 Food Film Festival
Place: Varies
Cost: Varies
The Scoop: With the New York Film Festival now behind us and with the New York Wine and Food Festival in the rear view mirror, it only makes sense to combine the essence of both for a festival of its own. And as such, The 2012 Food Film Festival has spawned, offering informative films paired with food samples; the likes of which include "Farm to Film to Table: Meat Your Butcher" ($95) featuring three short meat related documentaries, with tastes from Northern Spy Food Co., Fleisher's, and vegetarian fare from Dirt Candy and the closing night festivities of "The Lowcountry Oyster Roast" ($95), which selects four shorts, an all you can eat oyster roast, and a serving of Lowcountry's classic dishes. There's plenty more offered, so if pairing visuals with tastes strikes your fancy, take a look at the slate of events at this year's Food Film Festival.
Date: Saturday, October 20th 2012
Event: DAS Beer Oktoberfest
Place: The Tunnel/La. Venue
Cost: $76 per person, $249 for four
The Scoop: You don't need to travel all the way to Germany to enjoy Oktoberfest. You just have to travel to New York City's west side for each of the DAS Best Oktoberfest's two four-hour sessions. From either noon-4pm or from 5:30-9:30pm, you'll find over 150 all you can taste international and craft beers, wines, and schnapps, surrounded by authentic oompah and polka style bands, and a collection of German food purveyors to pair your suds with. The likes of Spaten, Innis & Gunn, Smuttynose, Hofbrau, Dentergems, Schneider Weisse, and our buds at Bronx Brewery are just a few purveyors slated to be on hand and wearing your Lederhosen is not only allowed- it's encouraged. Sound great? Well lucky for you, LocalBozo.com will be giving away TWO pairs of tickets to our readers for each session, so stay tuned to your buds at the LB for more details coming in early October.
Date: Sunday, October 21st 2012
Event: Not My Day Job: Celebrating Art, Talent, and Taste
Place: The Prince George Ballroom
Cost: $50 per person
The Scoop: For all of the perks living in Manhattan has to offer, it surely isn't affordable- and as such there are a great many of us performing a skill or taking a job which pays the bills, but may not be indicative of the true talents we harness. Enter the Third Annual Not My Day Job, a day long festival dedicated to highlighting the talented employees of the bar and restaurant industry. The charming Prince George Ballroom in Gramercy will play host to a showcase of sorts for a collection of these skilled workers, giving them an outlet for their creativity. And oh by the way, a full bloody mary bar and mouthwatering tastings from the folks at Dell'Anima, L'Artusi, Barbuto, Shake Shack, Marc Forgione, Colicchio and Sons, The Meatball Shop, Fatty 'Cue and Riverpark will be served all around the room's sprawling space during the 4 hour event, expertly pulled off by the hosts at Epicurean Management.
- Jane Van Arsdale & Jay Rubin
Related Articles
Share
About Author
(3) Readers Comments