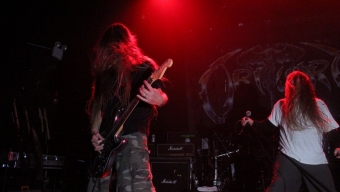 Obituary
The Gramercy Theatre, New York, NY
September 11, 2012
On Tuesday night, The Gramercy Theatre was a literal version of an overstuffed Oreo but instead of a chocolate cookie sandwich loaded with a creamy white center, a near capacity crowd was treated to a "sweet" of a different kind: hours and hours of pure death metal. The highly popular late summer/early fall "Carnival of Death" (Note: Tuesday's NYC show did not retain this title as a tribute to those lost in the September 11th attacks and $2 of every ticket will be given to a 9/11 charity) tour finally made it to the headbanging friendly confines of New York City's Gramercy stage. Starting in the late afternoon, five support acts including Broken Hope, Decrepit Birth, Encrust, Jungle Rot, and Open Denile made their marks on the local crowd with some even buying t-shirts of the band directly following each set. But after the openers finished up, there was only true headliner and the real "center ring" of this carnival- Florida death metal legends Obituary.
With each support bands all given a respectable amount of time to show off for the New York City metal crowd, Obituary wouldn't take the stage until after 11pm.  So once frontman John Tardy and company took center stage, it was a witching hour start that electrified an already amplified crowd. The band's verbal introduction and entry to the stage was quick and to the point without the typically menacing pre-show music or crazy light show to elicit a bigger reaction from the crowd. The nearly thirty year old band simply did not need it. Obituary is a warts-and-all group, who rely solely on their intense metal chops which demand instant respect when the set starts.
Before John Tardy would even take the stage, brother and drummer Donald Tardy, guitarist Trevor Peres, and bassist Terry Butler took their respective positions to set the mood with a fist pumping, sludgy groove. This jam caused the crowd to form moshpits almost instantly, with crowdsurfers being tossed over the railing into the photo pit prior to a lyric even being sung. But once the frontman hit the stage there was simply no turning back. The death metal pioneer had the energy of a singer half his age, and better hair as well. Seeing Obituary at this point of their career is true pleasure for my still ringing ears. The boys are insanely tight and play a set that both feeds straight from crowd adrenaline, while giving them back some choice nuggets featured from within their historic career.
And speaking of getting to hear exactly what you want and then some, Obituary loaded their set with cuts from 1989′s "Slowly We Rot," 1990′s "Cause of Death," and 1992′s "The End Complete," to name a few. It was a death metal jukebox of beloved songs for over an hour. The title track from "Cause of Death" set the crowd into a frenzy, causing hypnotic focus toward every crunching riff and trademark growl. The song was quickly followed by flawless renditions of "Chopped In Half," and "Turned Inside Out." When Obituary busted into the title track of "The End Complete," my jaw drew open and didn't close until the song was over. I believe a few bugs flew inside. While the breakdowns on this song are stellar on the studio version, hearing them live is a different animal altogether. I joined with the capacity crowd in busting out an air guitar (and bass) in unison. Even Sirius XM Liquid Metal DJ José Mangin got into the action accordingly.
Right around midnight the main set wrapped up, sending the guys offstage for a quick break before the encore. Drummer Donald Tardy re-emerged first to provide a pulverizing drum solo and following a much deserved round of cheers, the rest of the Florida outfit returned to the stage to end the show just like it started: intensely, with their tremendous version of "Slowly We Rot." Obituary are regarded as legendary pioneers for a reason. If there was a death metal family tree, these guys would be the leaves, branches, and the damn trunk.
- Jay Rubin
Related Articles
Share
About Author
(0) Readers Comments