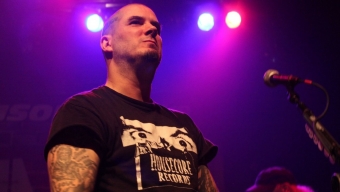 Metal Masters IV
The Gramercy Theatre, New York, NY
September 8, 2012
It is the dream of every wide eyed music fan to one day stand alongside their idols on the same stage. The dream became a reality for some lucky concertgoers on Friday night at Gramercy Theatre during an evening dubbed "Metal Masters 4," an all out all-star happening bringing together many of the forefathers of thrash metal. Rock music icons collaborating from bands like Anthrax, Exodus, Pantera, and Slayer joined forces during a three hour plus event featuring guitar clinics with many of the esteemed band members and a super-group style concert to cap the entire evening off.
The Gramercy Theatre was completely sold out as metal fans of all ages stood shoulder to shoulder waiting with baited breath to get a glimpse of the star studded stage. Conceptually, Metal Masters wasn't just dreamed up a month ago. For several years now, Anthrax Bassist Frank Bello has been running metal clinics for aspiring musicians with the help of Megadeth co-founder and fellow bassist David Ellefson. The likeable Bello took the stage to massive applause interacting with the wildly passionate crowd about playing bass guitar before bringing young bassists onstage to jam with him, and of course learn parts of classic Anthrax tunes. Bello took a few minutes with each player and even let them perform to the packed house. His Anthrax brethren Scott Ian would also take the stage to work with young axe players to teach them them some of his own killer riffs.
Similar clinics were performed by Slayer drummer Dave Lombardo and legendary bassist, and newly inducted Metal Master Billy Sheehan (Steve Vai, David Lee Roth, Mr. Big). These clinics were much more than an instructional meeting- they were all out jam sessions that were similarly fun for the audience to get a glimpse of. Directly after Sheehan had completed his clinic set, he was joined onstage by Bello, Charlie Benante, and one of the greatest metal front men of all time, Phil Anselmo (Pantera, Down). And in a move that no one in the crowd would expect, instead of ripping into a thrash classic the guys tore into the Van Halen hit "Hot for Teacher," giving Eddie and the boys a run for their money.  
With that much going down in the first two hours, you would assume that some in the crowd would be tired. Not here. At just around 10pm, the entire lineup took the stage for the much anticipated jam session. The usual suspects who had been on and off the stage for most of the evening were joined by Slayer's much loved guitarist, Kerry King and Gary Holt of Exodus fame. From that moment it was on. The super-group style set kicked off with members of Anthrax dusting off the tune "Room For One More," with Bello taking the singer position for this song and despite a few high notes managed to handle his duties admirably. This performance paved the way for Anselmo's entrance as the evening's main singer of a setlist that had to be seen to be believed.
Many in the house were longtime Pantera fans, and you could see this from a sea of t-shirts donning the band's moniker. We were rewarded with a setlist packed with Pantera classics, all kicking off with an insanely on point rendition of "Mouth for War." One of the most enigmatic frontmen of this or any musical genre, Anselmo literally owned the stage from that moment on. His uniquely deep voice and penchant for incredible metal screams have only seemed to improve since his days in Pantera. His command of his stage remained unwavering throughout his fifty plus minutes in front of the crowd. Not only did he orchestrate the audience to begin huge mosh pits with his trademark hand signals, but he made it a point to praise his fellow "Metal Masters" throughout the show. His often sarcastic and dark sense of humor was on display as he playfully ripped on them as well, mostly Gary Holt whose guitar seemed to stop functioning repeatedly. "5 Minutes Alone" and "New Level" quickly followed giving Pantera loyalists everything they could possibly ask for. Anthrax side project S.O.D (Stormtroopers of Death) got love as well. Phil praised this short lived side group and lended vocals to both "Sargent D and the S.O.D" and "Kill Yourself." Not only could the crowd gawk at Kerry King and Dave Lombardo but they would also be treated to blistering versions of both "Angel of Death" and "Raining Blood."
It must be said that none of this would have taken place without the sponsors. The great folks at Samson, Zoom, and Hartke Present knew exactly what the fans wanted and formed a relationship with these highly sought after artists to produce a show that paid respect to both sides of the stage. Keep your eyes peeled for a version of Friday's Metal Masters 4 show available for purchase. Hell, I was there and I'm still going to buy it. It was simply that incredible.
Metal Masters 4- Live at the Gramercy Theatre, New York, NY
September 8, 2012
Setlist
1. Room For One More
2. Mouth For War
3. 5 Minutes Alone
4. New Level
5. Chemical Warfare
6. War Ensemble
7. Goddamn Electric
8. S.O.D Medley
9. Angel Of Death
10. Strike Of The Beast
11. Raining Blood
12. Fucking Hostile
- Jay Rubin
Related Articles
Share
About Author
(0) Readers Comments