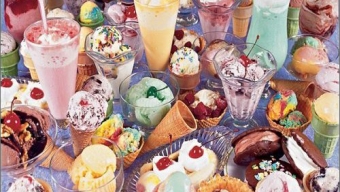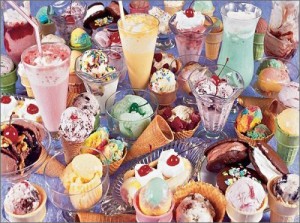 A Guest Blog by Registered Dietitian Leslie Goldstein of HealthyStepNutrition.com
As summer for 2012 passes, do you switch your nightly treat of ice cream or frozen yogurt for cookies, cake or cupcakes?   Do you try to always select the kiddie or small size of ice cream?  Or do you simply stock your freezer with different varieties so you don't have to go out for dessert?  Either way, it's best to understand which treats are better for you and which ones will derail all your hard work at the gym. It's best to read the food labels to make sure you know what you are eating in terms of calories and fat.
It's always best to choose frozen yogurt when possible, and to limit the size to a ½ cup.  Although your palate may need some getting used to, frozen yogurt is much more nutritious when compared to ice cream.  This will provide you with a sweet treat without wreaking havoc on your day of healthy eating.  The frozen yogurt craze has been sweeping New York City for some time now and on many corners you can find a Pinkberry or Red Mango, or even a 16 Handles in addition to local delis that have options as well.  
Pinkberry ½ cup original: 110 calories, 1.5g fat
Red Mango ½ cup original: 80 calories, 0gfat
Compare these healthy options to a Ben and Jerry's Chubby Hubby ½ cup serving consisting of 340 calories and 20g fat!  This makes you realize why they call it "chubby."  
I am not saying that it's never okay to eat ice cream, just not to make a habit of it.  It's best to savor treats as just that, a treat.  If you are in the habit of a nightly stroll with your hubby, keep him from getting chubby and get him a fro-yo instead.  Or, try limiting your desserts to weekends only, to minimize extra calories and fat.
Check nutrition labels before you go out or ask to see them in the store. Just be wary- recent studies show that manufacturers underestimate the calories in their products and legally according to the FDA, packaged goods are allowed to be off by 20% on the labels in order to account for variation in portions.  NBC recently stumbled across a product called Artic Zero, a frozen dessert which claims to have only 150 calories per pint.  When tested, NBC discovered that the vanilla flavor had 46% more calories than listed and the chocolate peanut butter flavor contained 68% greater calories.
The key is to eat in moderation, which I know sounds easier said than done, but all we can do is try!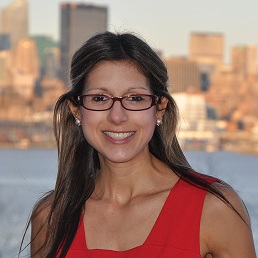 Leslie Goldstein is a Registered Dietitian (RD) practicing in North Bergen and Hoboken, New Jersey. Leslie is an avid exerciser who combines her nutrition knowledge and passion with motivational support in counseling to help her clients make lifestyle changes. Leslie specializes in weight management, general wellness, Diabetes, bariatric surgery, hypertension and cardiovascular disease. Leslie accepts most major insurances. Telephone and/or online consults available.
www.healthystepnutrition.com
8100 Kennedy Blvd. North Bergen, NJ 07047
Ph: 201-378-3287
Email: LeslieGoldsteinRD@gmail.com
Related Articles
Share
About Author
(0) Readers Comments