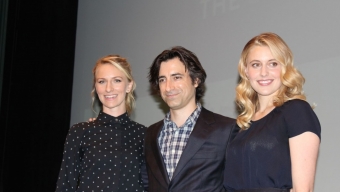 Blog: Frances Ha New York Film Festival Press Conference
Female coming of age films have earned their much deserved foothold in modern cinema. These works of empowerment show audiences of both sexes the struggle and ultimate success of their characters. Yet many of these character study pieces fall into similar trappings story wise. Not all real life women who have a particular life challenge will fall into script manufactured situations, thus taking the viewer out of the piece with it's overly fictional and lazy approach. Actress and writer Greta Gerwig (To Rome With Love, House of the Devil) is working to champion this cause one role and personally written script at a time, to make women look realistic on the silver screen. Fortunately for us, Gerwig has found a kinship with Director and writer Noah Baumbach (The Squid and the Whale, Greenburg) and together they co-wrote "Frances Ha" (R), a truly refreshing, funny, and heartbreaking take on one twenty-something's journey through life in New York City.
The plot of "Frances Ha" tells a multi-year story of Frances, a young dancer living in Brooklyn with her best friend from college- Sophie played by Mickey Sumner (The Borgias, Missed Connections). Together these women share everything- from personality traits to even a bed in a plutonic, very close friend sort of way. But when change begins to brew in Sophie's life causing her to consider leaving the nest, Frances begins to realize her much beloved routine is fleeting and starts making rapid fire life changes. As soon as the pot is stirred, audiences will see this not your ordinary comedic romp with hints of drama peppered in throughout. Both Baumbach and Gerwig had an eye for changing these tired tropes thus providing us with a very different and therefore more satisfying movie going experience.
It would be both difficult and careless not to compare "Frances Ha" to the work of filmmaker and actress Lena Dunham (Tiny Furniture, HBO's Girls). Dunham and the the team of Gerwig and Baumbach show women at their most modern position in society, especially the Manhattan work and social scene. These women aren't part of the "Sex and the City" generation and should never be labeled as such. Instead, they are living, breathing examples of how life is today. Call them hipsters or contributors to the so called "mumblecore" movement and you really aren't paying close attention. Throughout this very layered piece we find Gerwig's Frances take several paths, not all of them leading anywhere. But isn't that true to life? Don't we all start on a career or life journey that may never take us to our preconceived goals? Life isn't sitting around eating brunch and kibitzing about the way we like someone to go down on us.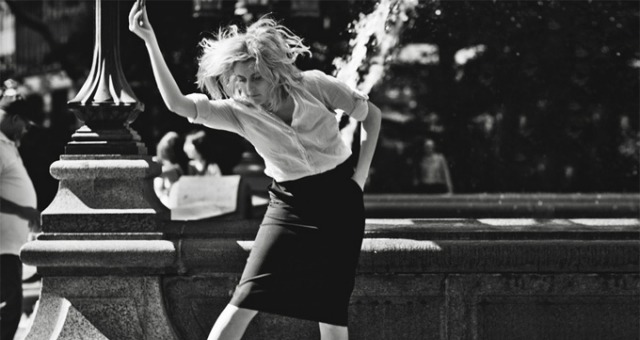 The film itself is shot in black and white, which instantly sets itself apart from 99% of it's sister films using similar plot devices. The black and white approach paints New York City and Brooklyn in a beautiful, romantic light not seen since Woody Allen's 1979 classic, "Manhattan." This would be a point that Baumbach himself would later touch upon during the New York Film Festival Press Conference that followed the screening. Noah relished in the way Allen and other classic directors had used the colorless medium in order to convey a certain mood. Well, let me just tell you it works splendidly in this piece. As a New York City resident, "Frances Ha" showed us parts of the city that we know quite well but through its cinematography and black and white palette we managed to see something entirely new and remarkable. When viewing the film, be sure to keep an eye out for how locations such as Bryant Park, Central Park, and The Lower East Side which are captured.
"Frances Ha" is a true love letter to women and those seeking more than just romance when they plunk down their cinema dollar. Men will not be feel ashamed one iota while viewing the film. It truly speaks to us all, which is a tremendously hard feat for any writer and director to achieve. And speaking of the writer, the dialogue is razor sharp, highly realistic, and often very funny. Laugh lines come out of nowhere, just like in a real conversation you would have with friends while sitting around a table eating eggs and drinking whiskey like our characters do in this film. Sure we like to escape the "real world" when watching a movie, but isn't it satisfying to see our daily comings and goings captured so precisely. We think it is. 
As stated previously, following the New York Film Festival screening of "Frances Ha," a press conference was held before the packed Lincoln Center theater featuring Noah Baumbach, Greta Gerwig, and Mickey Sumner. The director and cast took questions directly from the crowd made up of both local and foreign press. From these questions it was suprising to learn that the film was shot in order which translated back to how well the piece flowed. As a viewer, We were there with Frances on every step of her journey feeling like we were part of her thought process, be it good or bad. As a New Yorker, and fan of it's seriously great story- "Frances Ha" will both entertain and expose you to a groundbreaking writing-directing team who work incredibly well together.
"Frances Ha" starring Greta Gerwig, Mickey Sumner, and Michael Zegen is rated R, has a runtime of 86 minutes and will be showing at the New York Film Festival through October 10th. The film will find a wider release in the later half of 2012.
- Jay Rubin 
Related Articles
Share
About Author
(0) Readers Comments