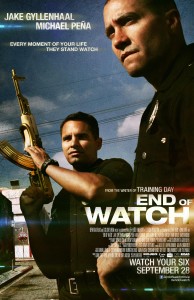 Gritty and raw with an emotional kinship between two partners and best friends, Jake Gyllenhaal and Michael Pena star in "End of Watch" (R), releasing Friday, September 21st. Gyllenhaal plays Brian Taylor, a South Central Los Angeles police officer filming his work for a documentary style project for a class in which he's enrolled. When he and partner Mike Zavala (Pena) search a car during a routine traffic stop, they find a collection of cash and firearms that indicate that they have stumbled onto something out of their jurisdiction, and a local drug cartel has them targeted for death.
The sheer nature of a buddy cop film yields a pervasive feeling of dire consequences and you can't help but spend much of the movie wondering when said situation will unfold. But the unique first person perspective under which the film is shot keeps the audience wildly entertained for much of the 109 minutes. The intense shooting scenes especially are shot like a first person gamer- one that you might find in console games like "Halo" or even the prehistoric "GoldenEye," which fueled the growth of the genre.
While the action scenes are both realistic and at some points unsettling, it's the authenticity in the relational interaction between partners that make the film stand out. Pena more than holds his own as Gyllenhaal's counterpart, playing his very real, very charismatic best friend. Gylenhaal meanwhile as a former marine, is a flashier but hardened when he needs to be officer. Each perhaps naively seeks to 'act and serve' appropriately, despite situations that fall far outside of their realm of work. It is this desire to do right that makes these characters identifiable even though the officers themselves expect to be admonished for their indiscretions. Anna Kendrick, cast as Gyllenhaal's eventual love interest Janet, serves her role as a relatable, every-woman capably. Her character is one that you both root for and sympathize with as she handles the demands of Taylor's taxing work. While her role is relatively minor, she brings a certain genuine quality to the film.
The lineage of buddy cop films dates back for decades, from the humorous ("Lethal Weapon" and "Bad Boys") to the more graphic ("48 Hours" and "Se7en"). And while "End of Watch" might not rank up there with its big budget predecessors, director David Ayer has certainly crafted a gem here. The film is both poignant and sad, but also highly intense and funny- with all the cop-laden ball busting that you'd expect to find in any precinct. It's also a film that is highly entertaining and terrifying at once, considering that neighborhoods out there, like the one portrayed in the film, truly do exist.
"End of Watch" starring Jake Gyllenhaal, Michael Pena, and Anna Kendrick is rated R, has a runtime of 109 minutes and is released in theaters everywhere on Friday, September 21st.
- Jane Van Arsdale
Related Articles
Share
About Author
(0) Readers Comments