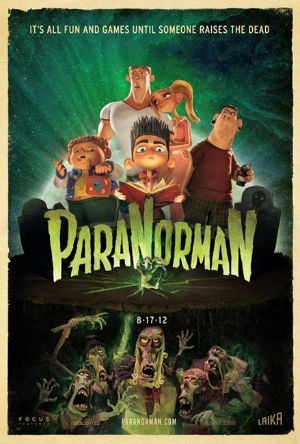 It's rarified air for an animated film so apparently geared toward children to so darkly revolve its premise around death. Voiced by the likes of Anna Kendrick, Casey Affleck, and Jeff Garlin, "ParaNorman" follows the story of a young boy named Norman (Kodi Smit-McPhee), ostracized by friends and family members alike as a relative outcast for his one implausible gift: the ability to communicate with the dead. Not necessarily a novel idea, but the premise is one that works as an overarching theme that sends an anti-bullying message to kids, with creative animation to keep adults stimulated for much of the ninety plus minutes.
Much of the film revolves around young Norman Babcock trying to find his way. As a result of his 'gift,' he is constantly abused and teased by classmates, but perhaps worst of all he's ignored by his family, who he so blatantly reveres. By his lonesome, Norman befriends a similar pariah, chubby classmate Neil, and the two instantaneously hit it off based on their similarities. Following the warning of his uncle (John Goodman) prior to his own demise, Norman is deemed the only person in his small town fit to break a curse that is wreaking perpetual havoc everywhere. And as the rest of the townspeople rise up like a lynch mob in an effort to put the curse to rest, Norman knows the futility of their efforts and that with a little reasoning with a vengeful witch, he can make her understand the error of her ways and ultimately become a heroic figure.
While the film's main characters are relative unknowns, the supporting voices are both familiar and well cast. Jeff Garlin and Leslie Mann make for interesting choices as Norman's parents, but both play the uninformed, inconsiderate roles well. Similarly, you wouldn't think that Christopher Mintz-Plasse (Superbad's McLovin') would have the chops to be a veritable bully, but the animated work lends itself to the suspension of disbelief and the actor somehow pulls it off. The aforementioned Affleck and Kendrick also capably carry their roles here. Although their star power is likely the film's drawing card, their voices could have been replaced by virtually any other actors and the movie likely wouldn't miss a beat.
Even though "ParaNorman," artistically is an interesting watch because of its unpolished worts-and-all style of stop-motion animation, the film is uniquely gloomy. Despite a series of intentional gaffs and one liners, character killings and haunting villains make this PG title more appropriate for teens rather than children. Although shown in 3D, the effects add little if anything to the final product, making the glasses on your face more of a nuisance than anything else. That said, despite being hidden beneath the impressively produced graphics of the movie, the lingering message taken from the film is a positive one in the face of negativity.
"ParaNorman" is rated PG, starring Anna Kendrick, Casey Affleck, Leslie Mann, and introducing Kodi Smith-McPhee, has a runtime of 93 minutes, and is released in theaters everywhere on Friday, August 17th.
- Jane Van Arsdale
Related Articles
Share
About Author
(0) Readers Comments