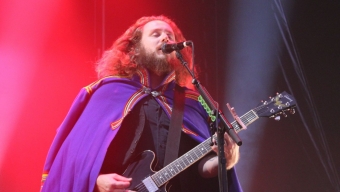 My Morning Jacket
Williamsburg Park, Brooklyn, NY
August 19, 2012
Concert Review: My Morning Jacket
Sunday night's cool air and agreeable weather helped mark the sign of summer 2012′s imminent close. It was a truly memorable season marked by great live music, especially from shows eminating from outdoor venues. And last night the LocalBozo.com crew book-ended a weekend of amazing live rock n' roll at the newly opened Williamsburg Park in style. Genre-defying favorites My Morning Jacket owned the venue's stage, playing to a full house and to the locals able to hear their sonic booming from blocks away.
With the sun still in the sky, Jim James and the boys of My Morning Jacket took the Williamsburg stage to a riotous applause. Each member took their respective stage positions while pointing toward the crowd and up to the air, pumped up with energy for what would be a long night of great rock music. With no delay, the guys from Louisville launched right into "The Dark" from their debut album, "The Tennessee Fire." This would begin a three song succession of relatively short, shredding guitar-led tracks like "Outta My System" and "Circuital" to pump up the packed house of diehard MMJ fans. I loosely use the term short because the rest of the band's set was overloaded with enough jams to make any progressive fan have to change their shorts.
Guitarist Carl Broemel and bassist Tom Blankenship held court over expertly plucked strings all evening long. And with James rounding it out with his effortless rhythm work, my fellow audience members were treated to a nasty wall of sound, where not a moment was wasted on throw away chords. The time devoted to mid-set tunes like "Dondante," "War Begun," and "It's About Twilight Now" took these songs far out of the studio, and placed them onto a grand stage for technical experimentation, without sending the audience to the bathroom out of boredom. As the minutes of each song progressed, fans on hand remained completely engaged, grooving hard while throwing their horns up high in the air.
As a hard rock and metal fan (I spotted Red Fang and Maryland Deathfest shirts throughout the crowd) I can easily connect to this band even when they jam. My Morning Jacket does not go into spacey jams like many of the popular jam bands of today. If in fact they are improvising, it is well hidden by the band's talents onstage, performing musically as if each riff had been planned out long in advance. Drummer Patrick Hallahan, a focal point of the band's live show, could easily be a metal drummer based upon both his appearance and incredible skill set. The guy crashes down on his gear, while using the bass drum like a booming voice on a loud speaker calling everyone to action.
And as a transition that should not be seen as any sort of coincidence, the guys ripped into "Holdin on to Black Metal," a popular cut off of 2011′s "Circuital." While the song is not a metal song per se, it speaks about holding onto the things that you loved growing up and the band perfectly melds in the studio loop of an all female choir into the stage version, making it seamless. The length and depth of the setlist on this night was impressive, as MMJ packed in a variety of their career defining songs. "Off The Record" was another memorable highlight from the evening as it screams and demands a sing-a-long. Luckily the sea of fans caught on to this pop-rock infused notion and gave it right back to the James vocally on stage.
It is no surprise that a band who deals with extended rock jams, cannot be expected to play within the confines of a curfew, despite a mandate at the outdoor venue. They exited the stage at right around 9:45pm, completing what was an overstuffed and highly satisfying main set. Few thought they would return for an extended encore after already giving ticket holders so much more then we had bargained for. The band figuratively gave its fans a high five, playing a tossed salad of various covers ranging from the works of George Harrison to Prince, two of the band's major influences. If that wasn't enough to send us off into the cool summer night with a smile, My Morning Jacket put a bow on this concert by unleashing mega-favorite, "One Big Holiday." It was the perfect way for the band to go out, yet totally indicative of the rest of the evening. The band held the final notes as long as possible giving everyone a delicious final taste of true American rock music.
- Jay Rubin
My Morning Jacket – Live at Williamsburg Park, Brooklyn, NY
August 19, 2012
Setlist
1. The Dark
2. Outta My System
3. Circuital
4. Gideon
5. Lay Low
6. Mahgeetah
7. Dondante
8. War Begun
9. It's About Twilight Now
10. Run Thru
11. Off The Record
12. Black Metal
13. Phone Went West
14. Smokin From Shootin
15. Touch Me
16. Good Intentions
Encore:
I Will Be There When You Die (Jim James Solo Acoustic)
 
Isn't It A Pity (George Harrison cover w/ Dean Wareham of Luna)
 
I Could Never Take the Place of Your Man (Prince cover)
 
Victory Dance
 
Wordless Chorus
 
One Big Holiday
Related Articles
Share
About Author
(0) Readers Comments