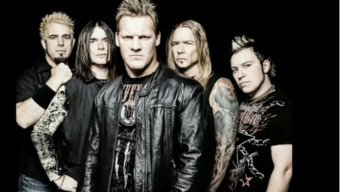 He's been a best selling author. An actor. A talking head on VH1 pop culture retrospectives. An alumnus of 'Dancing With the Stars.' The host of ABC game show 'Downfall.' The owner of a sports training facility in Tampa. And one of the most accomplished professional wrestlers in the history of the sport. He's Chris Jericho, and he's also the lead singer of a rocking heavy metal band that after more than a decade of creating music, just now seems to be receiving its due.
Fozzy began initially as a cover band with their first two albums featuring their takes on the likes of the bands they grew up idolizing. But as their singer's other career was flourishing, after a few years of making music together, the band failed to make much headway by way of commercial appeal. Fast forward almost ten years, and the band is set to release their third full length album of original music, and one of the most anticipated metal albums of the summer in "Sin and Bones" (August 14th). The pulverizing lead single "Sandpaper," features Avenged Sevenfold's M. Shadows on backing vocals, and is but a small taste of the complexities of the entire album.
As the band worked together more cohesively, each of their albums became a progressive step forward as the subsequent one proved better than the last each time. With "Sin and Bones," Fozzy has put together their finest start to finish album yet, and with a spot entrenched on the upcoming Rockstar Energy Drink Uproar Festival with the likes of Shinedown and Godsmack and a metal community that finally seems to be rallying around the band's talents, 2012 is proving to be the biggest yet for a band moving out of their singer's shadow and into the spotlight for the right reasons.
On Thursday, August 30th, Fozzy makes a stop locally at New York City's Gramercy Theatre for one of just a few headlining dates this summer. In anticipation of the band's return to New York, LocalBozo.com sat down with WWE Superstar and Fozzy frontman Chris Jericho for an exclusive interview. Listen in as we discuss the struggle for the band to shake the stigma associated with this being a 'celebrity band,' his satisfaction with the release of the band's latest album, joining the Uproar Festival, returning to headline a show in New York City, his reflections on his latest run with WWE, and his opinions on the current state of the wrestling business that sees many of the guys in their primes choosing to walk away from the sport, amongst a bunch of other topics. Tickets to Fozzy's show at the Gramercy Theatre are available now. And for more information on Fozzy, with band information and tour dates, check out fozzyrock.com.
The audio has been transcribed for your reading pleasure below.
LocalBozo.com: LocalBozo.com is proud to have with us as our guest for an exclusive interview- WWE Superstar and frontman of the metal band Fozzy, Chris Jericho. Chris, thanks so much for giving us some time today.
Chris Jericho: Hey, what's going on man.
LocalBozo.com:  Chris, you've had as decorated a career as any in professional wrestling. But after a decade, Fozzy certainly looks like it's becoming more and more your priority. Talk a little bit about the struggle that's gone into working toward erasing the stigma of this being a 'celebrity' or even a 'wrestler's band' and the satisfaction that you're taking from the fact that the band is now so recognized, especially in the rock community, as a legitimate act.
CJ: Well I mean, when I was a kid I had two goals. I wanted to be in a rock and roll band and I wanted to be a wrestler. And that started from the time I was about twelve. So to me it's always been the two dreams that I had and I never really saw one as being more than the other. Wrestling took off first but even when I first started wrestling I was still playing in bands and writing songs and doing demos and all that sort of thing. So it was weird when we started Fozzy in 2000, there was kind of a real stigma with the fact that it was 'the wrestler's band.' I never saw it that way because it was never a wrestling band. It's not like we ever got up on stage and, you know, sang about body slams and wore spandex tights or anything like that. They were completely two separate things and I never really saw it as anything other than just the two passions that I had. And I think that's the reason why Fozzy's gotten so far and why we're continuing to grow and have so much momentum behind us, is that people finally realize that this is real. This is not some kind of a novelty. It's not some kind of a celebrity vanity project. It's something that I've been doing my whole life. You know, I guess I started playing in bands when I was twelve, and I'll be playing in bands when I'm 62 years old. It's just something that I do and part of who I am. I think the best analogy would be like 30 Seconds to Mars, where the lead singer is Jared Leto- great actor, but also a great rock and roll singer and a great rock and roll band. And people don't really care what he does outside of the stage of 30 Seconds and it's that way with Fozzy now. I think people could really care less what I do when I'm not onstage or recording records with Fozzy. They just enjoy the music and enjoy the fact that this is a kick ass rock and roll band playing some great songs and that's all you can ask for.
LocalBozo.com: I think it's recognition long overdue, especially for this band. Now Fozzy's upcoming release "Sin and Bones" is due out on August 14th. Talk about how this new album differs from previously released Fozzy records.
CJ: Well I mean, like you said a lot of people are really turning their heads when it comes to us. And we knew it would happen. We knew if we stuck to our guns, and just continued to play, continued to tour, continued to do what we do, that the people that weren't into the band would start slowly getting into us and start finding out and starting checking us out, out of curiosity, you know? And what we do that's different from most other bands is we play very heavy music with very melodic, catchy choruses- almost like Metallica and combine it with Journey, or something like that. I think that's one of the reasons why there's such a buzz about this record. It's because it's something that's a little bit different from what's going on now- like I said, very heavy, very catchy, very hooky, very melodic- and that's what "Sin and Bones" is. We started kind of developing this vibe with "All That Remains" and "Chasing the Grail," our last two records. But this one really took it to the next level and I think that's why this will definitely be our biggest record because it's the best of what we do as a band, cultivating a sound that not a lot of other bands are doing right now. We take great pride in that.
LocalBozo.com:  Among the album's highlights, you collaborated with Avenged Sevenfold's M. Shadows on the song "Sandpaper." Talk about that experience for us.
CJ: Yeah, Shad's a friend of mine and when I was recording the vocals, I wasn't really feeling the one part: "a cat scratch whiplash / a witch hunt in black." So I thought it'd be cool to have somebody else do it, like a calm response. So I called Matt and asked him if he'd be interested. I knew they were off and he was at home so he's like "send me the song and I'll see what I think." I sent it to him and he really dug it. He was a fan of ours from before anyways- he liked a bunch of our songs. He thought that "Sandpaper" was one of the catchiest choruses that we'd ever done and so he kind of took it and laid down the part like I asked him to and then he also rearranged the song a bit- gave it a little bit of a different arrangement, streamlined it, made it a little bit more compact, and in my opinion made it a better song. So not only did he sing what I asked him to, he also put his own spin on it and really went above and beyond to create this amazing song that's just been doing huge for us since it came out so..it was cool. It was cool on a professional standpoint, on a creative standpoint, and on a friendship standpoint to have him involved.
LocalBozo.com: Now in the coming weeks, the band is jumping on the Uproar Festival with acts like Shinedown, Godsmack, Staind, and Papa Roach amongst others. How amped up are you to get out on this tour and how did Fozzy get hooked up with this lineup?
CJ: We're really excited. I mean we've done a lot of touring over the years. We've played a lot of shows. We've done a lot of New York shows, and kind of spot shows around the country, but we've never done a full length coast to coast tour. And last year we played about a week's worth of shows on Uproar- we replaced Sevendust for awhile. And I almost think it might have been an audition process for us. It was very addictive and once we kind of got a taste of it we wanted more. So when the Uproar lineup started going around, we really pitched to get on it. We worked hard to get on it. It wasn't a slam dunk no brainer. We had to really convince some people and plead our case and then now that we're on it, I think really, we've got a great slot. I think everybody's excited to see us and we're excited to do our first national tour and really show everybody who we are as a live band, which is 80% of Fozzy's appeal. I mean, the music on the record is great. It's strong. But when you see us play the songs live, I mean our goal is to be the best band of the show every day. So that's what the mission statement is and that's the war cry.
LocalBozo.com: Fozzy has some headlining dates sprinkled in, including a stop locally on Thursday August 30th at the Gramercy Theatre. Having performed in Madison Square Garden dozens of times over the years, you're certainly no stranger to New York City, but talk about what it's like for you to headline a show in Manhattan with your rock band.
CJ: Well we've always been good in New York. I can remember, our first gig was in New York at the Virgin Megastore. We did an in store signing and we played a couple songs. It was back in like 2000 when the first record came out, so it's cool to think back then. And we played a lot of places over the years. We played The World when it was open in Times Square. We played L'Amour before it closed back in 2002, which was amazing. I mean we've done the Tribeca Rock Club. We've done B.B. King's. We've done The Cricket Club in New Jersey. I mean we've been everywhere in the New York area. So we're really excited to go back to New York and play the Gramercy Theatre. I mean, it's an amazing venue. It's perfect for us. And that's one of the cool things about Uproar is that we do most of the tour but there's some days off and those days off you get to fill up with your own shows. And we're doing St. Louis, Louisville, Los Angeles, and New York, so that gives us the chance to let our hair down and not be the strict 30 minute deadline- we get to play for 90 minutes or whatever we want to play. So we make sure to have a good show in New York City so we're excited to come back to New York. It's one of our best crowds and one of our best audiences and we're gonna tear it up like we always do.
LocalBozo.com: Switching gears Chris, you've had some incredible opportunities in and out of the ring over the past decade. Shortly you'll be stepping away to spend some more time with your band. Looking back on your latest run with WWE which looks to be wrapping up shortly, what are your reflections on this latest run and is it still as fun for you as ever to be out there wrestling?
CJ: If it wasn't fun for me I wouldn't do it, you know? I took time off on the "Chasing the Grail" tour and once that tour was done it was time to move forward doing a new record and my job as a singer is to write the lyrics and to sing on the record. Lyrics were all done and doing vocals took about 15 days total so other than that I had nine months of nothing really going on. So it was the perfect opportunity to step back into WWE for awhile. But the plan was always when the new record came out, then I would leave and go back full time with Fozzy. So you know, we'll see what happens in the future. I still love doing what I do in the WWE but like I said, Fozzy's kind of taking precedence at this point. With all the momentum and great things we have going on, it's cool to see this second dream come true. But it's good to know too that WWE's always gonna be there and I feel great. I thought this last run was awesome and I feel better than I did, you know, 3,4,5 years ago. So, you know, I'm raring to go for the next round.
LocalBozo.com: Chris, the wrestling business has changed a great deal from when you first broke in and it seems that today especially, more and more of the guys seem to be more comfortable stepping away in their prime and leaving the business- whether to rest up injuries or explore other interests, what have you. I wanted to get your take on how you think that aspect of wrestling has changed.
CJ:  The people that are stepping away are ones that have been there for years and years and years. It's a grueling schedule- physically, mentally. Traveling is hard. It's good to know that you have these other options and you have to explore them. For me, I wrestled for 15 years straight every day, left for a couple years, came back for another three years, wrestled straight every day almost, and then, you know, left for awhile, came back for nine months. As you get older, I think that's a good schedule. I've kind of built up my status in the WWE where I can do that. Not everybody can, but you know, you look at guys like The Rock or… You know the thing is when Rock came back, he just comes back for once or twice, I came back and did every show. I was in Abilene, Texas working house shows as well as working Madison Square Garden. I didn't pick and choose my spots. I came back for nine months and that's the way I'll always be. I like doing the whole cycle and if I came back for a month, I'd still do as many house show matches, not just do TVs and pay per views. So, you know, for me I like doing it. Like I said, I've been playing with Fozzy since 2000 and I've been playing in bands since I was 12, so it's not a matter of making this choice, it's who I am and it's just what I do at this point. So from this point forward that'll be how I work WWE. I'll just be coming in and out when I have openings in my schedule, but when I come in, I'll make sure to give 1000% and do as many shows as I can in that timeframe.
LocalBozo.com: Chris, we can't thank you enough for the time today. Is there anything else you'd like to leave for the readers of LocalBozo.com?
CJ: I'm just excited to come back to New York City and I think that we're playing a bunch of new songs live. And we're excited to see all of our old friends and make some new ones. It's gonna be a great gig.
LocalBozo.com: Awesome, Chris. Well, we can't wait to have you back. Fans, "Sin and Bones," the brand new album from Fozzy is released on Tuesday, August 14th wherever you buy your rock music. You can catch the band on the Rockstar Energy Drink Uproar Festival throughout August and September, and locally in a headlining appearance at New York City's Gramercy Theatre on August 30th. For more information on the band and their tour dates, make sure to check out Fozzyrock.com. And it's been our absolute pleasure to speak with Chris Jericho. Chris, thanks so much for your time today. Best of luck on the new album and tour.
CJ: Alright guys, see you guys all in August.
- Jane Van Arsdale
Related Articles
Share
About Author
(9) Readers Comments