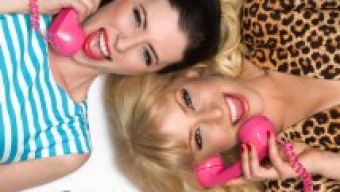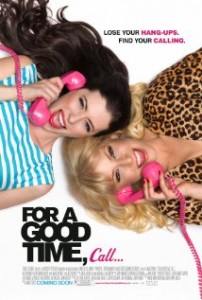 It's a relatable premise.  Two former college classmates who, despite despising each other and sharing the same homosexual friend, happen upon a series of unfortunate circumstances that force them to live together to afford the bloated rent of a New York City apartment.  And to do that, the two polar opposites decide to open and run their own phone sex line.  While it may seem preposterous, "For a Good Time, Call…" (R) is often uproariously funny, if not over the top with a raunchiness that somehow perfectly suits its subject and makes for a completely entertaining film.
Starring Ari Graynor (The Sitter, Nick & Nora's Infinite Playlist) and introducing Lauren Anne Miller (50/50, Superbad), the film is acted out as a love letter to New York City- from the mentions of Magnolia Bakery to so many of the scenic shots included that we've walked past time and time again.  The perfectly cast friends realize that despite any misconceptions, they've got much more in common than previously thought with Graynor's "Katie" the perfect foible to execute the business plan set forth by Miller's "Lauren."  But as the two grow closer and as the phone sex line becomes wildly successful, the change in Lauren's character creates a window of new opportunities and she is faced with the decision of losing her best friend or doing what's best for her future.
The film also delivers a bevy of surprising cameos that we won't spoil for you here, but Justin Long's supporting role of gay friend "Jesse" is fun and believable.  Constantly petting his small dog "Zelda," the middling pint-sized actor pulls off the stereotypical gay New Yorker seamlessly.  And actor James Wolk's turn as Lauren's prick-of-a-boyfriend "Charlie" elicits immediate hatred toward him any time he's on screen.  At the end of the day, the movie is geared mostly toward women in the same way that "The Hangover" was geared toward men, but that doesn't necessarily mean that the jokes aren't absolutely side-splitting for anyone watching; it's just happens to be a 'bromance' for chicks.
"For a Good Time, Call…" touches on an almost too intense friendship shared by two girls but also hilariously exploits the interpersonal struggles of sacrifice between work and friends.  But what makes the film feel fresh is the sheer number of crass jokes delivered by the young pair of virtual unknowns, showing each actress' talents when handed the spotlight.  While the uptight Lauren seems best suited for a committed relationship and Katie looks destined to be perpetually single, the girls manage to bring the best out of each other, pulling off a double switch on the audience.  And yet, although the friends aren't necessarily who you thought they were, you root for them anyway because the movie really is 'a good time.'
- Jane Van Arsdale
"For a Good Time, Call…" starring Ari Graynor, Lauren Anne Miller, and Justin Long is rated R, has a runtime of 96 minutes and is released in theaters everywhere on Friday, August 31st.

Related Articles
Share
About Author
(0) Readers Comments